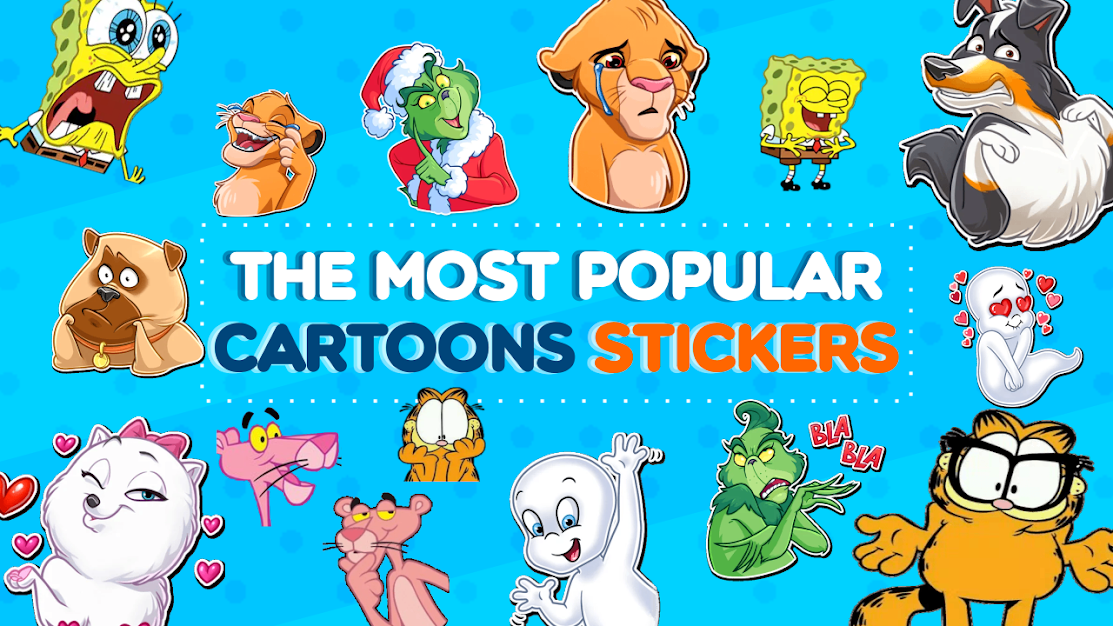 I love stickers. As a kid, I used to decorate my work with my favorite cartoon stickers and now without stickers my chats seem to be incomplete. In other words, using stickers on whatsapp, has helped me a lot in representing my thoughts and emotions. So, if you also want to say everything that is in your heart but confused about the selection of words then stickers apps for android are best for you. These apps give you stickers related to all spheres of life.
As apps are vary, similarly their sticker collection is also different. Without any effort or without spending too much time, you will be able to easily get the stickers you are looking for. Some of them covers all sticker types while the others offer some specific stickers. You can easily guess by their names. One major benefit of these apps is that they give you ready-made stickers. You will have no need to make stickers by yourself.
Let's know more about the top 15 sticker apps for whatsapp:
Stickers+ is recommended to all who want only one app with all kind of beautiful stickers. These stickers are based on more than 20 categories such as good morning, nature, emoji and love etc. When you go to your desired section, a huge number of stickers will be shown to you. You can use these stickers as it is or can also edit them. For making stickers more expressive and having dual fun, this app allows you to write your message in bubble form or simply at the bottom of your selected stickers.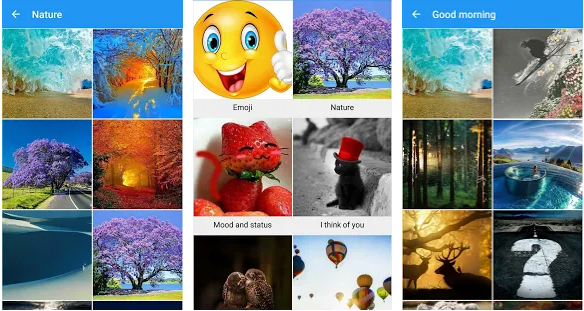 For getting an unlimited collection of stickers, this is a must to have app. All stickers are cute, lovely, stylish and best to depict your mood. They are arranged into many but clearly explained categories like unicorn stickers, love, animal, text, heart, cartoon and smileys etc. You can use them in your usual and special chats as the app offers the event base sticker packs like Christmas, valentine's day, holiday and birthday etc. This app also gives you the stickers that are popular in different countries. In case, you like a sticker too much and want to share it as an image instead of sticker then this app also allows you to do it.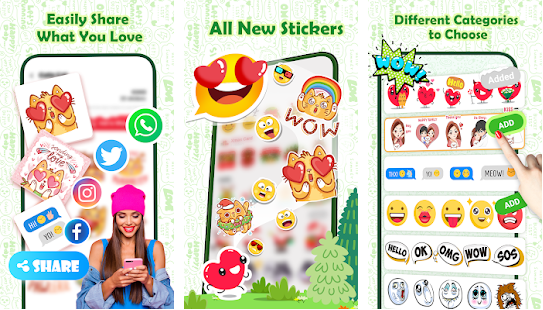 This is a beautiful emojis stickers app because its sticker store is full of new and popular emoticons. In any mood, you can use them because all emojis are very much communicative. To send more than 10 stickers in only one tap, is also easy with this app. Although there are numerous emojis categories but in case you dislike a category then you can also remove it from the list. This will help you to stick to your favorite sticker types. Furthermore, you can allow or disallow the app to send you the notifications on the arrival of new emojis.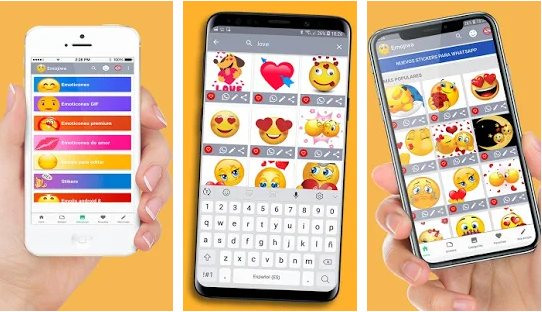 This anime stickers app lets you try the best anime images to reveal your feelings. Although the app only offers the anime stickers but with variety. From more than 20000 stickers, you can quickly search your favorite anime stickers. All stickers are unique and stylish. Daily you will get more new stickers. Due to the seasons impact on our mood, this app also provides the seasonal anime stickers including summer and winter.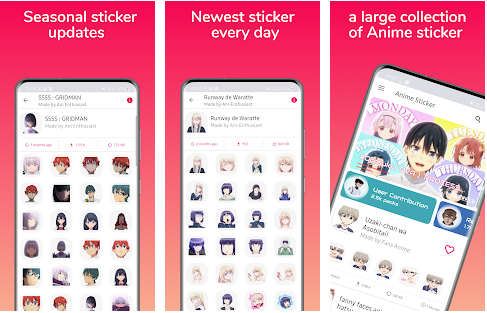 Do you have any affection for animals? If yes, then this animal stickers app is only for you. It gives you very cute and beautiful pictures of various kind of animals especially cats, bears and dogs. When you use them in your chats, it will give you two benefits. Firstly, your love for animals can be easily shown and secondly, your sentiments can be easily conveyed. Apart of sending them, you can also enjoy animals' move in funny, sad, crazy, innocent and lovely expressions.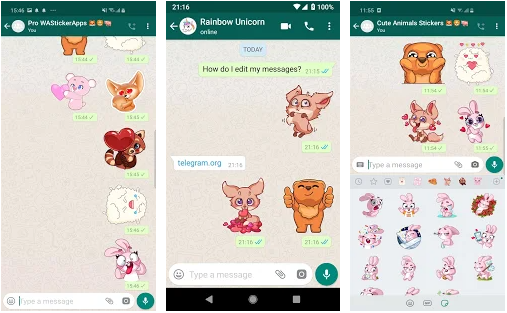 Cats are one of the loveliest pets. Their little and cute actions entertain us a lot. In this funny cat memes stickers app, you will see many cat stickers. In every sticker, cats are shown in numerous moods. You can share them and view them to have some sort of enjoyment. As cats are beautiful similarly their kittens are also so cute and innocent. That's why this cat stickers app also provides you stickers of several kinds of kittens exhibiting various expressions like funny, loving, sad, smiling, mischievous and angry etc.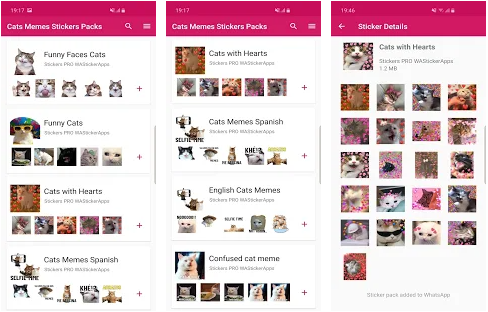 This funny panda stickers app is especially created for all panda lovers. Although from the app's name we guess that it has the "funny Panda Stickers", but it also shows Pandas into many other moods and actions. For your ease, the app has separated the panda stickers into multiple packs. Each sticker pack has awesome collection, but the number of stickers vary. For example, in one pack there are 15 stickers, in second 30, in third more than 30 and so on. One thing more, this app also offers the red panda stickers.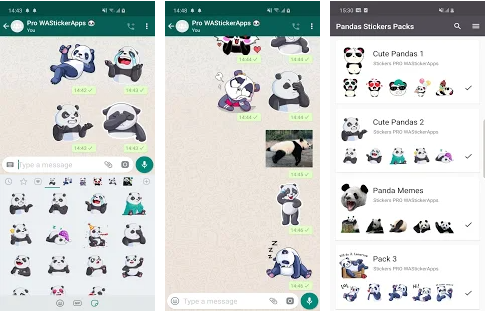 More than 200 pentol stickers for whatsapp are included in this app. All stickers vary from one another. Mostly they are with the expressions. Some have beautiful backgrounds too. Before sending the pentol stickers to your friends, the app also allows you to preview them. In any mood, you can use these pentol stickers because all are ideal to clearly mention your thoughts or feelings.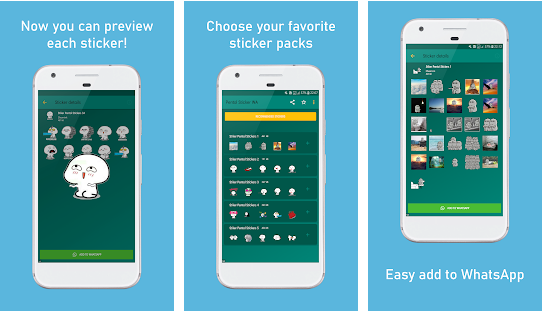 Although all sticker apps give you stickers in cartoon shapes but the specialty of this app is that its sticker collection is based on all the famous cartoon characters like Tom & Jerry, Frozen, Pink Pentor, Winnie Pooh, Toy Story and many more. Every sticker pack is well-arranged. You can pick any cartoon hero to show your emotions to your dear ones.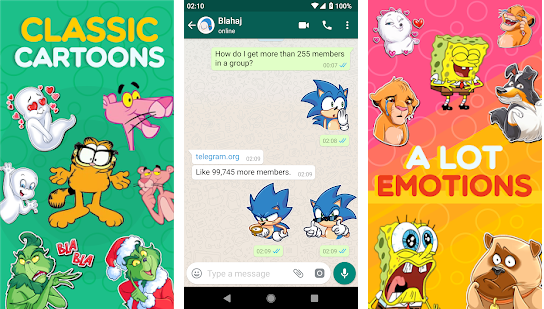 Sending flowers and roses can become the source to increase your love. Often roses play the best part to change someone's mood. So, for all who like sharing roses, this is the beautiful roses stickers app. You can send one rose or the bouquet during your chats. It will definitely give pleasure to others. Mostly red roses are shared but this app also gives you fresh roses stickers into all colors such as white, pink and purple etc. Along with roses other beautiful flower stickers are also included in the app.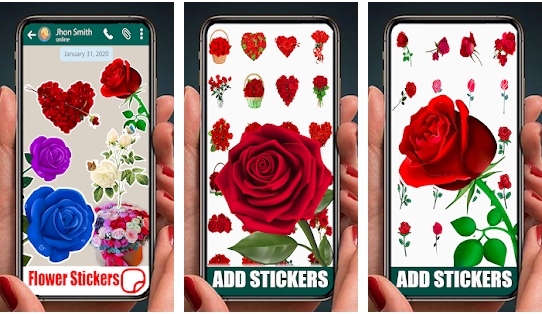 To make your chats pure and to send best wishes to your friends, this is the best Islamic stickers app for WhatsApp. All stickers are clear and beautiful. In different colors and in different styles, Arabic text is written on them. Islamic Duas are also included.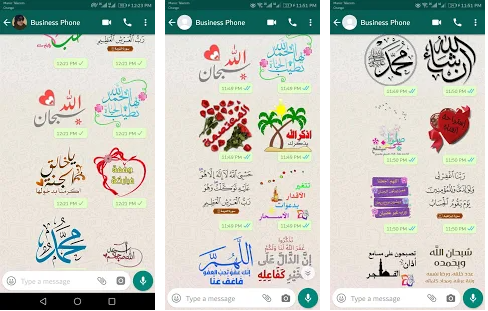 This app is contained on many types of Arabic, Islamic and greeting stickers. Along with using them in your daily chats, you can also share them on different events or special days. Because all Arabic stickers are beautiful, well-designed, and nicely colored.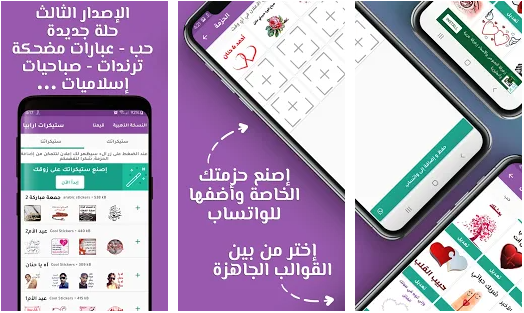 This app is contained on more than 3500 cute Telugu stickers. You can easily find the stickers that you need to elaborate your chats. In less time, sending the comprehensive stickers proves best as compare to typing. Therefore, this app covers all type of stickers including fun, politics, wishes and trends. In this app, you will also get the best cricket stickers for Whatsapp.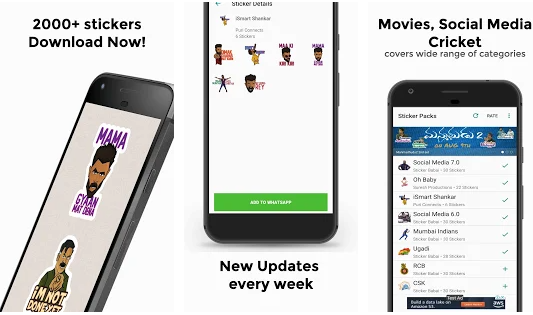 For having the most popular Mexican memes stickers, this is the number one app. There are several sticker categories. The names of the category are also stated. So, the users can quickly access to their desired sticker packs.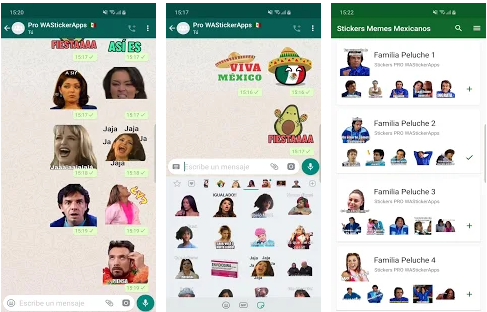 Through happy birthday stickers, you can easily and impressively wish birthday to your family or friends. Therefore, this happy birthday stickers app gives you many birthday special sticker packs including cakes, candles, gifts, balloons and greetings etc.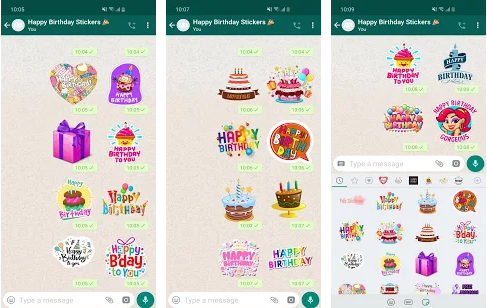 Thus, above are the 15 best stickers apps for android. All offers a variety of sticker packs and help you to say everything. No words are needed, only a sticker can represent your feelings or thoughts in a better way.