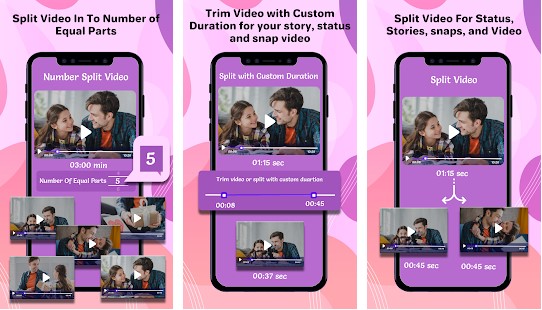 Essays, articles and any documents look perfect if they have proper starting and endings. Same is the case with the WhatsApp status. If a status is complete, then the viewer can easily get what you want to convey but if it is incomplete and stop without any conclusion then it can make the viewer unhappy and sometimes disturbed. Because we want to completely watch what others are sending to us or showing as status. Although 30 or 15 seconds are enough but sometimes our video is longer than it, so instead of cutting it, its much better to set it into various equal parts. So, the purpose and beauty of the status will retain. To do it manually is sometimes seeming tough and time taking task therefore video splitter apps for WhatsApp status is introduced. With these android apps, you can quickly and easily divide your longer video into different small videos which are perfect for status. In this way, back to back your longer video will play and the aim of status will be achieved otherwise the interest level will drop if the status is inadequate.
Below are the 3 best video splitter apps for whatsapp status, let's start with the most useful one: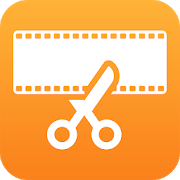 Now no need to be worried about that your video is big and not up to the status duration. Simply have this video splitter app for whatsapp status, select the video and the app will automatically create little portions of it. Almost every part will base on 30 seconds but if you want to post your story in less than 30 seconds then this app also allows you to do it. You can set any time limit for equally dividing your video as it is necessary for maintaining the beauty of your status. For example, if your video is of 80 seconds then cutting it into 20, 20 seconds will be best. In case you only want to post some specific part of the video instead of the whole video then this video splitter app for whatsapp status is also great.
In short, the size of the video will be as you want. Not only WhatsApp, this app also lets you trim videos for sharing on other social media as Facebook, Snapchat and Instagram etc. The watermark will not appear on any video even the quality will not lose during the process. This app takes care of your time that's why sends you notification when the splitting will complete.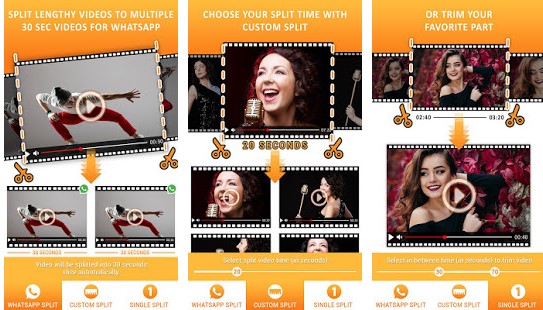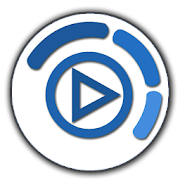 If you have a longer video and wish to post it completely then this video splitter app for whatsapp status is ideal. It will automatically make 15 seconds videos from one large video. Every part of your video will be shown on your status. Nothing will miss because the app cuts the videos very intelligently. There will be no break and one by one your all video will be displayed. Otherwise you have to manually cut the videos which is a time consuming and tiresome task especially when every time you have a longer video. This video splitter app for whatsapp status also allows you to easily save your favorite statuses.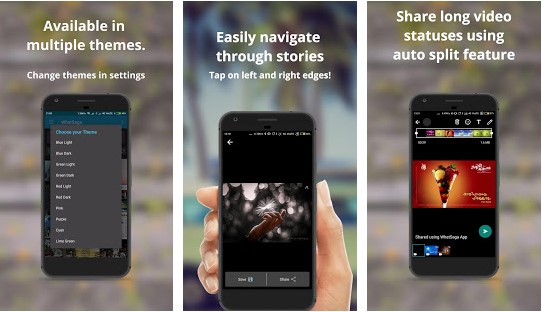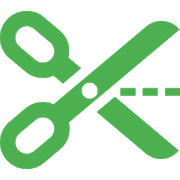 Sometimes you have a very beautiful video and do not want to cut or skip any part of it for the purpose of sharing so in such situation this video splitter app for whatsapp status can help you a lot. Automatically it will create small size of clips of your lengthy video. In this way, without any manual effort, your whole video can be easily posted. A range seekbar is also included in this video splitter app for whatsapp status so you can set the timings as you need. For example, you can cut a part of video from the point of interest so the viewer will have the urge to quickly move to the next part. Or you can trim the video into many equal parts.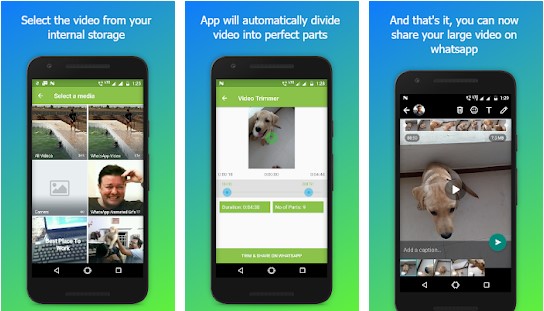 The above video splitter apps for whatsapp status only focuses on creating sections of your videos and letting you set full video on status. For editing your videos and making them attractive, you have to rely on other android apps.