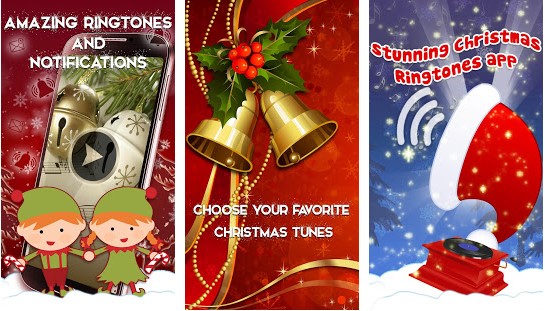 All the year, we listen different ringtones and set the one which is most beautiful according to our taste. There are also many trendy ringtones which everyone prefers but seasonal ringtones seem to be more delightful if you set them at the right time. And now is the season of Christmas that's why we will share with you the best Christmas ringtones apps for android. These apps enable you to easily get your favorite Christmas ringtones because there is a big variety for you. Whenever your mobile will ring, a Christmas tone will automatically create a sweet smile in your face. Some of these applications also provide you holiday ringtones.
While searching for the best and free Christmas ringtones apps for android, we found a huge list but for you Newzoogle have lined up the top 5 apps.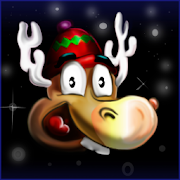 A good collection of Christmas ringtones is gathered in this app. All ringtones are generated from popular Christmas and holiday songs such as joy to the world, deck the halls, twelve days of Christmas, jingle Bells, Santa Claus is coming and a lot more.
Before setting any ringtone, you can preview its voice and music quality and later set it. Despite of the great list of ringtones, this app will also give you a new and beautiful ringtone on daily bases. One amazing thing about the app is that in few seconds it will install your favorite Christmas and holiday ringtone in your device.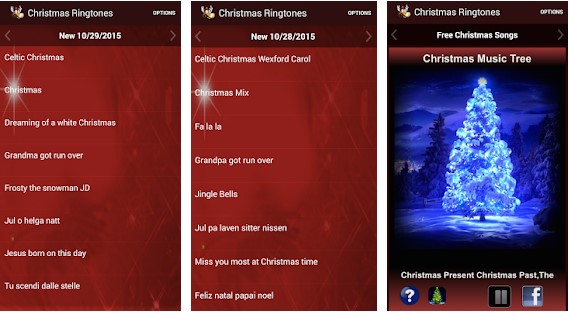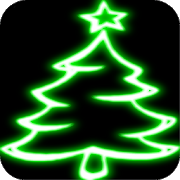 This is the next most loving Christmas ringtones app for android. You can enjoy more than 50 tunes such as Santa's laugh, carol of the bells and sleigh bells etc.
Along with the name of ringtones, the app also displays the relevant icons to let you quickly choose the best Christmas music. Wherever you are, you will be able to listen your phone's bell because the ringtones are available in full sounds. If you are confused about selecting the right tunes (as all the ringtones are beautiful) then firstly you can preview it and then decide which one to pick or which to leave.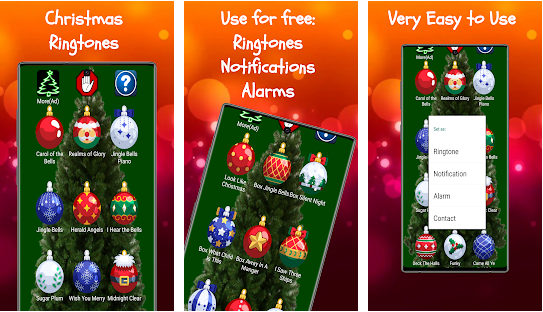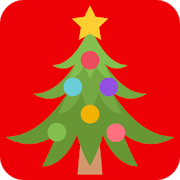 For the fans of traditional Christmas ringtones, this app brings a fantastic collection. It has ringtones like "we wish you a Merry Christmas", silent night, we three kings, Santa Claus and more. The sounds and music are clear and high as well.
Although the song titles are written but beautiful icons are also shown. You can set anyone you find amusing. Furthermore, this app also gives you the best holiday ringtones and New year special tracks.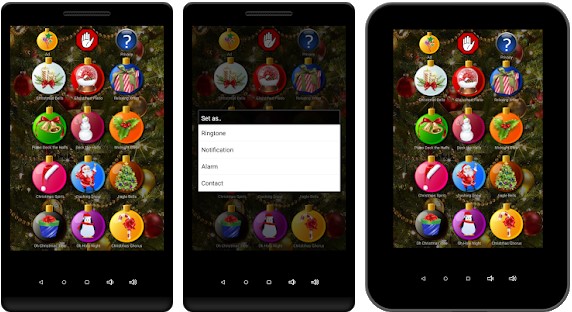 This app lets you make your device more beautiful with Christmas decorations including ringtones and live wallpapers. The ringtones are 30 in numbers. Each melody is sweet and best to make you happy. The volume is clear. You can increase or reduce the ringtone duration as you want.
Just like tunes, the wallpaper collection of this app is also outstanding. They are full of lights, colors and Christmas ornaments. As you will shine on Christmas (by wearing new dresses) similarly your device will shine with new Christmas backgrounds.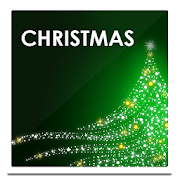 This app offers special music to set on your phone in this Christmas. From 56 popular and funny Christmas ringtones, you can prefer anyone for SMS, contacts and other tasks. Every ringtone has a charm. Cute icons are also given to let you make your search more convenient and faster. This app also allows you to store your favorite Xmas ringtones in one file so next time you can easily get them.
Thus, these are five famous android apps which can utilize to have beautiful Christmas ringtones. Which tone will you like to listen in Christmas 2020? Tell us through comments.