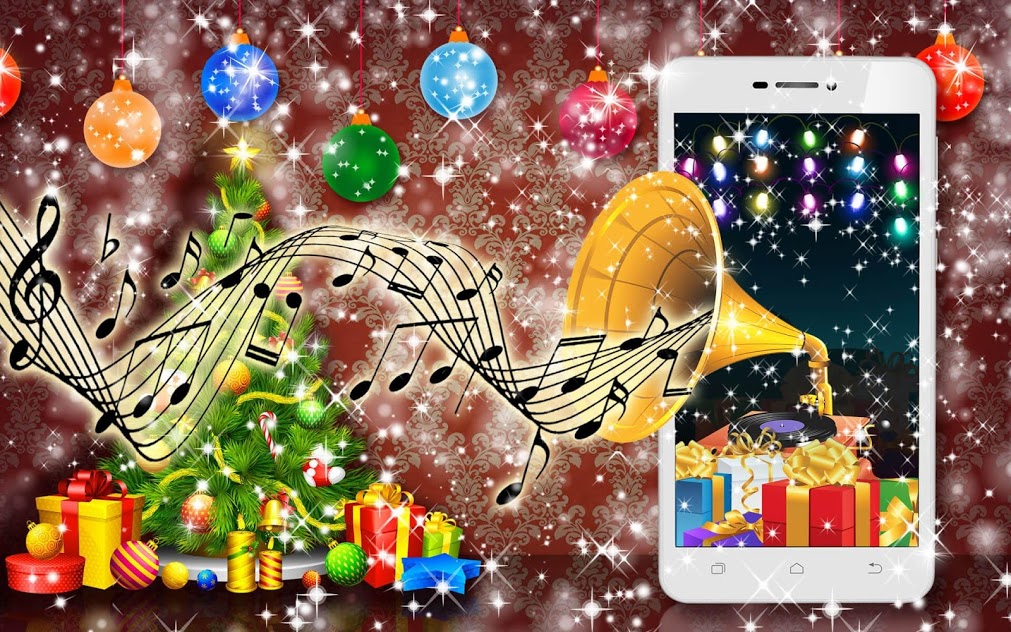 Christmas is the best time for enjoying Christmas songs and carols. We have a variety of songs and multiple options to enjoy any kind of music but in December Christmas songs and lyrics become special because they add more fun in our Christmas celebrations. On TV, Radio and other media, Christmas songs are played. But if you are looking for your favorite Christmas songs (as everyone has different musical choices) then Christmas songs and lyrics apps for android can aid you a lot. These apps have many modern and classical Christmas songs which you can enjoy while: waiting for Christmas, decorating Christmas tree and arranging parties etc. Furthermore, you can use these songs as your Xmas ringtones. To make your moments more special and memorable, these apps show you the lyrics so you can sing by yourself or with your family and friends. Learning Christmas songs will be easy for your children because along with lyrics, beautiful Christmas scenes are also displayed. So, these apps provide you both audio and visual pleasures.
Following are the 5 best Christmas songs and lyrics apps for android: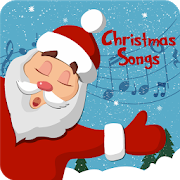 There are many songs related to Christmas, but popular songs are loved by everyone therefore, this app gives you the best collection of Christmas songs and lyrics. All songs are amusing. You can listen them in beautiful and clear sounds. If you wish to have any of these songs as your mobile's ringtone then the app also lets you to do it.
The words of the songs will appear on the screen so you can sing whenever you are in the mood of happiness. According to the song, the app will show you cool Christmas backgrounds too.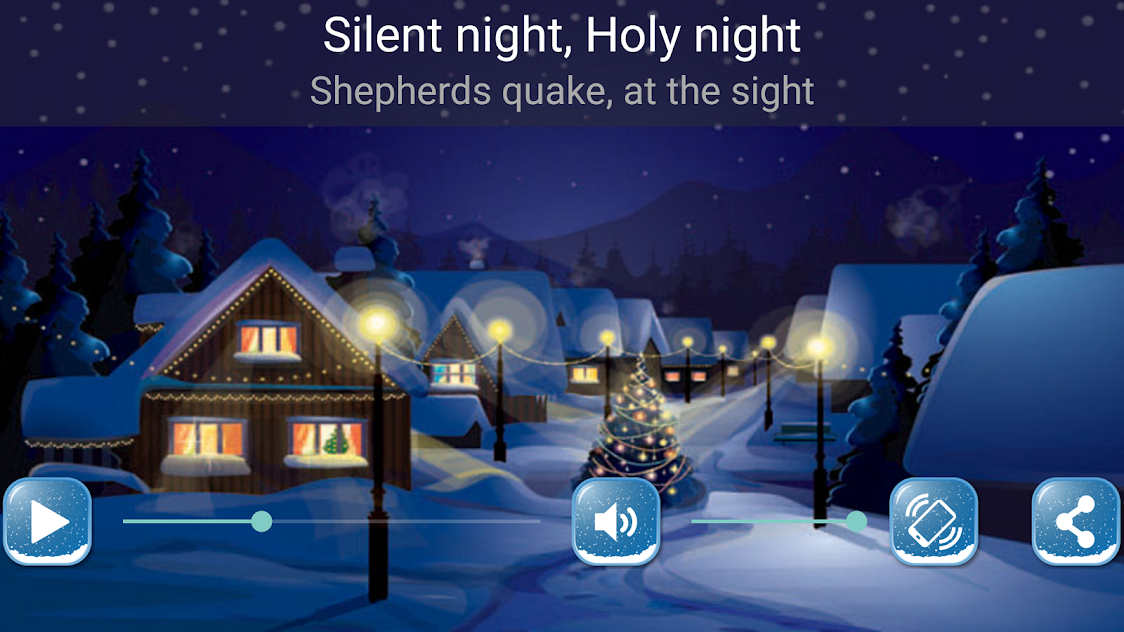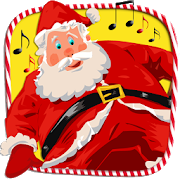 This Christmas music app is full of lovely Christmas songs and lyrics for kids and adults. The sound of the songs is high quality and up to the event. Your kid will feel pleasure and will have a lot of amusement because attractive song icons are also presented.
As song icons entertains your child similarly helps you to easily select the song you love. Along with listening songs, this app also allows you to set them as your alarm and contact's ringtone. If you are an early riser and wake up with the alarm's sound, then in the Christmas morning a Christmas alarm will give you a good start of the day. In addition, on every call and SMS, when your phone will play a Christmas music, it will make you more ecstatic.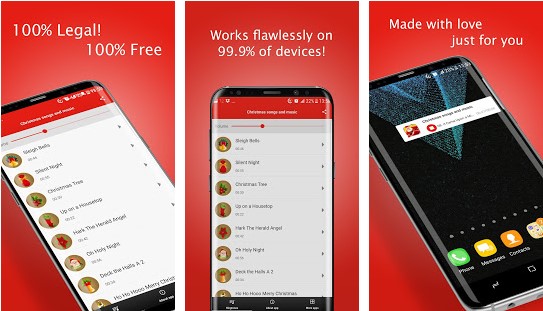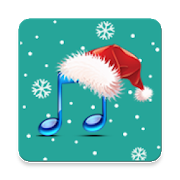 This Christmas songs and lyrics app shows you two categories based on Spanish and English Christmas songs. You can pick any language, listen to the song, enjoy its video and set it as your phone's bell. All these songs will energize you because they have most beautiful and heart touching lyrics.
Often it also happened that you listen a song and feel ambiguous about some words so to reveal your confusion this Christmas songs and lyrics app gives you full song in written form. In this way, you can easily learn songs. And also have the great opportunity to sing with the speaker. Although the words of each song are beautiful, but the background images make them more alluring.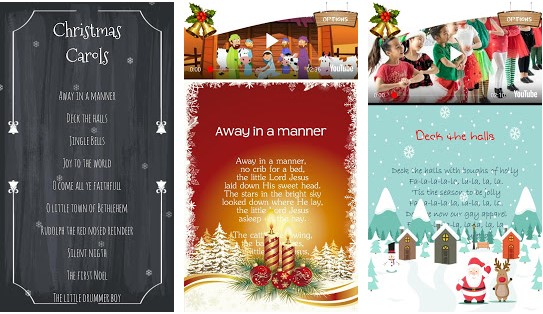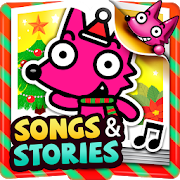 If you are looking for kids Christmas songs and lyrics, then this app is best for you because it has many cool songs, interesting stories and stunning videos to entertain your child. As song will play, the words will automatically come on the display and lets your kids to learn them quickly. This Christmas songs and lyrics app is also useful for adults to revive childhood memories. The music and video quality of this app is too good.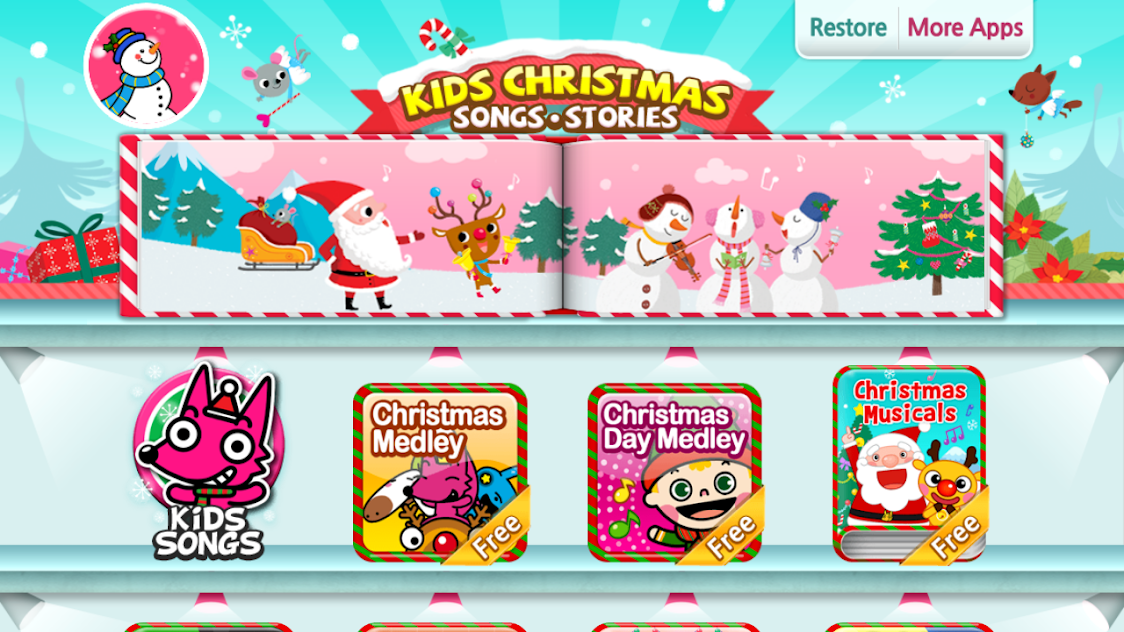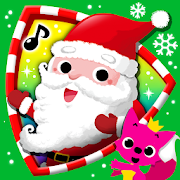 This is an ideal app for getting popular Christmas songs and lyrics. The songs are 16 in numbers. All have cute animations. You and your children will have a lot of fun that's why this app is named as "Christmas Fun".
Along with Christmas songs and lyrics, this app also provides you many beautiful Christmas photo frames and games.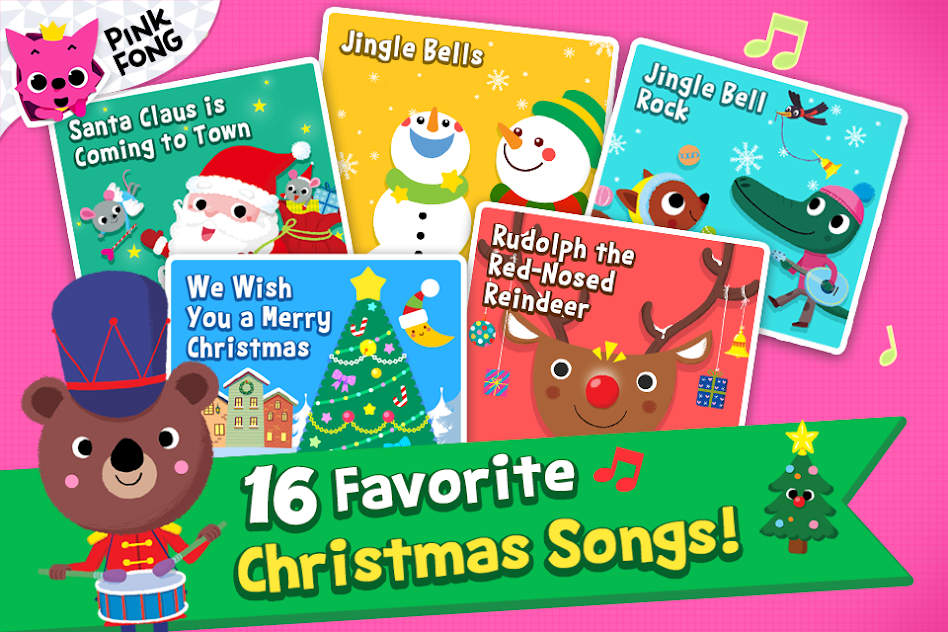 Which android app offers your favorite Christmas music? Share with us.