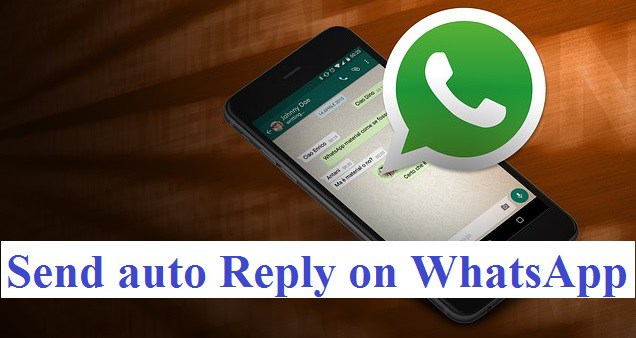 I was "busy", I had "forgotten", and my "balance was ended", these were often considered the lame excuses when we did not reply to someone's special call and messages. While in reality it really happens but the people who love us often worried about us if they did not get the response on the spot. So, to satisfy them or to let you automatically respond to their SMS, android has introduced the best WhatsApp auto reply apps. Because in these days, all of us are using WhatsApp for sending and receiving personal or business SMS.
These WhatsApp auto reply apps will save your time, strengthen your relationships, and boost your business. In addition, when you are driving and not in the position or mood of chatting then these apps can also be best for you. Simply, select the contacts, set the time and send a fixed answer to them.
Let's know more about the top 3 WhatsApp auto reply apps for android: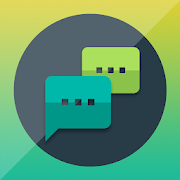 AutoResponder for WA – Auto Reply Bot app works for business and personal whatsapp. With it, you can easily handle multiple chats. No one will remain without a reply because this app enables you to send the same answer to more than one people. Different responses can also be sent to different contacts.
Everything you can set before time so you can easily focus on your work. For example, in your working hours, personal messages will not disturb you and in your family time, business messages can be easily managed. In your both spheres of life, you can enjoy what you want by having this Whatsapp auto reply app for android.
You can customize replies, re-set the chat bot and make rules up to your requirements. Even you can set an answer for the unsaved contacts. Individual and group both kind of contacts will receive the responses as you schedule. This whatsapp auto reply app also hides your last seen time, takes care of your SMS with backup system and provides you much more to have a nicer communication.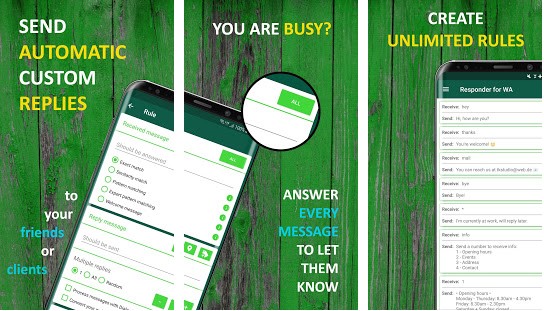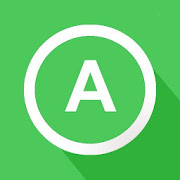 This WhatsApp auto reply app is best for all people who are using various social channels because it lets you send a preset response to all messages in case you are busy. In other words, not only on whatsapp but on other social networks, your interacting experience will improve.
You can set the group or individuals which you think are important to respond. According to your need, you can build up chat bot, restore the old messages and set the timings for auto messaging. This Whatsapp auto reply app also supports spreadsheet.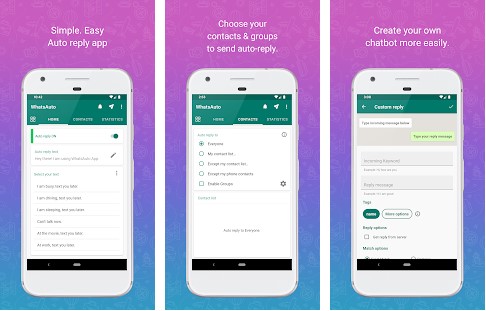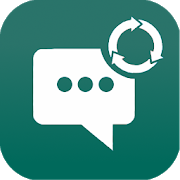 This WhatsApp auto reply app is contained on many unique and useful features such as you can modify the auto replies, pick the contacts for auto responding, use whatsapp emojis and send replies as many times as you need. To schedule the messages is also possible with this WhatsApp auto reply app. According to your set time, the app will start or stop its work.
This app also supports widget, WhatsApp Web, groups, Google Drive and much more in the premium version to let you successfully carryon your business and personal life.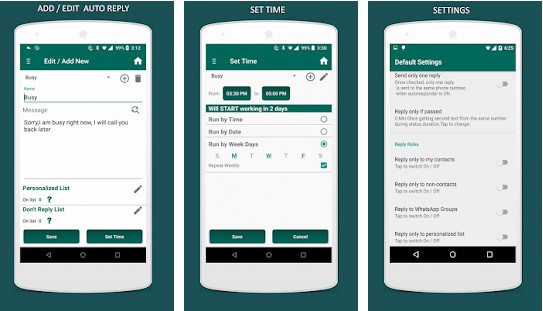 Thus, with the help of these Whatsapp auto reply apps for android, you can easily manage various tasks in less time. You will never face the problems of late responses. Everything will be on its right time. In this way, you and the other person both will be happy and satisfied. Furthermore, it is much better to send an auto reply as compare to no reply.