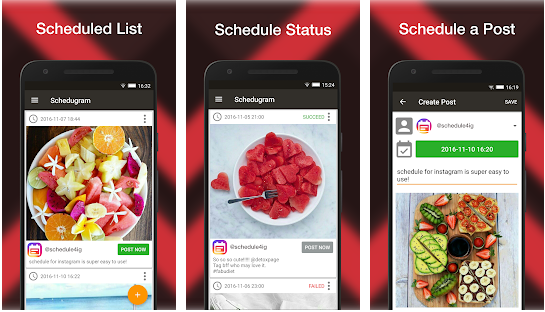 To be active on social media and to be a successful man both things need a proper time management. Because future is uncertain, and anything can happen, so it will always be better to be prepare for future. Although there are numerous social media channels like facebook, twitter, Instagram and much more but in this article our focus is on the "Instagram" apps especially the Instagram post scheduler apps for android. These apps help you to save your time, make thought-provoking content in advance and be consistent. You can set the time for your auto-postings and easily handle your multiple accounts.
Before further details, keep in mind these 2 things:
Have a business profile
Do not over schedule
Because you know "excess of everything is bad".
Anyways for such situations where you feel that you may forget or have no enough time for postings, try the following Instagram post scheduler apps for android.

This is the best app in the market to easily manage your Instagram activities. There is a calendar which help you to plan your upcoming posts based on days, weeks or months. When the posting time will near, you will receive a notification. In a very fast speed you can upload pictures, videos and gifs. This Instagram post scheduler app also lets you to drag and drop photos, auto populate hashtags, see your insta feed, use web dashboard, track comments, create Instagram stories and much more to analyze your engagement.

This is one of the secured Instagram post scheduler apps and you can get it in free or less rates. Not only one but at a time you can schedule posts on different Instagram accounts. Simply, set the time for auto-postings. The great feature is that you can upload HD photos of all sizes.

To easily organize your Instagram posts, this app offers everything. You can make your photos beautiful with various editing tools and layouts. You can set times for posts, get trendy hashtags, control your all Instagram accounts and repost the content you want. This Instagram post scheduler app also gives you analytics to view your performance. With extra features, paid version is also available.

Hootsuite is a super popular android app to manage your Instagram, Facebook, Twitter and other social media accounts. You can auto-schedule SMS, posts and tweets up to your desires. Hootsuite also supports shorten links, analytics, optional notifications and a lot more to increase your followers.

This Instagram post scheduler app has come up with multiple interesting features which are helpful for every instagrammer. You can edit pictures, try various filters, add captions, repost from your account, find hashtags and schedule posts whenever you want. This app works without internet. One thing more, this app also supports team feature, vast grid space and different devices etc.
Although there are many other great social media management apps but above are best to schedule Instagram posts. What do you think? If you use any other Instagram post scheduler app then remember to tell us in comments.