Children love to use mobile phones. Even toddlers look happy while picking the phone and when they say "hello", it amuses the parents a lot. So, for all parents who want to amaze their kids in this Christmas, we bring the best Santa video call simulation apps for android. All these apps can put the smile in your child's face and proves best in improving their behavior. You just have to enter the name, age, photo, likes and dislikes of your boy or girl. After that, you can set the time for getting a personalized video call from Santa to make your child happy and surprised.
Some of these apps are free while the others also offer the purchased versions with more extra functionalities. So, let's know in detail about the top 5 Santa video call simulation apps for android:
Many parents prefer this app because it lets you select one of the best personalized messages from the three Christmas videos. Everything is ready. You only have to add some details for creating the video as you want. If you do not want video call, then this app also lets you get the simple phone calls from Santa. But all are simulated and only made to entertain the child.
This Santa video call simulation app also enables the kids to record their own messages, track Santa, know the North Pole's weather and see whether they are in nice and naughty list. A Christmas countdown lets the kids know about the days remaining in Christmas.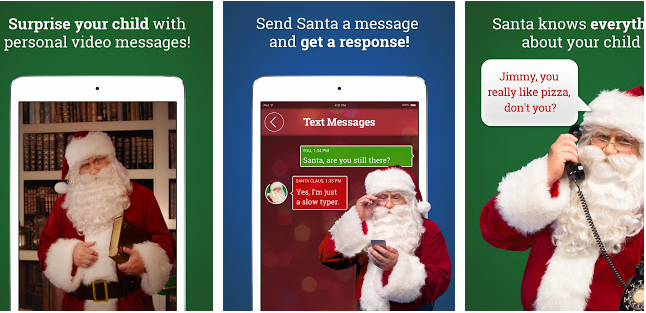 PNP-Portable North Pole is a highly famous and most recommended android app to receive personalized video messages from Santa. In a very easy way, you can made videos (based on your child's details) and then see the magic. At a time, you can add more than one family members and record their reactions for more fun.
This app also supports multi-devices, HD videos, Ultimate Pass option, voice calls and much more to spread happiness in this Christmas 2020.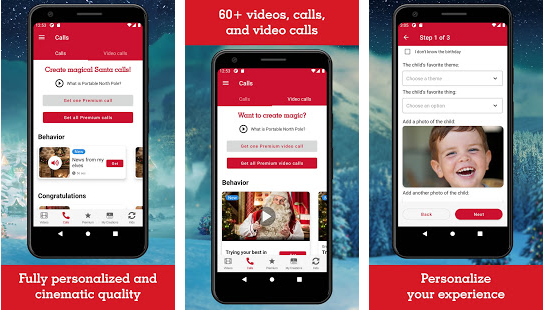 This is the next best Santa video call simulation app to amaze your children that Santa knows about them. After setting the child's specifics, you can also pick the best chat background. Not only one, but at a time, you can setup many profiles. If you did not find your child's name in the given list, then this app also allows you to inform about it.
This Santa video call simulation app will show your child that in which list his/her name is included. Is he/she naughty or nice? Tips for being nice can also be displayed. Furthermore, with this app, you can find the location of Santa too.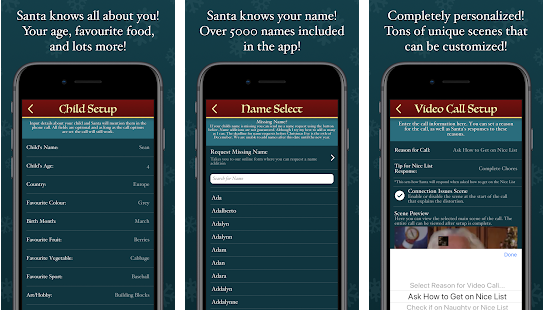 This Santa video call simulation app gives you many pre-recorded videos. You only have to choose the time and up to it your phone bell will ring. Along with surprising kids, you can also use this app to impress others. There is no time limit. You can play the video for more than one times.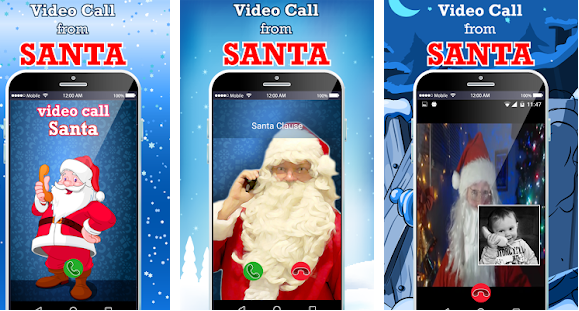 This is not a Santa video call simulation app because with it you will receive only simulated phone calls and text messages. From three of the given times, you can adjust the time for calling. In this app, you can also show others in which list (naughty or nice) their name is mentioned.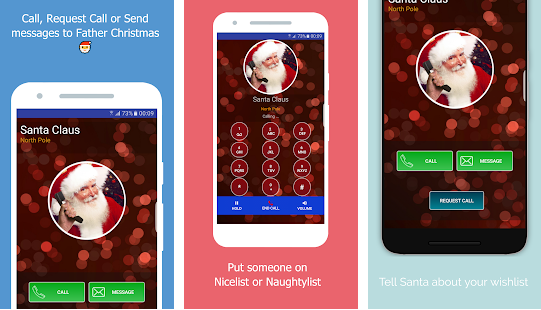 Thus, above are the top 5 android apps to be enjoyed with your kids in this holiday and Christmas season.