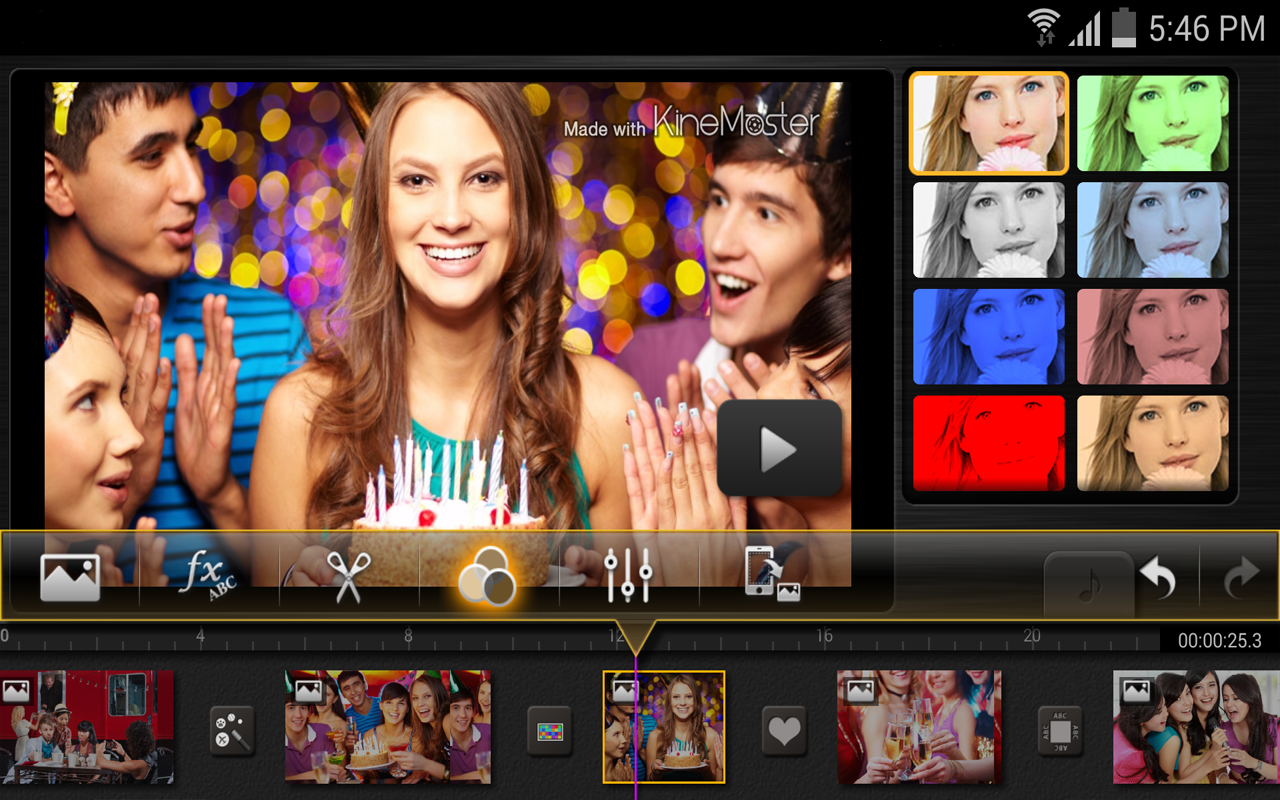 Video making is a fun and if you want to become expert in it then you should try the best video editor apps for android. Although a simple video is enough to show your talent and others' action but a little modification is required to make prefect and high quality videos because these types of videos look more interesting as compare to simple videos. Video editor apps for android convert your simple videos into professional videos. These apps give you a variety of tools to make your videos beautiful and attractive. You can cut and trim your videos, add colors and text, change the audio and brightness, select the stylish themes and layouts to share best videos on facebook, YouTube, instagram and other networks.
Below you will find the top 10 professional video editor apps for android:
VideoShow gives you all features which you need to make an exclusive video. You can cut the unwanted parts of the videos, write the text in different styles, paste the cute stickers and change the sound of the video. This app also lets you to resize the videos, apply the filters, gif and much more.
KineMaster video editor app is best to convert your boring videos into awesome creations. You can easily control the volume, speed and brightness of the videos. With KineMaster, you can also cut and trim your videos, apply the 3D transition effects, multiple video layers and text lines to give a fantastic touch to your business and casual videos. This app also supports a variety of video and audio formats.
This video editor app enables you to blur the background of your photos and videos. You can add the music, text, filters and layouts in your fun created videos. This app also supports the cut, crop, instagram hastags, lip sync, dubsmash, and vine videos.
This video editor app for android provides you more than 30 video themes, filters and a huge music library to make special videos. You can dub your own voice on any video and use the expressive words or emojis to reveal your thoughts. With this app, you can also post your videos all around the world via facebook and twitter etc.
If you want to make special videos then "FilmoraGo" is the best video editor app for android. It provides you a lot of video themes, overlays, filters, sound tracks, reverse plays, wipe, split and many other effects. You can adjust the speed, remove the unnecessary parts, add the text, insert the graphics and much more.
This is a customizable video editor app that lets you to make your video clips as interesting as you want. There are more than 25 video styles, songs, text fonts, title displays, musical formats, trimmer, transitions and filters to improve your video quality. This app also supports the audio modifications, cinema orientations and square videos.
ClipMix is a unique video editor app because it lets you to mix up different videos with one another and create a new video. You can easily record your favorite music on any video. ClipMix also enables you to drag and drop pictures or videos, modify display duration and much more.
This video editor app for android allows you to easily cut, copy, paste, resize, recolor and reverse your videos. You can easily apply the voice over, filter, transition, slow motion and sound effects on your favorite videos. This app also lets you to add the text and combine the different photos or videos into one clip.
PowerDirector Video Editor App enables you to cut, trim, crop, rotate, split and flip your videos. You can change the music, record your own voice and apply the slow motion effects to create professional videos just like movies. This app also supports the timeline videos, pip and collage photo video editing etc.
This is a very easy to use video editor app that enables you to delete the useless parts of your videos and easily merge all videos into one even if the format is different. You can also make the photo slideshows, change the soundtracks and turn your videos into MP3 audios etc.
If you have any questions related to the above article then feel free to comment below.