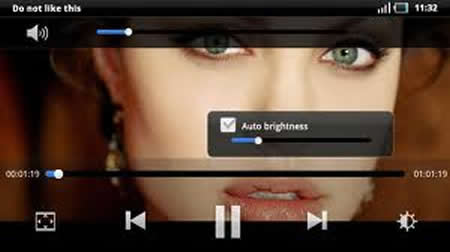 The time has gone when you use the mobile phone just for sake of dialing and receiving calls or messages. Now you can use android device for multiple tasks as a personal assistant, MP3 player, talking alarm clock, fitness and diet control coach. The most interesting thing is that having an android mobile is not less than having a best friend which will with you all the time. Whenever you feel bored or tired you can play games and watch movies for refreshment. If you have the best video player app on android than definitely you will enjoy to see the movies and videos on your mobile instead of TV or computer. Video player apps for android are packed with very interesting features like play the videos in high definition, control the screen brightness and sound as well. Multi core video decoding, quick sharing, video streaming and ability to play different formats along with subtitles are also best to note features.
Let's read the zoogle's search and enjoy the article based on best video player apps for android.

Zoogle's top 7 list will be incomplete if it will not include MX Player because it is the most standardized and top rated video player app for android mobile. It supports Hardware acceleration, auto lock, versatile decoding and multiple subtitling. For better experience you can zoom in and zoom out the videos, modify the text size and directions.


After the MX video player app this one is best for all android users. Real player allows the users to find the videos from You Tube and other popular sites. You can give voice commands, save and book mark your favorite videos or lyrics for a unique ring tone.


KM video player app is perfect for all kind of formats and subtitles. It enables you to watch the movies in slow as well as in high motion. You can set the brightness of the screen according to day and night mode. It plays the videos very smoothly while simultaneous you can browse the web or send the messages. You can also store your most wanted videos on cloud storage with this video player app.


If you want to download the videos in a very high speed than G video player app is best for you. You can customize the themes, open up different URLs, You tube videos and multiple formats in seconds. It also supports 3D Gallery mode, widgets and sharing. It is totally an ad free video player app for android mobile.


The unique feature of this video player app for android is that it does not drain your battery as compare to other video players. Without converting the video files, you can Playback files directly from RAR files. It is also compatible for external and embedded subtitles and formats.
With VLC video player app, you can change the screen brightness and volume for your ease. It helps you to play the various video formats, audio files and DVD ISOs. You can browse the folders directly from the app because VLC player has its own amazing media library.


This video player app works like the other video players but the interesting thing about this app is that it also plays the songs. If you have both the videos and pictures in the memory or SD cards then the app can quickly find the videos and play them in high quality.
Although there are also many other video player apps for android mobile but zoogle always tries to decorate the articles with best android applications. What do you think?