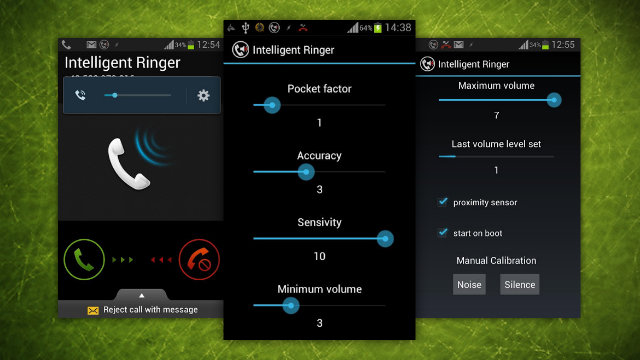 Most of you may spend a lot of time in selecting the best ringtones for android about which Newzoogle has already talked. In this article I will introduce you to such apps that can automatically change the ringtone volume of your android according to the atmosphere you are in. Why you need these apps? The reasons are numerous to count. Firstly, it seems to be much irritating when your mobile rings during a meeting, business conference and other sensitive occasions. You may put your mobile on silence mode but sometimes you forget to do that. Secondly, in case your mobile is on silence there are many chances that you did not remember to activate the ringtone while an important call is awaiting for you. Thirdly, assume you are in a crowded place and your mobile constantly rings in your pocket and you are unable to listen to the ringtone. What can you do in these troublesome situations? Install the automatic ringer volume control apps for android that can easily detect the situation you are in and automatically change the ringtone volume of your android from low to high and high to low. Wow! Continue the reading.
It is the best automatic ringer volume control app because it remembers when to automatically turn on and off the ringtones up to your conditions. If your mobile's volume becomes much slow then this automatic volume ringer control app also helps you to increase the volume of your mobile.
In addition, you can also check the volume booster apps that can enhance the sound of your phone from 25 to 45%.
This is the most popular ringer volume control app for android. It will increase or decrease the ringtone volume of your mobile by judging the sensitivity of the event. If you screen down, vertically or horizontally place your mobile then this automatic ringer volume app will ring up to your choice of volume. You can also make the perfect schedule for receiving the calls and SMS.

This app makes your life much comfortable with it's automate ringer feature. Your mobile will ring in a specific time and helps you to concentrate on your work. After a scheduled time period your android will start to ring automatically rather than manually. This app also gives you a variety of widgets for setting volumes, ringtones and vibrations etc.
If your mobile is in pocket or placed on the office table then the app will make the ringtone according to the current moments. The best thing about this automatic ringer volume control app is that it perfectly determines situations, locations and your background noises for adjusting the volume, vibration and silent modes.
This automatic ringer volume control app allows you to manually and automatically set the time for calls or messages so that your mobile will ring according to your desires, not during the meetings or late nights. You can also reset the time for calls and put your mobile on vibration during the working hours.
Smart Ringer offers smart features like to adjust the time for incoming calls, put mobile on silence and vibration etc. The app enables you to enter the start and end time of meetings or sleeping. This automatic ringer volume control app for android will tunes your mobile again as a normal ringer after the specified time period.
This automatic ringer volume control app is similar to the previous ones. The unique thing is that if offers dashing clock to facilitate you with best.
If you know any other automatic volume ringer control app for android then most welcome to tell Newzoogle about that.