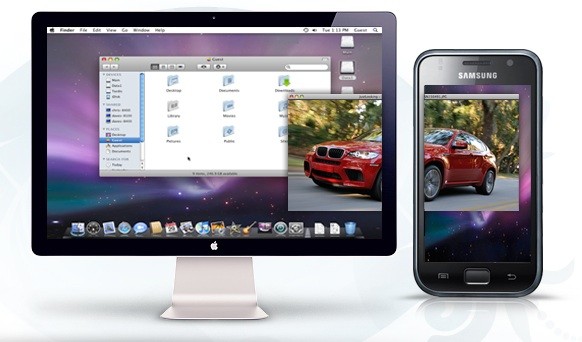 Sometimes we want to do a lot of work in seconds but we have just one computer or laptop to manage all tasks like opening the folders, setting the files, viewing the spreadsheets or pages at large length and many more. In such a case we desire to have another computer display that will improve our work productivity as well as saves our time. Thanks to developers who had created such android apps which will turn your android device in to a second monitor. It is not compulsion that you can only use your android tablet as a second monitor but the awesome thing is that you can also use your phone as a second display. Is it not worthwhile to get the benefit from your android device instead of borrowing or buying the new computer? But remember that your window computer, Mac and android device has the same Wi-Fi connection and required app such as air display, idisplay and splashedtop extended display HD. Let's read their magical features that connect your computer and android device together without the formalities of wire.
Splashtop Extended Display HD


If you want to meet your desire of working on dual monitors then Splashtop Extended Display HD android app is designed just for your convenience. It has the ability to set up your android device into a second display. The extended desktop screen allows you to watch the movies or PDF files on both screens even without converting them into other formats. Furthermore, you can control the voice and videos directly from your computer or android. This android second monitor app is perfect for windows 7 and is also compatible for landscape and portrait modes. The big advantage of turning the android into a second monitor is that you can perform multiple tasks on your desktop computer just by using gestures or swipe keyboard inputs of your android.


iDisplay android app will increase the zone of your desktop and allows you to manage the desktop icons and folders from your android device without the mouse wire. You can continue your main work on the desktop screen while set the android as a second monitor for additional tasks like playback and move objects. iDisplay also enables you to zoom your PC area from your android phone and supports the different orientations like landscape and its contrary.
Air Display


Many business men prefer to work on dual monitors due to the constant work load. Air Display helps you a lot in enhancing your screen display and developing a confidential workspace. Instead of using the mouse, simply use your finger for quick inputs on your Mac and Windows computer integrated with android tablet. Air Display improves the graphic design and programming capabilities. The android second monitor app will also automatically adjust your documents on your computer and android for quick viewing and analyzing.
Second monitor will make your work much easier than ever before. Try the above apps and select the best one which will turn your android into a second monitor. Do not forget to give your feedback because zoogle loves to know your opinion about the android as a second display.