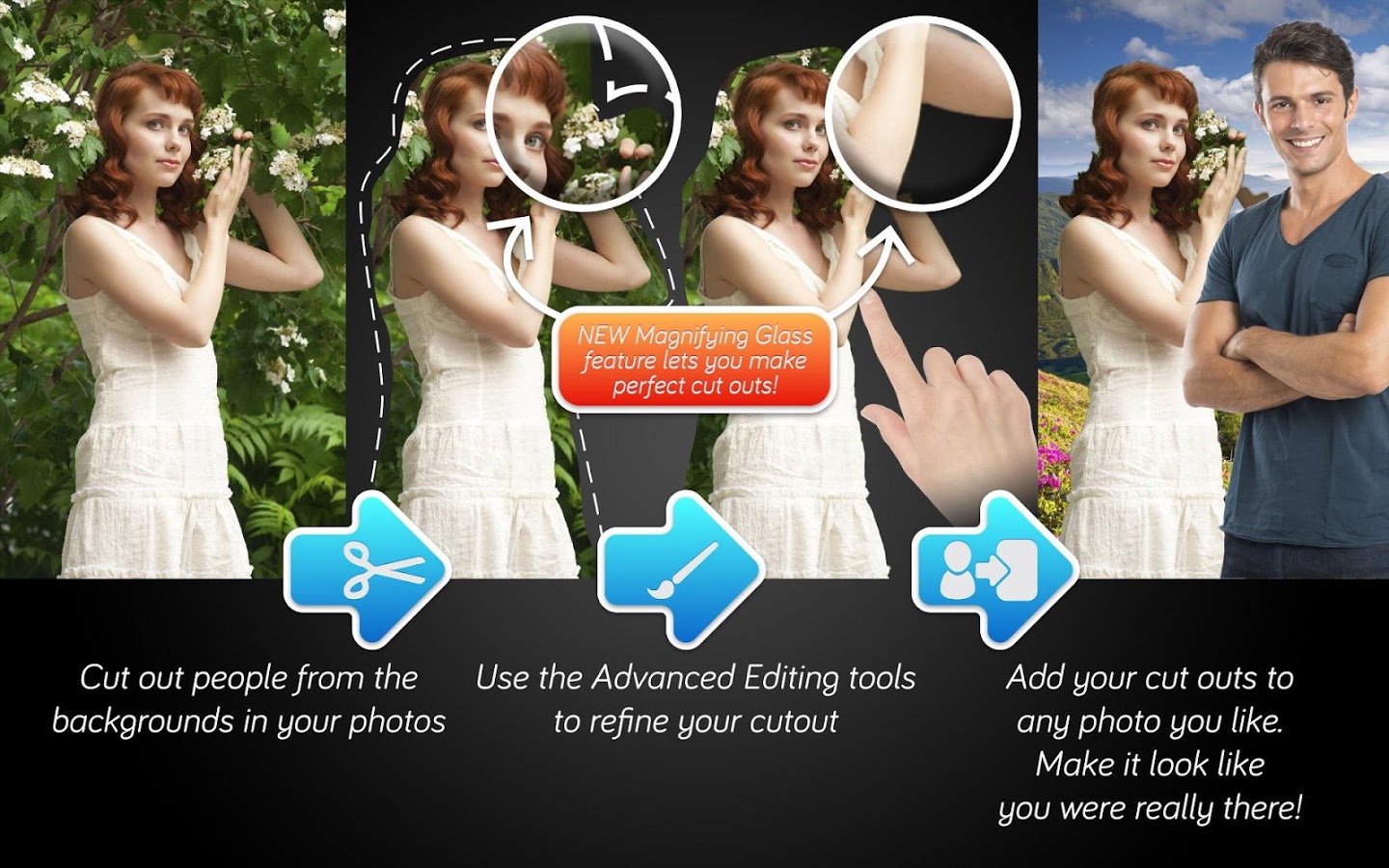 A smart phone with a camera gives you free hand to take photos in every occasion even you can take your own photo usually called selfie. Although there are many camera apps for android that can give special effects to your photos, beautify your selfies and enables you to take clear photos in low light conditions. But there is hardly any camera app that allows you to cut and paste photos according to your desires. Today Zoogle is intended to write about cut paste photo apps for android that let you to put your face in another photo and gives it original effects. Remember cut paste photo apps are different from simple photo editing apps for android.
Zoogle has compiled this article with the best cut paste photo apps for android. Let's read.

This cut paste photo app enables you to change your face with someone else. You can cut the different parts of the photo and can paste it on another photo. Furthermore, it also allows you to give amazing effects to the cut paste photos to make them more realistic. If you want to change the background of the photo or add and remove the people from your photo then try this app.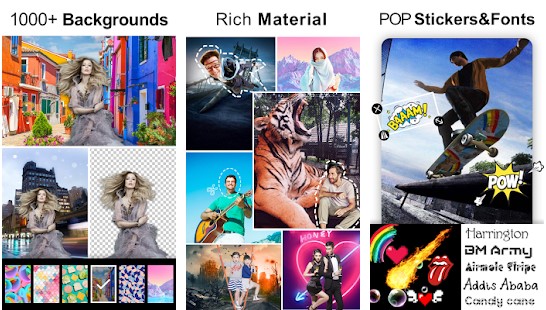 MagiCut is a latest app to play and experiment with photographs by blending them, cutting them and editing them with latest and advanced tools. Show your creativity to the world because now MagiCut is available on android.
This cut paste photo app lets you to quickly modify your photos and convert them according to your wishes. You can remove the unwanted parts of the picture, cut the whole figure and paste it into another background. For more professional looks, you can also swap the faces and replace them with your favorite ones.
This is an amazing cut paste app for android that uses the "seamless overlay" technique to give original effects to your created pictures. You can cut any part of the photo and perfectly put it into another. Your newly produced photo will be more close to reality and has the potential to put others in surprise. This app also gives you the tips to improve your cut paste skills.

It is a very easy to use cut and paste photo app because it allows you to automatically cut the selected parts of the photo and paste them on another photo just like a sticker. Even you can paste a complete photo over another photo. For a complete family or friend's group photo you can also add the photo of the absent person.
This app also gives you a lot of beautiful backgrounds, erasers and zoom options etc.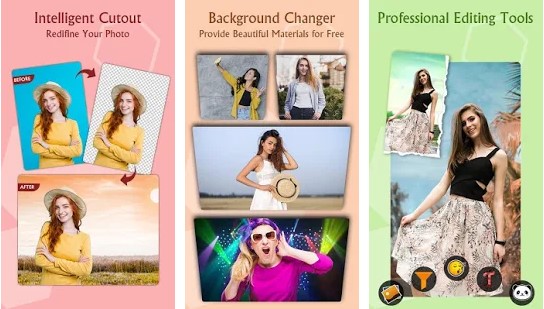 You can create very impressive and stunning photos with this photo cut paste app for android. If you have a nice face but weak body then you can paste your face on the perfect body. The app will remove the unnecessary objects from the picture and let you to make your face beautiful by using different effects, stickers and text etc.

This cut paste photo app enables you to make collage photos. You can set the collage photos in various postures and backgrounds by using two finger gestures. The app will trim your photos and give them special effects. Like the other cut paste photo apps, it also allows you to add text to your photos.
Sometimes it happens that your face looks pretty in a photo but the dress is not up to your taste then instead of cutting, use this app because a good dress can also make your photo outstanding. This app offers you a lot of beautiful dresses available in every color. You can crop, rotate and resize the picture to fit in the fashionable dress. It will be nice to turn your edited picture into wallpaper. If you are bored to change the wallpaper then select such android apps which will automatically change your wallpaper.
Cupace is a trendy cut paste photo app because it offers stunning features. You can use a magnifying glass and zoom mode to clearly cut the faces and other parts. There is a face gallery where you can save the faces of different expressions and use them on other photos. Cupace is also best to write text in different colors, get emojis and swap faces to create new funny images.
This app gives you special tools to cut and edit photos up to your wishes. There are top backgrounds, fantastic filters, new blur effects and much more to make your photos extraordinary. This cut paste photo app is ideal for every user who is interested to combine different parts of the pictures in a single photo. Your fun creations will look realistic.
PhotoLayers Superimpose is a must to have android app to professionally edit your photographs. Not only one but more than 10 pictures can be mixed in one picture. You can use this app to easily erase the photo backgrounds and other portions which you dislike. PhotoLayers also enables you to modify the colors and make wonderful photomontages.
Enough Reviews still not found what you looking for? here is some more New and amazing ones for you.
And here is even more:
https://play.google.com/store/apps/details?id=com.zmobileapps.cutpastephoto
https://play.google.com/store/apps/details?id=com.photovideozone.autocutout
https://play.google.com/store/apps/details?id=com.cut.paste.photo.editor.photo.collage
If you are using another cut paste photo app for android then tell zoogle in the comments because zoogle loves to enhance its knowledge.