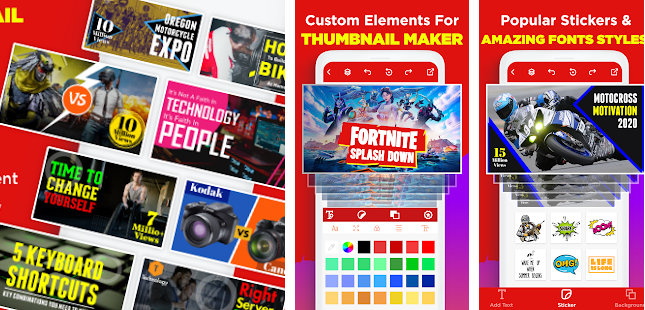 Video thumbnails are very much important for getting more views on YouTube or any other platform. Thumbnails are no doubt important, but at the same time, you must know that it is quite difficult to design good quality and attractive thumbnails.
This traction would tell you about the modern YouTube thumbnail maker applications and tools to create the best thumbnails for your content. If you have no expertise or prior knowledge in designing thumbnails, you don't have to stress about it.
These applications can help you create the best thumbnails by yourself.
Thumbnail Maker – Create Banners & Channel Art
This is a free thumbnail maker app that you can use on your desktop and your smartphones. The use of this thumbnail is super-easy and interesting. Even with zero experience, you can design a new thumbnail like a pro. You have to install this thumbnail maker google play android application, open it, and select the category of templates from which you want to select yours. The app has to offer more than twenty different categories, including bike, entertainment, learning, technology, gym, travel, and even views. You would find dozens of predesigned templates to create formal covers for Facebook, YouTube, Twitter, LinkedIn, and other channel arts in each category.
The availability of unique designs makes this application a must use one.
Canva- Thumbnail maker
Canva is known as one of the finest designer apps on the internet. This design application offers you different options to easily create logos, business cards, invitation cards, thumbnails, and cover photos. This design application can be used for free, and the simple interface of this tool makes working easier. You can easily find predesigned templates in this application, and you can also create and customize a thumbnail from scratch. This thumbnail maker can be used online via a browser and installed on android and iOS devices. You have to register your account with the app and start making attractive thumbnails for your YouTube videos.
PicMonkey 
This is another online thumbnail maker app that provides numerous templates, filters, overlays, font styles, and frames that you can use to create the best thumbnail for your video. Pic monkey is quite famous for providing a very appealing beautifying feature to make your designs more attractive. Suppose you have a YouTube channel from where you are publishing vlogs. In that case, this application is best for making thumbnails that can beautify and elaborate your facial images. It is an extremely competitive service, which is why it charges a certain amount for the premium package. The pic monkey provides more than a hundred free designer crafted thumbnails. You can easily create the best nail for your videos. This app can easily be used online and on android/iOS devices.
Fotor- Thumbnail maker
Fotor is a relatively modern application that offers very advanced features. It has all kinds of attractive themes that you can adjust in different categories of video content. Other than the predesigned templates and themes, this application also has to offer a wide range of editing options to customize your selected theme. You can design and save the thumbnail in your local storage and also on your cloud space. This particular app has gathered a lot of fame because of its fast-processing speed and design elements. Fotor can also provide you templates for specific scenarios for your videos.
Fotojet
This is an online thumbnail tool that can be used online via a browser, and you can also download it for your windows devices. This designer application can easily be used for numerous facilities, including collage making, photo editing, and graphic designing. This website is ranked among the most advanced photo editing and thumbnail-making tools, which can help you get a tremendous number of views. This site offers more than five hundred different template designs for thumbnails, collages, and other artwork. You can choose a suitable template for your video/event and edit it in the dashboard. If you want to create high-quality thumbnails in three steps, then you should try this app for sure.
Backgrounder
This app allows you to design professional artworks, including avatars, logos, thumbnails for YouTube, Facebook, and even Twitter. This application is very easy to use and suitable for both professional and personal use. Its interactive and interesting interface makes it's working even more intriguing. The best thing about backgrounder is that it can provide you unique template designs. It owns a complete designing community that keeps on providing fresh artworks. You can also use this app online using your browser.
We would suggest our readers try either of these thumbnail maker apps to easily create attractive thumbnails for their video channels and get tons of organic traffic.