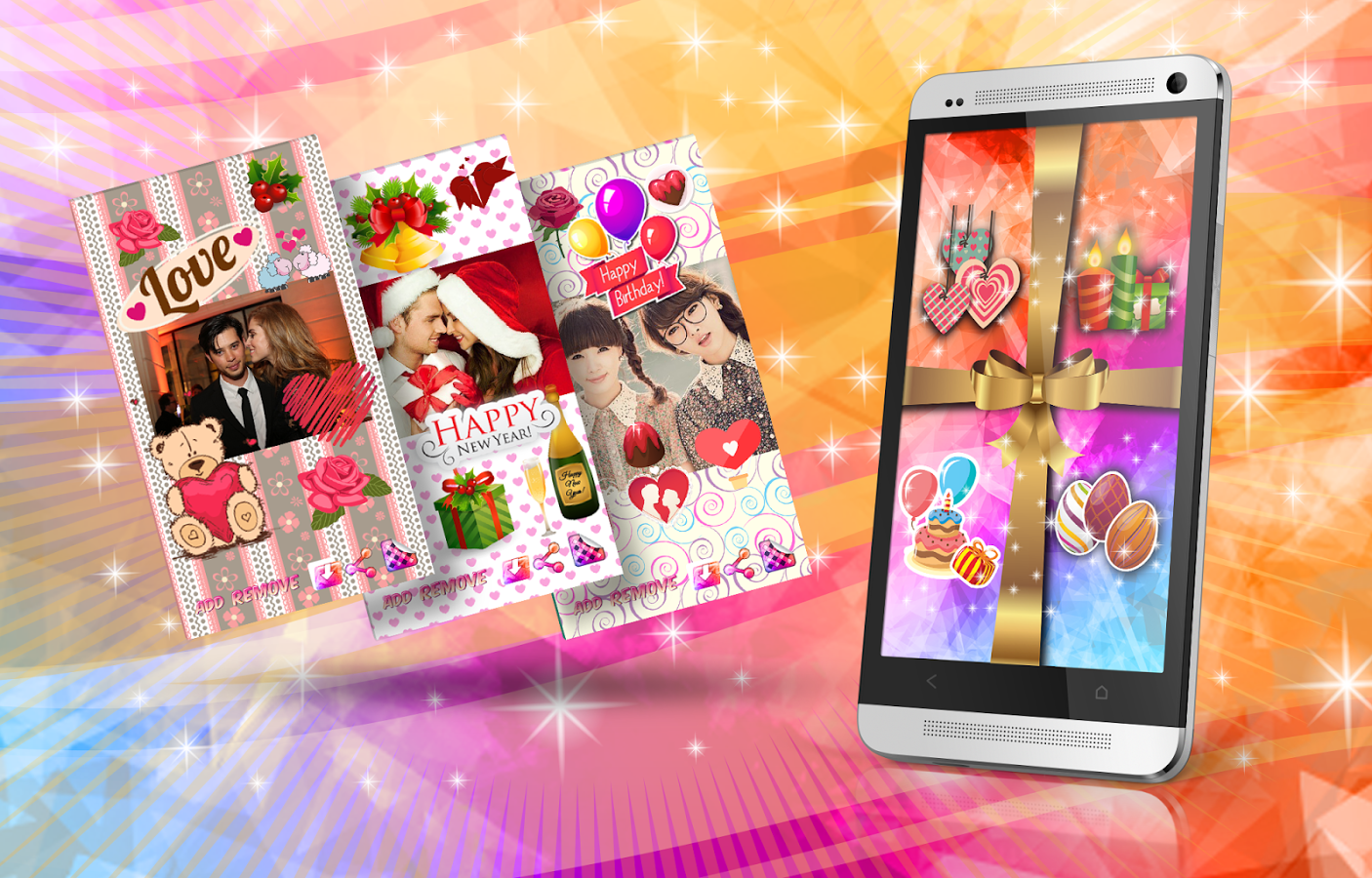 A greeting card shows your love for the person who is special for you. There are many greeting cards available in the market but all the greeting cards have typical design and same wishing quotes which are too much bored or somehow become old fashioned. Furthermore, it seems to be a time killing task to go to the market and search for the best one. Android greeting card app let you to make greeting cards according to your desires and love passions. You can also add your own text and occasion suited quotes by utilizing greeting card apps for android. Although all the greeting card apps have similar features but zoogle had tried its best to describe the greeting card apps which are unique in their functions and enable you to wish your dear ones on all occasions like Eid, Dewali, birthday, anniversary and many more. Let's have a look.


This greeting card app has a big collection of impressive greeting cards that are free and customizable. The app will automatically update the greeting cards according to the upcoming event and allows you to send the best and unique greeting cards to your friends. You can paste your own text on the greeting cards to sprinkle the impression on others that your love is unique like your greeting card.
In this app, you will also get the huge list of best wishes, gif type ecards and reminder facilities.


Create the special cards for the special people and make them realize that you are with them in both happiness and sadness. You can write the love quotes of your choice and can also edit the predefined quotes within the free greeting card app. You can also give different effects to your greeting cards like changing the size and color of the text and images.


This free greeting card app for android has a lot of greeting card categories and enables you to send the greeting cards to your fellows on every occasion via android phone, face book, email or twitter. You can make the greeting card more realistic with your hand written message, photo and signatures by this greeting card app.
This free greeting cards app for android enables you to design the greeting cards in such a way that will become the mirror of your heart. The app offers you amazing templates for greeting cards and also gives you the freedom to generate your own greeting cards. You can make your cards more stylish by using the bubble thoughts, stickers and photo rotation mode.


This greeting cards app let you to select the best quotes related to every event like birthday, Eid, Christmas, Marriage and so on. You can make your card a specific work of art with efficient drawing tools and photo effects. After all you like to share your marvelous greeting cards on various social networks like Whatsapp and face book etc.


This free greeting card app differs from the other greeting card apps for android because it enables you to make the greeting cards with videos and live recordings. The other person will see your video animated love message within the greeting card. In addition, you can also make the elegant and cute looking cards with this android app.


This greeting card maker app allows you to set the reminder when you want to send the greeting card to your dearest one. You can prepare the card with multiple text sizes, colors and photos. It also facilitates you to save your favorite cards in a single place for quick selection.
A good greeting card can make your relations more powerful and everlasting in condition you wish on the right time. What do you think? Let's share with zoogle in the comments.