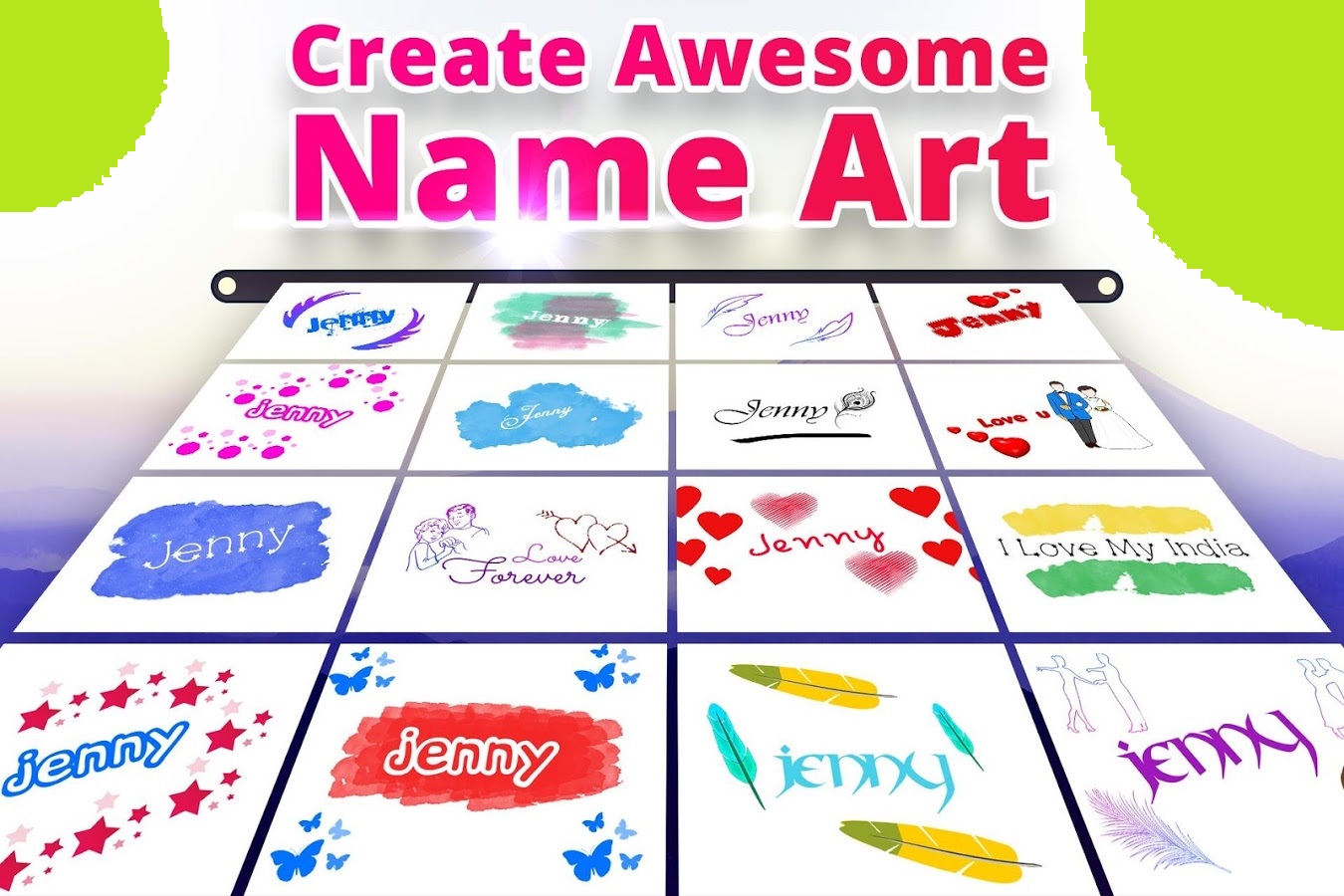 One day my art class teacher asked a strange question "do you love your name?" Everyone replied yes in a loud voice but suddenly there was silence because the teacher said to prove it by writing names. The winner was those students who had written their names with styles, using colors and making different objects around their names. I think the teacher the teacher was right because the way you write your names shows your love with your name. It gives you the inner pleasure to see your name on birthday cakes, pictures, bracelets, bangles, necklace, key rings and other objects. So to help you to beautifully write your name here Newzoogle is going to discuss the top 10 stylish name maker apps for android. All these apps will give you new ideas to improve your name art and make unique social media profile pictures.
Let's look into the below list and find the best stylish name maker app that is up to your choice.
Stylish Name Maker
This is a super fantastic stylish name maker app because it gives you a lot of beautiful fonts, word styles and frames. You can write your and your partner's name on cute and romantic images like hearts, pink roses, candles, color pencils and many other items to impress your love. This app also allows you to change the size of the text and use color effects to give an attractive look to your name.
Focus n filter – Name Art
Focus n filter is a must have app for all those who love their names because here you will get a variety of font styles, stickers, symbols, backgrounds, textures, painting colors and editing tools to write your name as you wish. You can also set Dp profile in social media and share your name art with your friends.
If you want to create best profile pictures for facebook, twitter, whatsapp and other social networks then Name Art is just for you because it gives you 60 stylish fonts, 100 types of emojis in all colors, cute symbols, nice backgrounds and latest focus n filter technique to write stylistically on your photos.
Calligraphy Name has more than 100 word writing styles, expressive symbols, cute backgrounds and many other inspiring gradients to decorate your name. You can change the text and background color. This stylish name maker app also lets you to make unique text profile pictures and post them on all networks.
Name on Pics provides you very beautiful images related to birthday, anniversary, beach, friendship, good morning and good night pics. You can easily write names on these pictures, change the text size, write the words with style and add the colors on them. This stylish name maker app also allows you to use these images as greeting cards and wallpapers.
BHM Name Art enables you to create impressive text and beautify your name with different decorative items like feathers, heart shapes, painting brushes, unique backgrounds, cute stickers, balloons and many more. You can write your name, quotes and messages in different fonts and colors. This app is also best to make insta square size photos and greeting cards to send to your love.
This stylish name maker app lets you to write your name or any other text with beautiful, shiny and colorful flowers. The flowers are available in all standard colors such as green, blue, yellow, red, white and purple etc. You can resize the flowers. Draw and paint with your hands in your favorite language.
My Name Pics is a great stylish name maker app that helps you to create your own quotes, add text on photos and decorate your name with different materials. Stickers, emojis, symbols, colors, dot art, painting tools, font styles, templates and many other artistic features will let you to easily show your creativity.
This stylish name maker app gives you 100 beautiful photo frames including rings, bracelets, lockets, hearts and many other fantasy sceneries where you can easily write your name. You can bold, Italic, color and stylize your name according to your desires. This app is also best to get beautiful backgrounds and font styles.
This app is slightly different from the above apps because it lets you to have a big collection of love stickers, emoji stickers and baby stickers to decorate your names. You can change the word styles, background image and text color to give a special touch to your name. This app also enables you to artistically mix names and create your own name live wallpapers.
If you like any of the above stylish names maker app for android then remember to share with us.