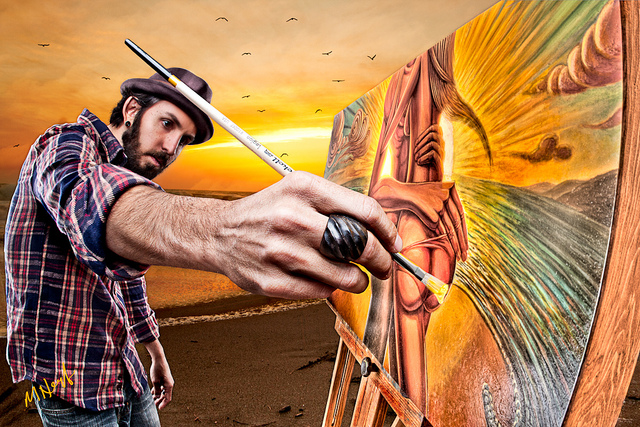 Artists are the people with creative mind and sensitive heart. They has the ability to put the ideas on paper and the canvas of their painting reflects the colors of life which may be conflicting, admiring, dejecting and hopeful at the same time. In this digital era many artist prefer to learn and test their abilities on the short screen of android instead of a big painting board. Android apps for artist enable you to do painting at any time whenever a unique thought and imaginary picture click in your mind. Android apps for artist give you a big collection of colors, brushes and many other painting tools. These android apps for artist also show you the work of worldwide famous artist whose remarkable paintings become the well-known reason of their fame.
Google play store has a lot of android apps for artist but Newzoogle has tested out the following artistic apps that are really amazing.
ArtFlow will change your artistic experience and lead you in an imaginary land where you can do everything. Play with dark and light colors; give amazing effects and layers to your artistic piece. You can modify the brush and page size of your digital canvas. Artflow also allows you to import pictures, draw geometrical angles and use stylus to improve your paintings.

ArtRage is the best tool to draw, export and import the images from different sources. You can use water colors, oil brush, gloop pen and many other useful artistic tools to make your painting everlasting. This android app for artist also gives you the facility to attach your inspired image at the side and easily capture, highlight and blend the pictures.
Silk paints drawing is another interesting android app for artist. It enables you to create and view the inspiring live wallpapers, paint the pictures in high quality and life popping colors. You can use a lot of amazing magic brushes and stylish canvases. This app also lets you to see the paintings of other people.

SketchBook is a customizable android app for artist because it allows you to catch the flow of your thoughts in a very realistic way. You can utilize various brushes, markers and other stuff to draw the pictures. Sketchbook android app for artist also let you to know the importance of brush stroke and advanced color mixing scheme.

This android app for artist is best for all the beginners who wish to become a famous artist in future. It provides you the complete guidance about the artistic world. The practice of a few days will tell you to draw freely whatever you want and get a superb image out of it. This android app for artist also enables you to draw funny and humorous caricatures of your friends and animals.

Clover Paint is the mixture of many photography apps like cut and paste photos, clone your image and give it mirror and blur effects to focus and defocus on special parts of the picture. So get the clover paint for learning a short cut and advanced modes of graphics and drawings.

This android app for artist helps you to get new ideas for your artistic work like star animation, fireworks and text blending mode. You can also know how to scatter the art colors in a stylistic and realistic way.
I hope you will like the article and if you find any other android app for artist then inform the Newzoogle in the comments. Because Newzoogle loves to widen up the zone of its knowledge.