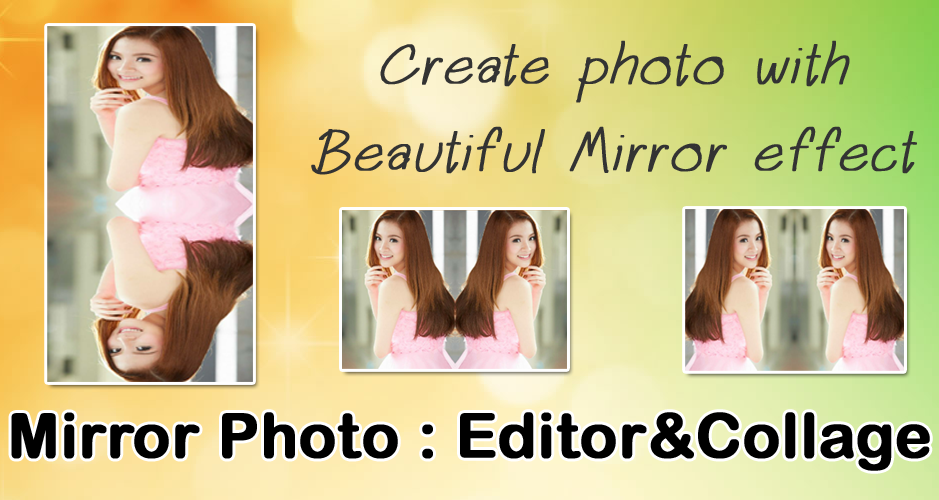 If you love to play with pictures then definitely you are searching for the apps that will make your pictures well looking and praiseworthy. One of the best things is to add mirror effects to your photos. Mirror effects will enhance the beauty of your pictures and simultaneously turns them into a master piece of art. Photo mirror effect apps for android enable you to select the area from where you want to see the mirror photo like up, down, right and left in any style. You can also give various color effects to your mirror photos and can share them on face book, twitter and whatsapp to show others that how genius and stylish you are.
Below there is a list of top 7 best photo mirror effect apps for android. Check them if you want to polish your photography skills.


Mirror Image editor app is packed with multiple features and allows you to set your mirror photo in any direction and design. You can change the color, saturation, brightness and quality of your mirror photos. In addition, you can also add text and stickers on your photos and easily mix up different photos in a single photo known as collage photo.
Zoogle has already discussed about the best collage making apps for android.
This photo mirror effect app allows you to make your pictures marvelous and unique. You can easily select the best overlay and filters to modify the color and format of your mirror photo. This app also enables you to share your hilarious pictures on different social networks.
You can also put your face on another photo and give it original effects with best cut paste photo apps for android.
This photo mirror effect editor app gives you the complete liberty to add and repeat the mirror reflection in multiple directions. You can adjust your mirror photos in beautiful frames, shapes and filters. With this mirror photo effect app, you can create such mirror photos which are different in colors, overlays and text fonts.


Mirror pic android app has a lot of mirror templates and enables you to clone yourself in the photo. This mirror photo effect editor app will retain the image quality even if you resize the pictures. You can write whatever you want in different styles, fonts, colors and patterns to show your creativity on selfies.
You can enhance the beauty of your mirror photo by giving it background blur effects from every corner. The mirror photo effect editor app offers a number of stunning stickers like hair stickers, love stickers and many more. You can easily increase or decrease the brightness, shadows and color effects of your photos.

The special feature of this photo mirror effect app for android is that you can give tens 3D effects and fragmented mirror effects to your pictures. With this app you can turn your targeted photos into any mirror design such as heart, leaf and pip etc. Furthermore, you can give various colors and filter effects to your mirror photos.

Your pictures will look elegant and impressive if you set them in beautiful diamond frames. This photo mirror effect app for android allows you to put your pictures in shiny diamond mirrors. You can modify the size of the picture to fit well in the diamond crafted shapes.
Hope, you will like to apply mirror photo effects to your pictures for making them outstanding. Although zoolge has tried its best to familiarize you with the best photo mirror effect editor apps for android but in case you feel something is missing then most welcome to tell zoogle in the comments below.