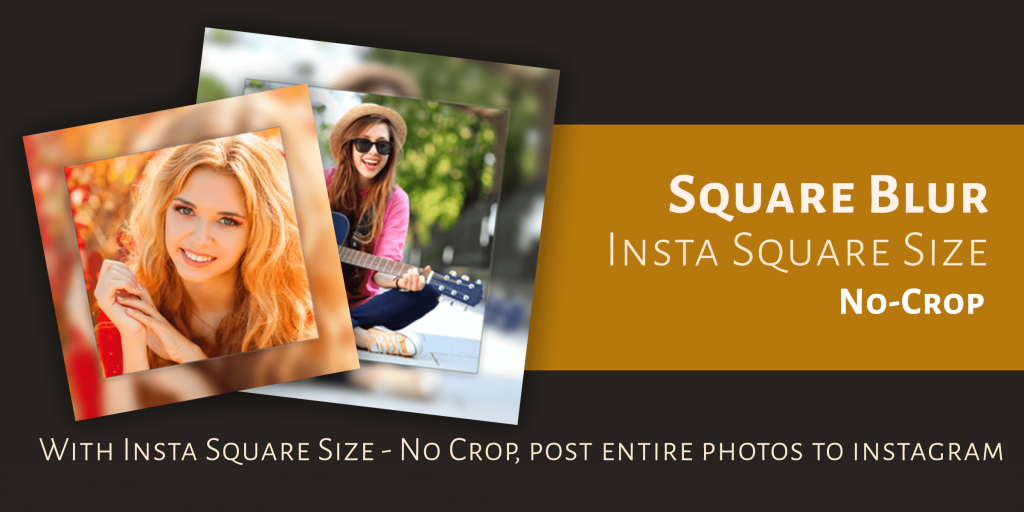 To share the photos on social media has become a common norm but often we are unable to share photos because of their extra large size and it is unfair to cut or crop photos in order to make them square. So Newzoogle recommends the best photo squarer apps for android that will automatically shape your photos into square size and let you to share your full pictures without cutting or crop. These photo squarer apps also provide you many other interesting photo editing tools like change the background, add the text, emojis, filter and blur effects to your photos which you want to share on facebook, instagram, whatsapp and other social networks. But if you want to get your photos into any size instead of square then click here to resize your photos.
Although there are many photo squarer apps available in the Google Play Store but here you will know about the best instasqaure size maker apps for android because instagram quickly post the square size photos.

This app is very much popular among the instagram followers because it lets you to share your complete photos on instagram. Without cropping, you will get your photo into square size. This app also enables you to add text, stickers, emojis, blur and beautiful backgrounds on your favorite pictures. 

With this app, you can easily square your photos, make cute collage grids and apply mirror effects to clone your photos. You can set your pictures into beautiful shapes like heart and circles etc. This photo squarer app also provides you a variety of backgrounds, blur effects, stickers and filters to enhance the beauty of your pictures.

This is an amazing photo squarer app for android that lets you to square your photo without cropping its sides and borders. You can change the background, have nice collage templates, write words, use emojis, apply the blur and contrasting color effects to make your pictures beautiful. This app also allows you to set the quality of your resized photos try different filters and lovely frames.

If you want to post a full size but a high quality photo on instagram then this is the best app for you. You can edit your photo according to your desires because this instasquare size maker app provides you more than 200 collage templates, backgrounds, stickers and a variety of text fonts so you can easily express your emotions.

This instasquare size maker app can easily resize your photo into square form without cropping. You can create amazing collages;  add words, smileys, stickers and filters on your photos. This app also gives you a lot of photo editing tools like get the blur effects, control the brightness and many more.

This is a very easy to use instasquare size maker app because it gives you special layouts which are perfect for instagram. You can square your photo, write the text, paste the stickers, select the backgrounds, add the tags, filters and more. This photo squarer app also allows you to crop or no crop your insta square photos.

Along with shaping your photo into square form, this app also helps you to make your pictures as beautiful as you want. You can easily select your favorite photo background, corner marks, pip camera effects, cute hashtags, best layouts, text styles, painting tools and smiley stickers to make your pictures unique and stylish.
Do you like to use these photo squarer apps for android? Share with Newzoogle in the comments.