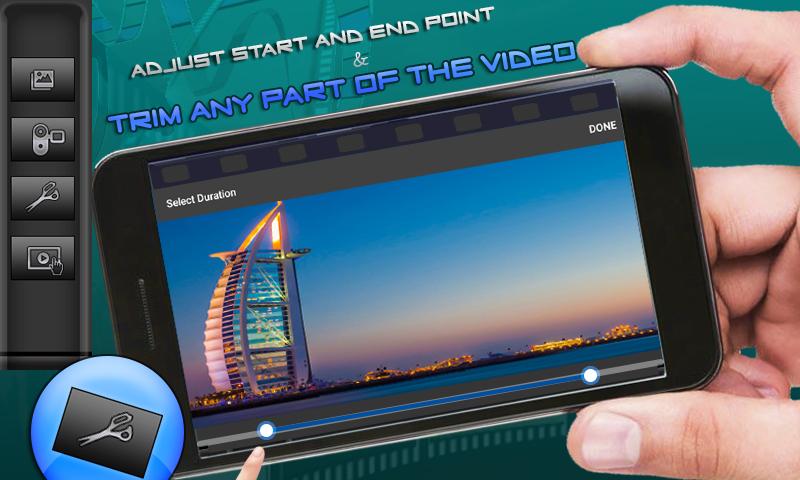 Sometimes it happens that you watch a video and there is (an action, funny and romantic) scene that touches your heart and compels you to enjoy it again and again. But just for that scene, you cannot save the whole video in your mobile because it takes too much space in your storage so it will be best to cut that exclusive scene and see it whenever and wherever you want. Video cutter apps for android can help you a lot to do this. These apps let you to cut or trim any part of the video and save it forever. Video cutter apps also help you to make special videos on weddings, parties and other events: you can remove the unwanted parts of the video, create interesting video clips and easily focus on special moments. Many video editing features are also included in these video cutter apps for android. Let's explore them.
This is an amazing video cutter app that lets you to cut, compress, merge and convert your videos into animated gifs. You can also rotate your videos; adjust the speed and control the audio to make them as beautiful as you want.
This app enables you to capture HD videos and apply video effects on your photos. You can trim and cut the unnecessary parts of the videos even you can also collect all your videos into one video. This video cutter app for android also allows you to easily include or exclude the music from your selected videos.
Video Trimmer Guru gives you a lot of amazing features to cut, trim, compress, rotate and edits your videos according to your desires. You can merge more than two videos, grab cute video frames and add music to create the quality video clips into any formats.
AndroVid is a professional video editor app because it lets you to do different experiments on your videos. You can cut the unwanted parts, add the text, change the audio, convert the format, mix the videos and apply the effects on your favorite videos. AndroVid also allows you to create photo slideshows,video clips and much more.
This video cutter app provides you very effective tools to cut your videos along with audios. You can select the start and end point to quickly delete the boring parts. This video cutter app also lets you to cut your favorite songs and set them as the ringtones.
Newzoogle Special:
Now its time to tell you about an amazing android app.
Eventteller

It is a nice idea to plan for future and in this regard "Cross Angel" developers represent a unique app that let you to know which event is coming around you, so you can quickly prepare for it. Furthermore, if you are busy in daily routines then this app can also help you to stay up to date with the latest trends or upcoming festivals. This app is also great to get unlimited mobile credit without paying any money. So, must try "Eventteller" to make your life easy and remember to share it with your friends.
Which is the best video cutter app? Does your favorite video cutter app for android is included in the above list? How's your experience with "Eventteller"? Newzoogle is waiting for your feedback via comments that are given below.