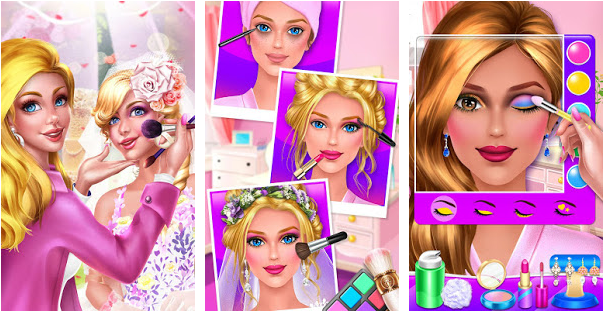 Girls can play a lot of games on mini or large screens but makeup games especially wedding makeup games are very much popular among girls who like makeup, interested in opening salons and have a proper fashion sense. In real world, you need a person at whom you can try your skills as a makeup artist but wedding makeup salon games let you always have a character with you for showing your talent. There are different faces in each of these games, the salon tools are variant and dresses combinations are also outstanding. You can ready the bridals in your style and can also gain ideas for looking attractive in real world.
Although nail salon games can also be tried for this purpose, but those games only focus on nail art. The following wedding makeup salon games cover everything to make the bridal's day more special and more alluring.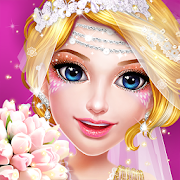 Wedding Makeover Salon game is best to do a bridal makeup. There are different makeup kits, lipsticks, nail polishes and a lot of other products. Any cream and shades, you can apply on girl's face by using various makeup brushes and pencils. The tools are 90 in numbers.
Without jewelry bridal makeup seems incomplete, therefore this game gives you many rings, bangles, necklaces and earrings etc. All fashion items are very much shiny and have an elegant grace to give an extra glow to your bridal. Bridal's dress color, style and design also matters a lot in this regard. So, this game gives you many beautiful bridal dresses in all colors and styles. Furthermore, matching shoes, hair coloring and hair styling option is also given to you, so, you can prove yourself as an expert wedding makeup artist.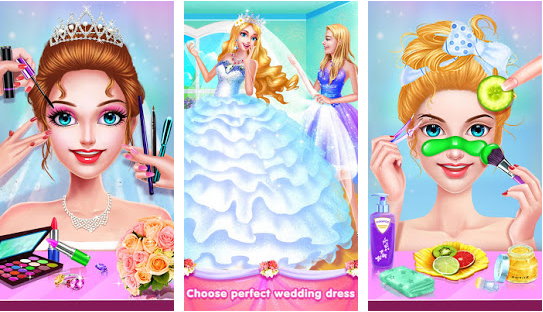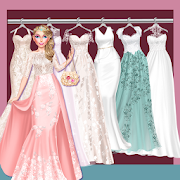 Although every girl can do makeup but do you have ever got a chance to do the makeup on the bridal's face. If no, then this wedding makeup salon game is best for you and if yes, then this is also a great game to enhance your experience. Because in this game, you will get a cute bridal and her friends who want to look beautiful on the wedding day. The salon is your, so you have to ready them for the special day. There is plenty of makeup for face and eyes. The makeup tools are also of various types. You can pick any item and start the bridal makeup. Comb her hair and set them in a stylish way.
If the makeup is according to the dress, then it looks perfect and gains everyone's attention that's why this game provides you the biggest collection of wedding dresses. The most heavy and full of embroidery dress, can be picked for the bridal and the other shiny dresses can be best for the bridesmaids. Because bridal is the main character of the wedding. Making a wedding theme and lovely bouquet is also possible in this wedding makeup salon game.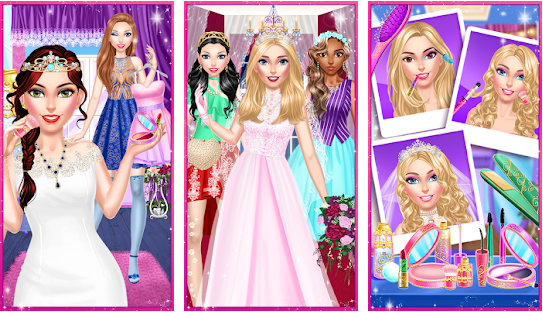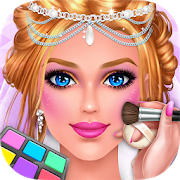 Do you want to check your abilities as a makeup artist? Can you satisfy the customers? Or Can your salon gain popularity? Then this game is just for you. As it allows you to use a lot of cosmetics and decorating material to give a glamourous look to your bridal. Try different hair styles to make her different from the other girls.
There should be a nice combination among bridal's makeup, dress, and jewelry. Therefore, this wedding makeup salon game offers stunning dresses in all bridal colors especially in red and white. You can easily pick the shades according to the dress because this game has such makeup kits which has all colors. The jewelry designs especially necklaces of this game are very eye-catching. From a lot of earrings, bracelets, flowers, shoes, and other items, you can choose the one that you like. In this way, this game lets you know about the design, matchings and contrast which are necessary for doing a perfect bridal makeup.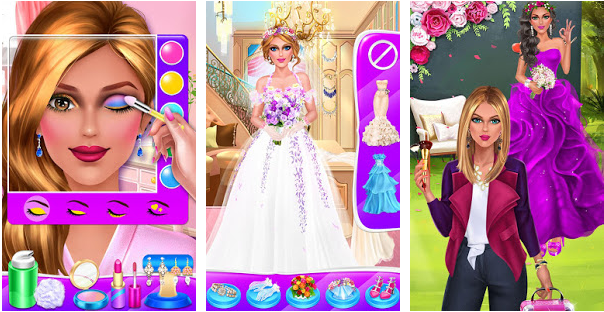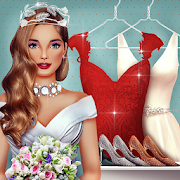 Your style, fashion and beauty sense can be easily explored by playing this wedding makeup salon game for android. Because it gives you a stunning bridal look book based on different eye makeups, hairstyles and lipsticks. You will know about makeup types according to the dress and skin tone. Apart from makeup, this game provides you all important styling items in one place including high heels, modern handbags and beautiful jewelry etc. Lovely bouquets and fashionable dresses, you can use to give a unique look to your bridal, her friends and relatives. All this will also help you to know the art of designing a wedding theme in bohemian, vintage, fantasy and other styles.
The most unique part of this wedding makeup salon game is that it also lets you play in bridal war mode. It is very much challenging because just like you other experts will also join you. A strong competition will be held among two makeup artist and the winner will be one who has done the most beautiful bridal makeup and smartly used the accessories. In addition, this game also allows you to have some shopping and make your own fashion book for later use.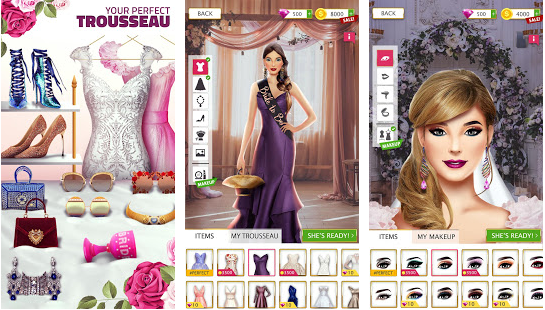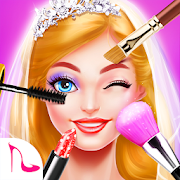 Applying makeup on a bridal's face, has become much easier with this wedding makeup salon game. As it has all tools, cosmetics and decorating items which will help you to make the bridal the "queen" of the day. But before touching the makeup kits, cleaning the bridal's face is much more important because without it the whole makeup efforts will be useless. From nails to hair, every part should be nicely cleaned therefore, this game provides you soap, creams, masks, water, towel, and many other materials. After that, you can move towards makeup products, hair styling, coloring and nail paintings etc.
Wearing the most beautiful dress, on the wedding day is the dream of every girl who is going to be the bride or the guest that's why in this game you will get a lot of cute dresses. Veils are also included.
For inviting the guest for wedding, sending them cards is a norm, so this game also allows you to make your favorite cards.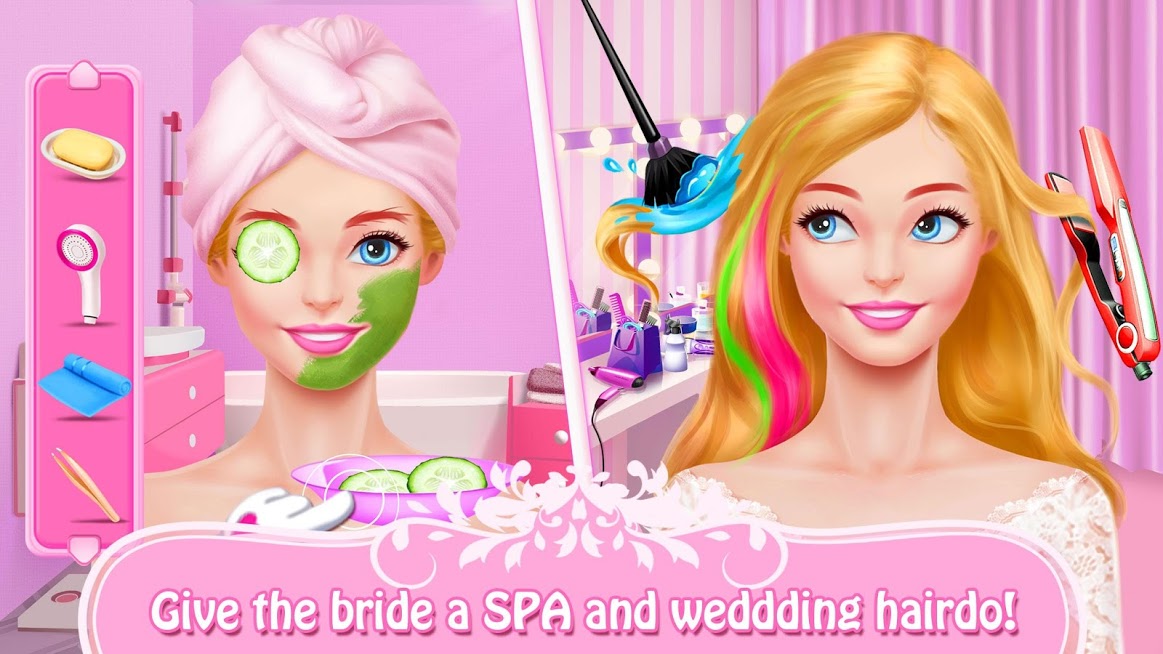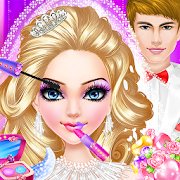 On wedding day, every girl wants to look just like a princess so for having a princess look, this game lets you do a nice facial and wash hair before starting makeup. You can use best creams, different lipstick colors, eye shades even artificial lenses too for enhancing your bridal's glow. Any hairstyle you can set. And have a lot of decorating items for hair, neck, hands and ears because all these are compulsory for a bride. Without these items, the bridal's beauty seems incomplete.
Next most important thing for the bridal is her dress therefore this wedding makeup salon game shows you many dresses in different colors and designs. Up to your choice, you can select the most gorgeous one for your bridal. Matching veils and beautiful shoes are also included.
A unique thing about this game is that it gives you many cute photos of the groom. Because all this will help you in bridal's dress and makeup selection. Furthermore, if the bridal and groom's dress have some matchings then it will be easy to gain a complete wedding look even for capturing memorable photos, it is a great idea.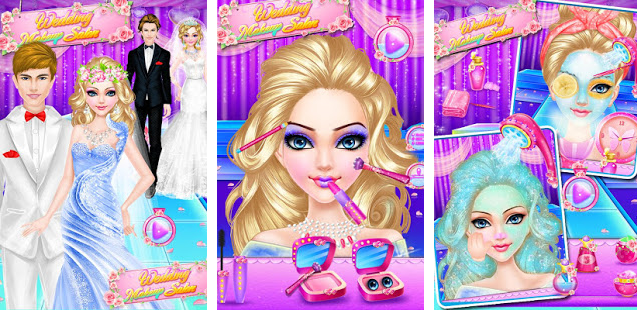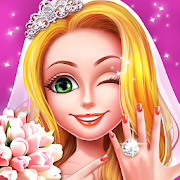 This game lets you shape the bridal's eyebrows, remove pimples from her face and take measurements for her dress. You can use many colors on her cheeks, eyes and lips. As the game provides you quality kits, lotions, face powders and lipsticks etc. For using these products, you can try various makeup tools. Jewelry collection, hairstyles, bridal dresses, stylish veils and from a lot of high heel shoes, you can choose any thing you like to see on your bridal.
One thing that has made this game different from the above games is its bridegroom's dressing section. It gives you many pant coats, shirts, male shoes and much more. All items have a grace and available in nice colors. According to the groom's look or bridal's dress theme, you can pick the most gorgeous dress for him. For both bridal and bridegroom, beautiful and fresh bouquets are also included in this wedding makeup salon game for android.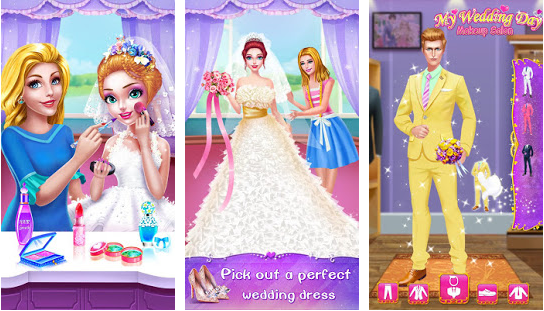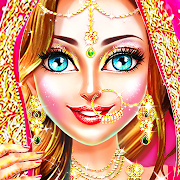 Traditional wedding makeup salon game is just like above games but with more additional options. For example, along with doing bridal makeup, it also lets you to decorate bridal hands with beautiful mehndi designs, nail paints and bangles etc. Because not only face, but the overall look of a bridal should also be elegant therefore this game gives you many hairstyles, jewelry sets and different type of bridal dresses including gowns, lehenga and saris.
For males or bridegrooms, you can also select your favorite hair looks, paint coats and other items. So, that the couple will look just as you want. In traditional wedding, a beautiful car is used for taking the bridal to the home therefore, in this game many cars will be given to you and you can decorate them with beautiful flowers, leaves, balloons and colors etc. Furthermore, many other traditional aspects are also the part of this game. So, this game will be fun for you if you love traditions.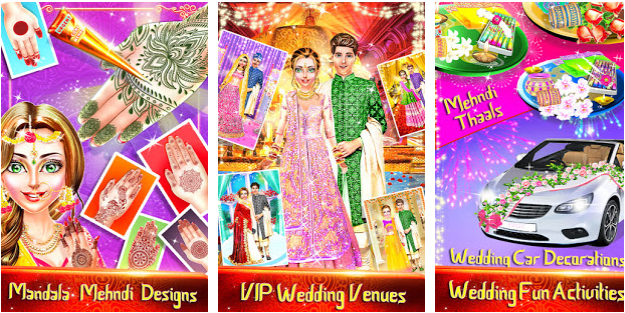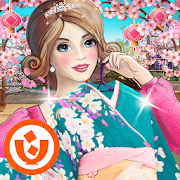 Do you want to have your own salon? Do you want to expand your salon business? Then this is a perfect game because it allows you to do everything for the customers who are going to take part in the wedding and who are starting a new life as a wife and husband. In short, in this game, you will experience many new things for satisfying your customers and arranging a profitable business.
For your customers, you can make cakes, design dresses, create bouquets, have shopping, wrap gifts and decorate stage as well. Then for the wedding day get them ready for joining the function. From makeup to dressing, you can create perfect matchings and contrasts for them.
As a salon owner, you can give jobs to others, stylize your salon, have new tools and even visit various places for having more and more salons.
So, based on 70 fun levels, this wedding makeup salon game is best for learning salon business and having some useful tips.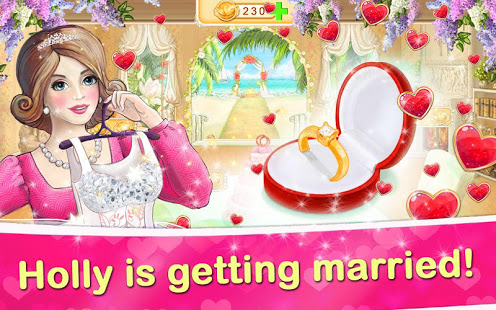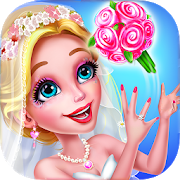 Trying makeup on different faces, can make you the best makeup artist therefore in this game, you will get different faces with different skin colors. You have to give bridal glow to each face with makeup, jewelry, dresses and other ornaments. Everything is available in large numbers so you can easily find the item you are looking for styling your bride. Furthermore, the things are well-arranged and easy to pick from their category.
This game also allows you to design the stage with a lot of attractive and shiny materials. So, your couple will look beautiful in beautiful surroundings.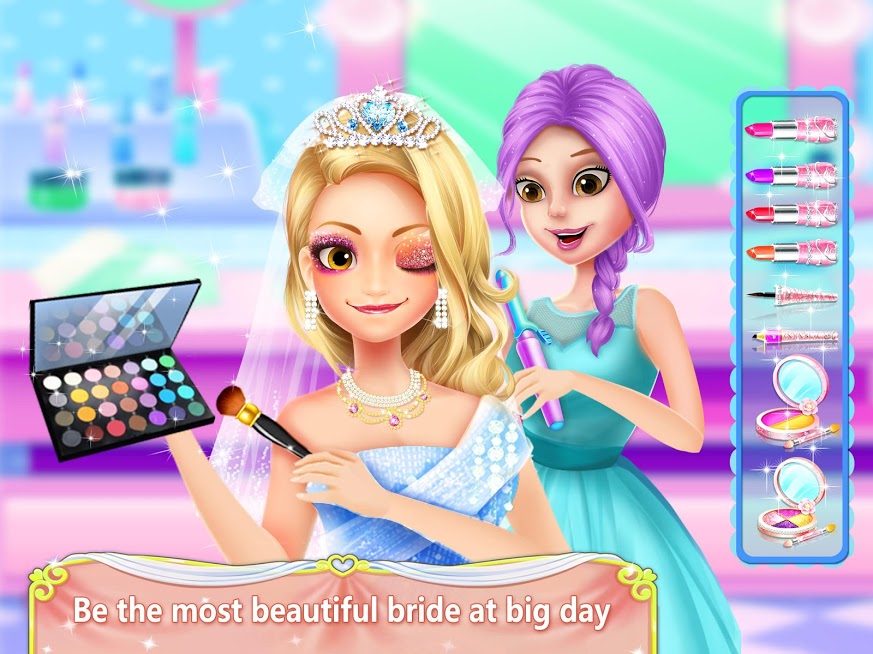 Although every girl love makeup but some girls hesitate to do it so by playing above wedding makeup salon games, you will get a confidence to do makeup by yourself. And if you think that you are expert in makeup and your dressing sense is good then above explained games will give you more ideas and let you test your skills too.