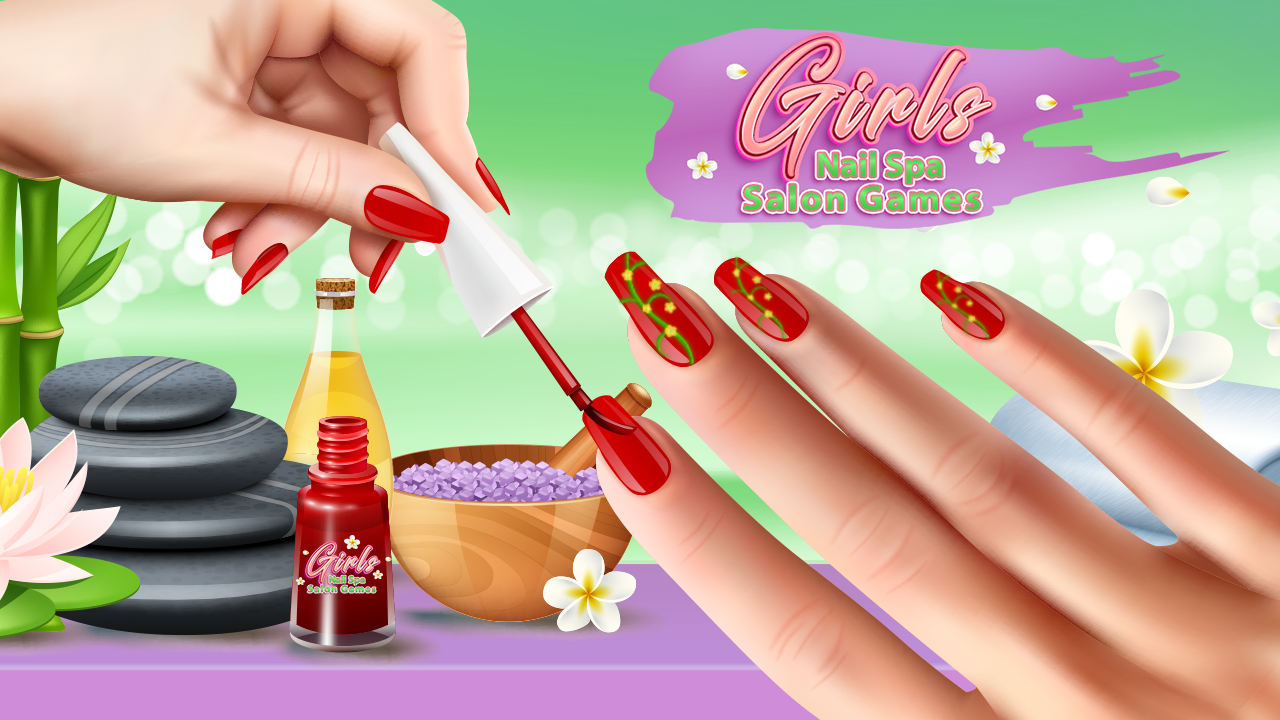 Nail polish has become an important element of women's makeup collection. Because without it, women's beauty remains incomplete. Even if women do nothing, only applying a nail paint can make them stylish and fashionable. That's why from simple nail colors now it has been converted into nail art. Various designs of nail art are created daily by fashion enthusiasts, designers and artists. So, if you also want to make your own nail designs then nail salon games for android are great for you. From fun to creativity and designing to management, every tool is included in these games so that you can become a nail art expert.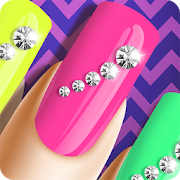 This is a must to have game for all nail art lovers. Because it lets you manicure or polish your nails in your style. In any shape, you can cut and buff your nails. There is a big collection of colors and nail decorating material. So, that you can utilize all options for creating your own nail designs.
By playing this game, you can also know about the nail colors that suits well on white, brown and other skin tones. In addition, this game helps you to generate ideas about the seasonal and event base nail painting and decoration.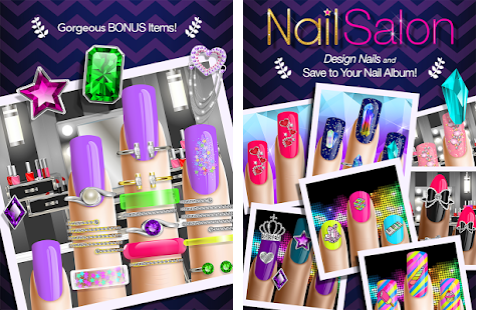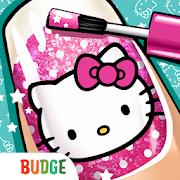 Hello Kitty Nail Salon game is a fantastic and highly appreciated creation of budge studios. Almost every nail designer prefers this to create the best and unique nail designs. Instead of cutting nails and thinking about their shapes, many types of nail shapes are included in it. Even you can take the image of your own hands and then try the different nail colors and stickers to know which one is perfect. You will not be worried about your favorite colors as the game offers all colors in light and dark shades. Hello Kitty nail salon game is best for boosting your mind about the matchings.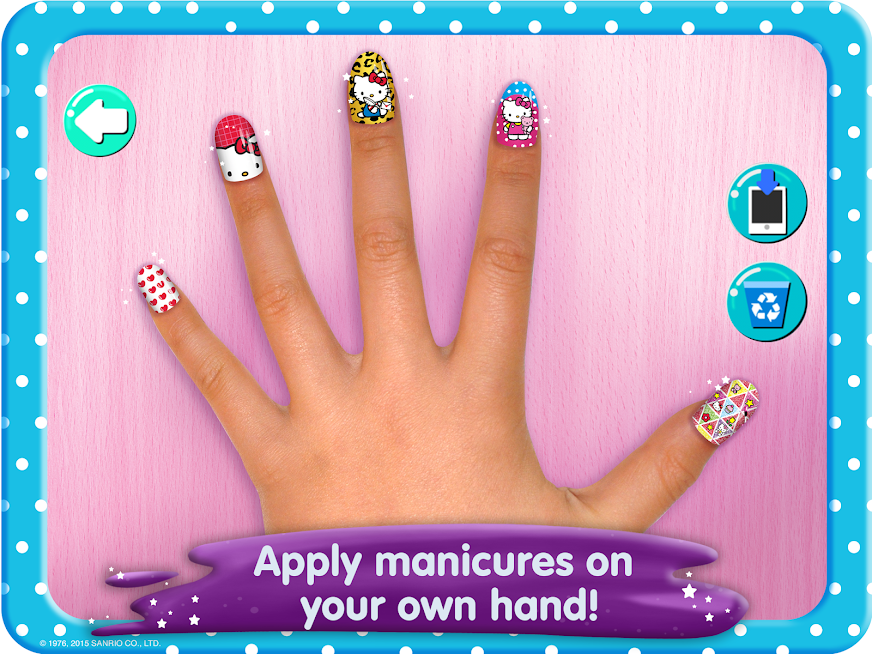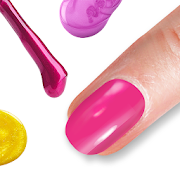 YouCam nail salon game is the choice of millions of nail art fans and artists. There are thousands of nail colors, designs, stickers, backgrounds and much more to improve your artistic abilities. You can draw and make your own nail designs by mixing various items and patterns. Although this game gives you cute nail shapes and skin tones but also allows you to capture the picture of your own nails for getting a most realistic experience.
At a time, you can design one and five nails with your favorite jewels and paints. In case, you have no idea about designs then this game also provides you a lot of tips and videos to let you know how to make the beautiful designs on your nails.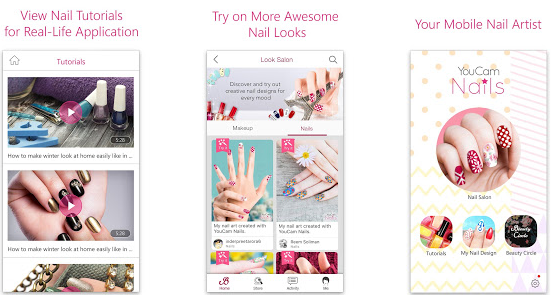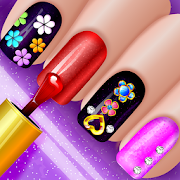 For making the best nail designs, manicure is must. Therefore, this game firstly allows you to clean your hands with soap and water. There is towel and cream for beautifying your hands. After this, you have to move for nail decoration. Any design and any nail polish, you can apply on your selected nails as there are nails of different shapes.
Sharp nail clipper, useful buffer, cute patterns and many skin colors are also included to let you experiment just as you want. This nail salon game also gives shiny and stylish jewelry for nails, fingers and wrists etc.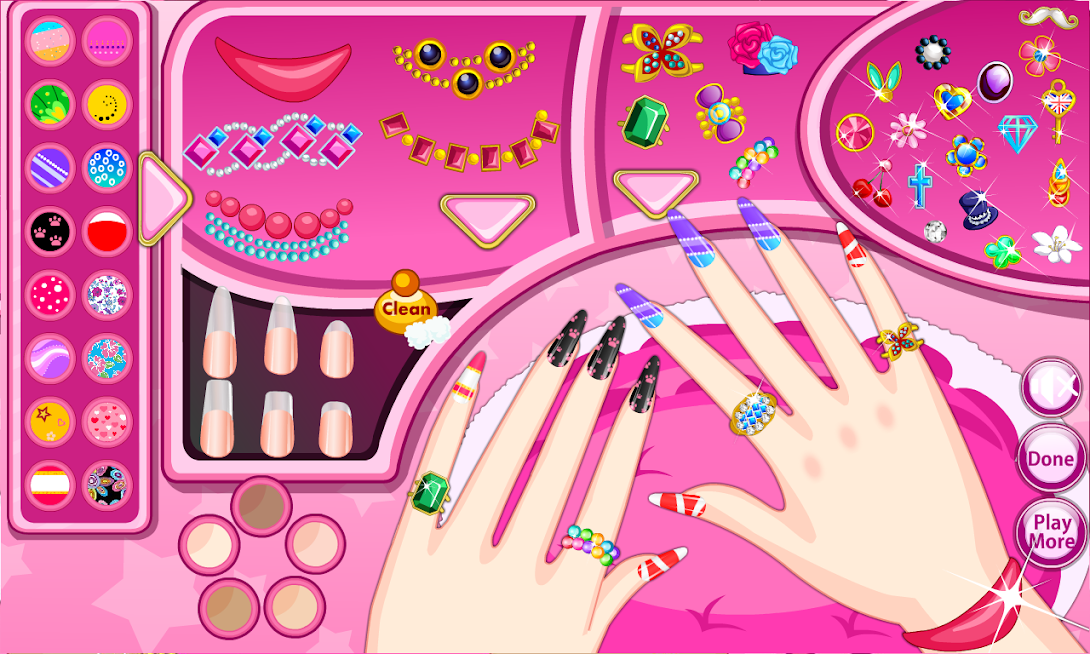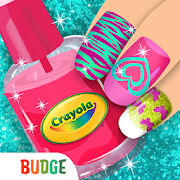 Crayola nail salon game enables you to easily create nail designs up to your style and ideas. There are nail polishes of all colors, jewelry of all kinds and unique nail patterns. The salon is yours, so you have the full authority to pick any item. For more sparkly nails, various type of glitters is also included.
The game takes care of your efforts therefore allows you to use the cotton ball for removing the unwanted paint instead of deleting the whole picture. Due to the popularity of stickers in modern world, this game also provides different and cute nail stickers so you can learn the nail art according to the current fashions and trends.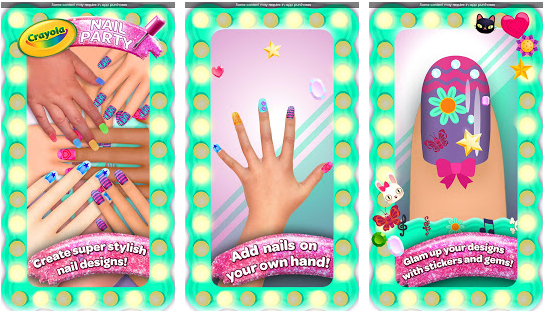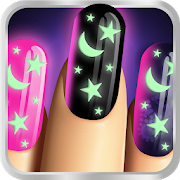 For dark nail art lovers, this game is the ideal one. Because with it, you can draw any pattern and design on black paint. Other vivid colors are also available. When you have finished the nail coloring then you can use the stones, flowers, crystals, stars, hearts and many other stickers on your created designs. All this will help you to become the best nail artist in the world. In other words, your creativity will get a chance to release up and recognize your skills.
Different colors are suitable for different skin colors. Therefore, this game gives you 7 type of skins so you can test which color will be perfect for black and white skins. Similarly nail shape also matters, so for all who are much interested in shaping the nails, can use this nail salon game as it gives the fast nail clipper and buffer too.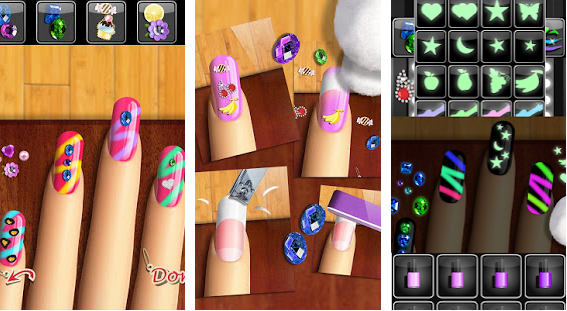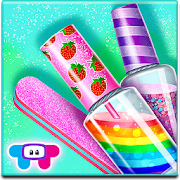 Do you love candies and want to open your own nail salon? Then this game is only for you. It will train you and make you the best nail art creator. Along with giving you the biggest nail color collections, this game offers many cute candies for nail decorations. You can put them on any nails and fingers because they are available in ring shapes. Bracelet type of sweet candies are also included.
In this game, you will meet with various customers that will come to you for manicure. Firstly, you have to clean their hands with rose water then pick the scissor to nicely cut their nails into their desired shapes. Cream can also be applied. Secondly, you have to design their nails with colors and candy jewels. For providing more comfort to your clients, you can offer them gloves knitted by yourself. So that, they can show their nail art even in winter season.
Although all nail polish colors are gathered in this game but if you want more, then making your own nail polish colors is also possible with this game.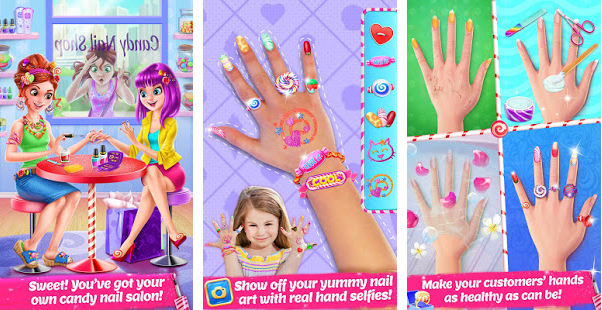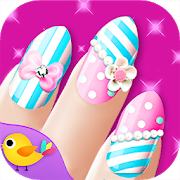 While painting your nails, you will not face any problem related to colors and decorating items because this nail salon game offers everything in large quantity. More than 12 nail shapes are included so you can learn to design the nails according to the long and short nails. For enhancing your skills, different hands in different skin colors will be given to you. In this way, you will know about the skin, paint and design matchings.
Sometimes only nail decoration is not enough therefore, this game enables you to put beautiful rings on your fingers. The rings are available in various designs and best to increase the beauty of your hands. With the help of nail patterns, your nail designing will be boost up. Any nail pattern, gemstones and crystals, you can pick to create unique nail art.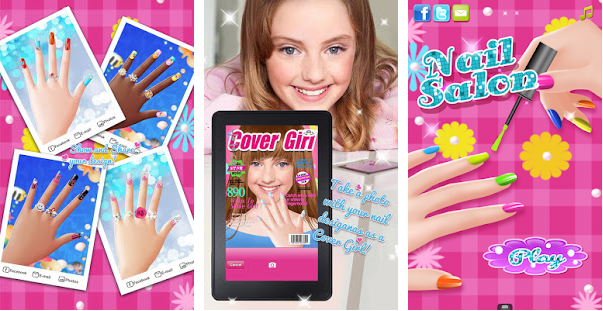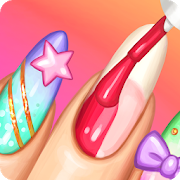 This game has a complete nail salon for you. From manicure to nail painting, every tool will help you to create awesome and beautiful nail designs. As a guideline, you can use many predesigned nails and set them on different hands with various nail shapes. In this way, you will be cleared about the matchings. For example, which design looks great on long nails and which is made for the short nails? Even fashioning nail designs according to the skin color will also be easy for you.
A nail clipper, hand soap, beauty lotion, soft towel, nail paint remover, numerous nail colors, beautiful rings, cute bracelets, lovely stickers and many other manicuring items are also the part of this amazing nail salon game for android.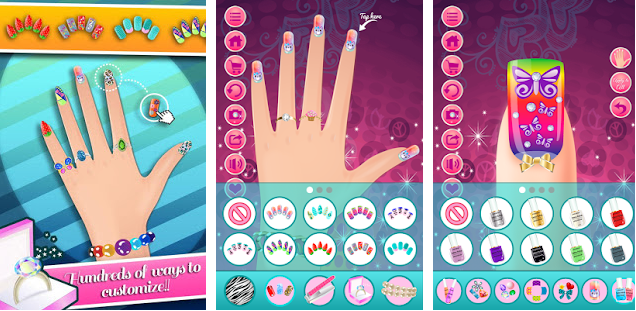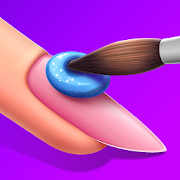 Acrylic nail salon game is good for all those who are looking for the ways to quickly do nail designing. There are many nail colors like black, pink, white, blue and red etc. The limit of each color, you can control up to your needs, for example, less or more. Any design can be made by using the provided colors. In one nail, you can mix multiple nail colors and paste them in any direction. For shaping your nails, a special tool is also packed.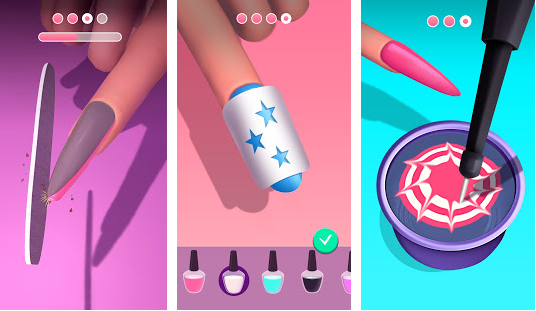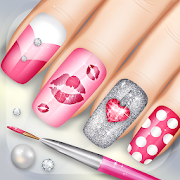 In this game, you will see a lot of beautiful nail designs which you can put on different nails. In case, you do not like any design then generating your own nail layout is also easy. As this game offers thousands of color palettes, 10 type of nail shapes, all kind of skin colors and different brushes for painting. Without having any trouble or feeling any stress on your brain, you can freely create what you think.
After the nail designing, you can decorate your hands and fingers with rings, stickers and other glittery materials.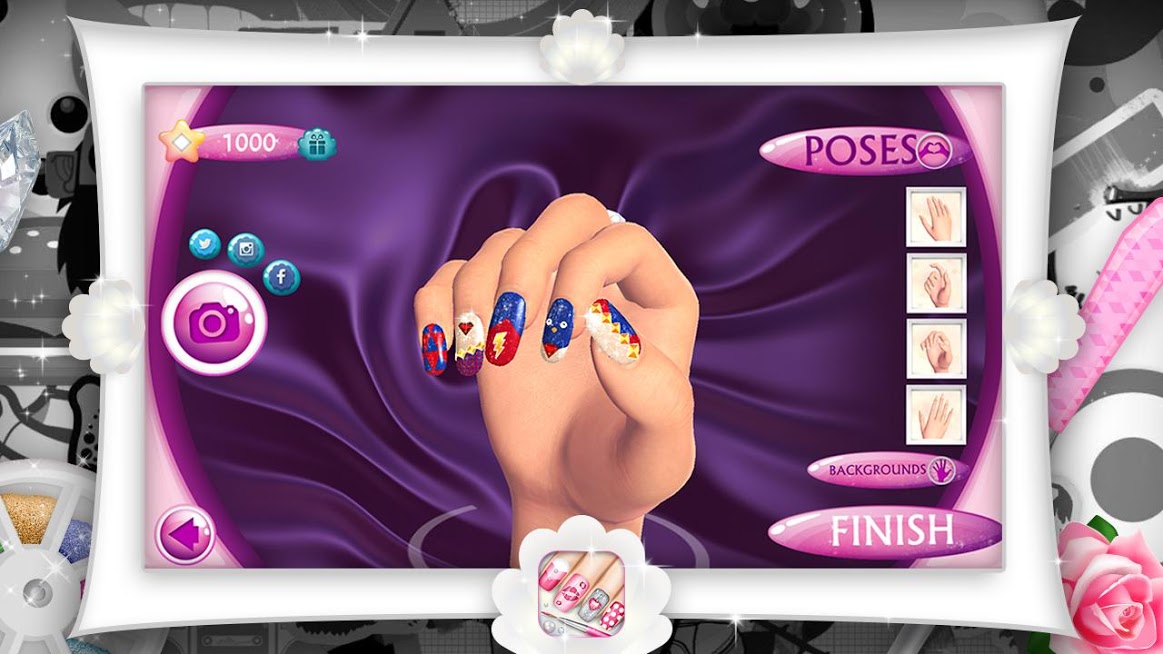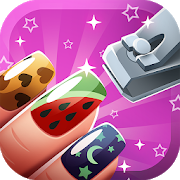 Any artist who loves colors and interested in nail painting, must pick this app for playing and doing some sort of creativity. Various nail designs are assembled in various levels. As the level moves to difficulty, it means a more challenging nail design will appear in front of you. According to it, you have to create the design. This thing will prove best for producing new ideas related to nail designing, cutting, and painting.
Thus, all the above nail salon games for android are great for makeup and fashion enthusiasts. Although all of them focus on nail designing but each of them offers various tools and items for decorations. Any game you can choose to show and develop your artistic skills in the field of nail designing.