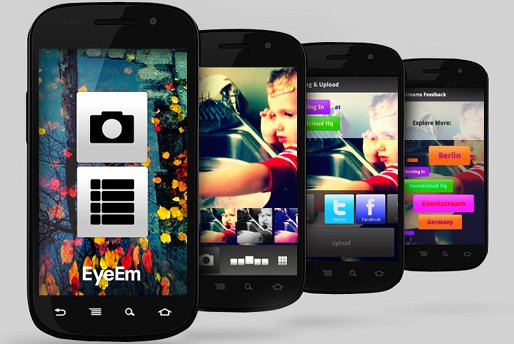 Every person thinks that "I am the beautiful person of the world" even when you take a selfie you do not hesitate to admire yourself. But the true praise always comes from the mouth of others. If you consider that your picture is beautiful or the place and location of the picture is impressive then definitely you like to share it with your friends for true appreciation. You can utilize your android device for this purpose. Install the photo sharing apps and send your photos secretly and securely to your loved ones. Some of the photo sharing apps for android allows you to save your shared photos in long terms while the others will automatically remove the image after a short time period. One major function of photo sharing apps is that they will send your pictures just in a glimpse of eye.
Let's pay attention on top 7 best photo sharing apps for android.


This is a remarkable photo sharing app because it enables you to share more than 90 pictures in a single click. You can move your pictures from Android to Iphone and iPad to Tablets. With this app, you can also share extra large videos and the app will also not affect the color and quality of the picture.


This is the super faster photo sharing app for android. Its efficient working system will send and receive the photos and videos in seconds. This photo sharing app will automatically arrange your pictures date wise or event wise so you can easily find out the photo of your choice. You can also store and share the photos on facebook.
Path


Along with sharing the photos you can share the outstanding movies, songs and TV programs with your dearest ones. Path photo sharing app has multiple filters and drawing tools that helps you to edit and cut paste photos. The app also improves the working of different apps like VSCOcam photos, WordPress posts and many more.
Photobucket Share Print Photos


Photobucket is a multi-featured photo sharing app that let you to easily print, edit and share the pictures across the world. Make your animated Gifs and add text and stickers on your photos. To upload and browse the photos has become much easier than ever before with Photobucket.
Flickr is a very easy to use photo sharing app and almost hundreds of people like to share their pictures through Flickr. A single gesture will up load, organize and save your shared photos within the range of 1000 free GB. You can crop, edit and filter your photos before sharing them with your friends. Flickr has housed a lot of pictures and allows you to search out the old school friends.


SmugMug photo sharing app works in both offline and online conditions. You can turn your pictures into slideshows rather swiping them into right or left side. You can auto upload, download, filter, edit and comment on various pictures. SmugMug photo sharing app for android also enables you to share the photos and URLs in seconds.


If the photo size is a hurdle in sharing the beautiful photos, then install Photo Resizer HD app. This app will automatically change the size of various pictures while retaining the best image quality. This app also allows you to share your photos on different social networks like twitter, facebook and Flickr etc.
If you are using another photo sharing app for android then give your feedback in the comments below.