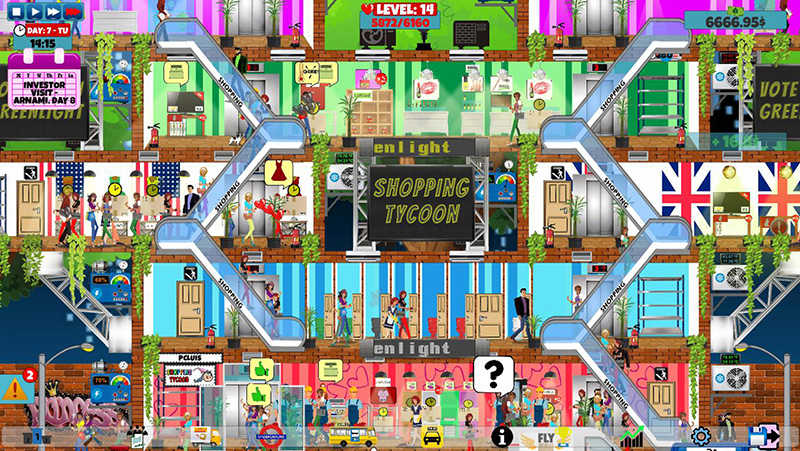 All of us can go for shopping but only a few of us can be the owner of the malls. Probably it was due to money and most importantly it was the business minded capabilities. But if you think that you also have the best management skills then shopping mall tycoon games for android are just for you. These games let you know how to handle a shopping mall with more customers and more earnings. You can create the mall in your style, provide quality services and become a tycoon in your field. Furthermore, these games are also best to lift your brain for applying new ideas in your business in real world.
As there are many types of business similarly there are many business tycoons' games but Newzoogle has selected only the top 5 shopping mall tycoon games for android so that you can easily concentrate on your target in case you are interested in mall establishing business.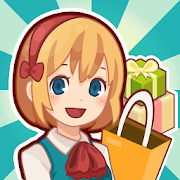 You can easily fulfill your wish of opening a mall filled with items and customers. The mall's building, its floors and settings will be just as you want. At a time, you can manage more than 100 shops. In each shop, you have to place the quality products. Your task is to make the customers happy so there should be all items like shoes, clothes, fruits, cosmetic, food, books and games etc. According to the customer's demands and for the purpose of increasing your sales, you can upgrade and beautify the shops with new materials. This shopping mall tycoon game also allows you to set the hot sales for gaining more customers and more income in less time. Up to your needs, you can have more place for expanding your mall in the same or in the different area.
In short, this is a perfect game for everyone who want to be a tycoon in the shopping mall's world. As this game will bring innovative ideas to you related to products and customer's comfort. This game also lets you check your talent and know which is the best way for controlling this business.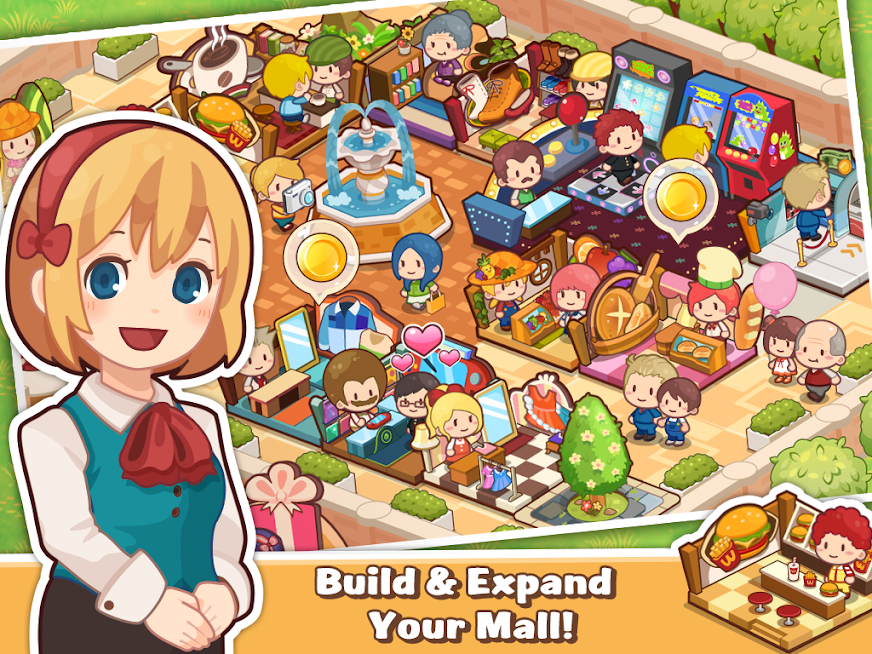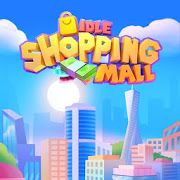 Businesses are not stand up at once. Both time and efforts are necessary for making a name in the business world. So, in this shopping mall tycoon game, you have to firstly run only one shop. Up to your abilities, you can unlock more and more shops. Almost there you can set up 400 stores with thousands of items for kids, males and females etc. For making you customers happy and regular, this game lets you take all the important steps like put more chairs, make separate bathrooms and free up more space for parking. The variety of things and the comforting services will let you gain money and fame at the same time.
For running a successful business, checking it at regular basis has a lot of significant. Therefore, this shopping mall tycoon game generates graphs and reports for you. Viewing them, let you know whether your mall is working perfectly or imperfectly.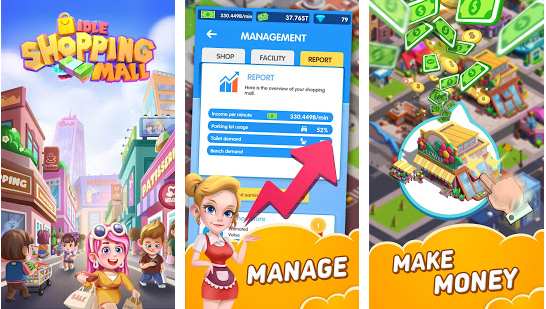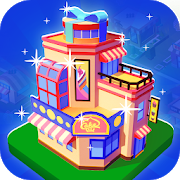 The location of the mall matters a lot in attracting the people therefore, this shopping mall tycoon game lets you firstly select the place and then open as many stores as you can. Your efforts can turn a small shop into a huge shopping center. In each store, you can set up different items and gain the target customers for quick selling.
This shopping mall tycoon game also enables you to try different techniques for having more profit, for example, bring quality material, make your shop beautiful with new designs or new items and take care of your customers with great services. All these tips and most importantly the control on prices will give you more buyers in each minute.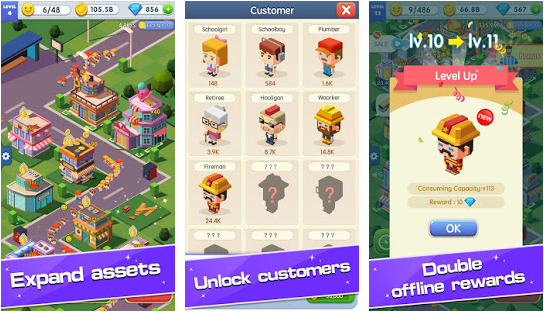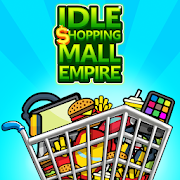 Idle shopping mall tycoon game is best to manage more than 20 stores under one mall. From food to clothes, every item you can put in your store. The store's settings will be up to your choice. After one store, you can move further, win coins and open more than one shopping centers in various locations.
According to the time, things start to look old fashioned and if the shops are not renovated on the right time, then you may lose customers that's why this game allows you to improve the design and material of your store. And as a result, you will have an attractive mall full of shoppers and money as well.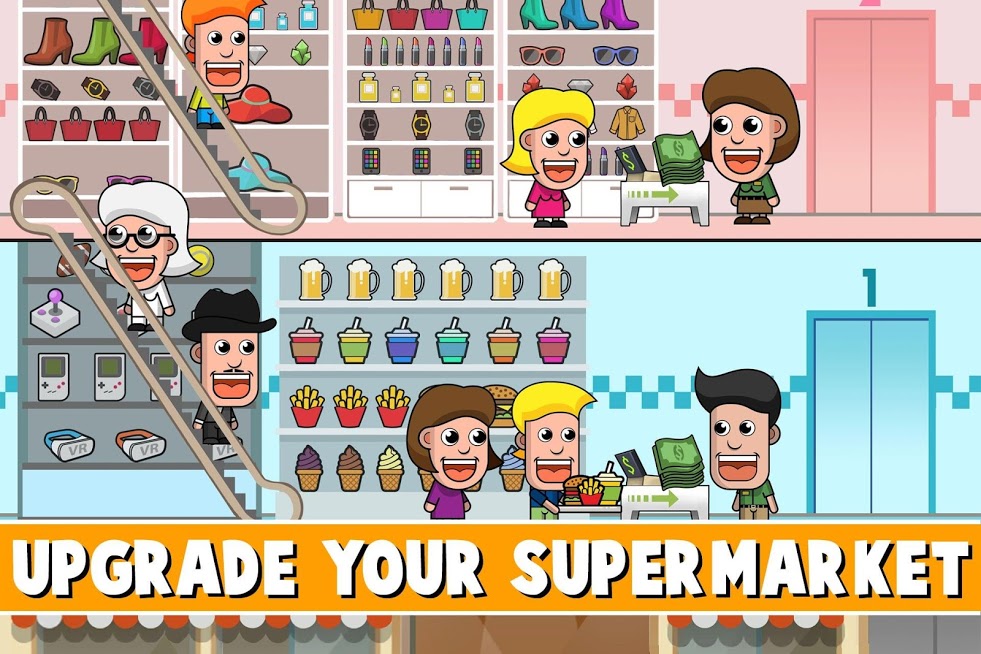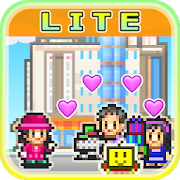 This shopping mall tycoon game enables you to make an ideal mall based on various portions. The whole mall will be under your control. The customers can use stairs and elevators to reach to the 2nd and 3rd floor etc. For their convenience, you have to fill your stores with all type of things so that people can easily get the things they need. Unlimited shops, you can set in this game. The building, product quality, and the presences of each and everything, will make your mall outstanding.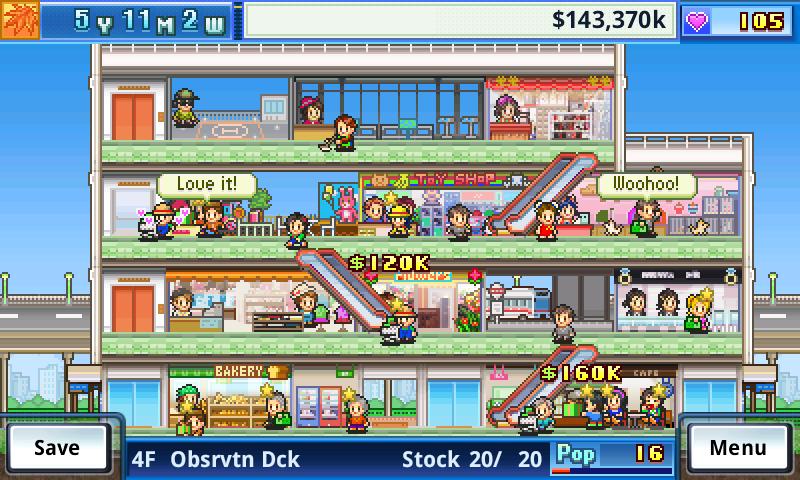 Thus, these shopping mall tycoon games are great for those who are interested in buying, selling, managing and money-making businesses.