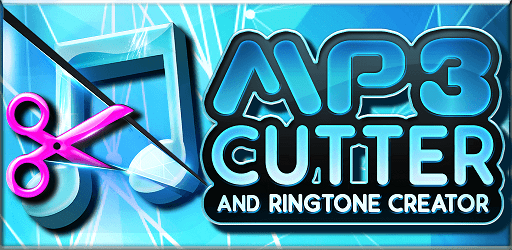 To listen a song in high volume is always amusing for music lovers and it becomes more amusing when it automatically plays as ringtone of your smartphone. Often some words, few lines and the background music of a song touches your heart and you want to listen it again and again instead of a complete song. Sometimes it also happens that the lyrics of a song perfectly describe your feelings so by sharing it with your love ones, you will get an easy way to convey your message. But the problem is that how to cut that exclusive part of the song or any other audio, do not worry, there are best mp3 cutter apps for android to let you easily have your favorite audios and set them as your sms, call and alarm ringtones. These mp3 cutter apps also allow you to cut and merge music for making fusion songs.
In our searching process, we found a large list of mp3 cutter apps but for you, we have narrow down the list and selected the top 10 free MP3 cutter apps for android. All these apps are recognized for their exceptional working.
This is a fast mp3 cutter app with all great options which you may need while cutting songs for making your own ringtones. In an easiest way, you can select the start and end point of the music. The play time is also displayed. For stopping, going back and moving forward, you can use blue buttons. For more functions, there are more keys to let you have the best audios.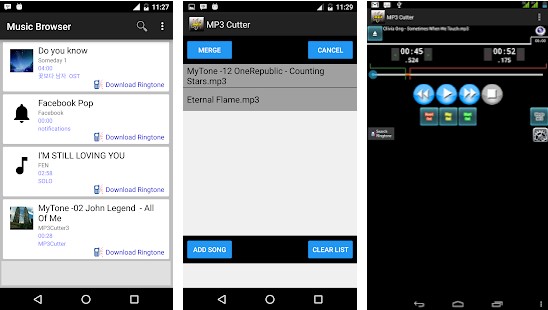 This is another easiest mp3 cutter app that lets you quickly extract the short or long part of any audio. You can mix, convert and join different audios for creating something new. Although the app is named as mp3 cutter app, but it also offers many other file formats including ogg, mp4, wav and aac etc. Before saving the cut parts, you can preview them for further changes. On the screen, you can watch the zoomable and editable musical waveform.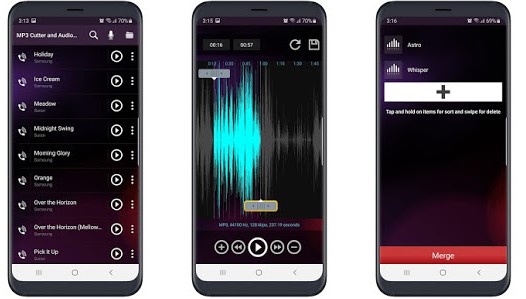 To cut and trim songs, have this mp3 cutter app for android. Within seconds, your wanted ringtone will be in your phone. The ringtone will begin and end according to your adjustments. From any song, you can cut a specific section and turn it into a ringtone. The app supports music editing, recordings, different formats, sd cards, waveform and a lot more for helping you easily save your preferred audios. The ringtone play time can also be modified.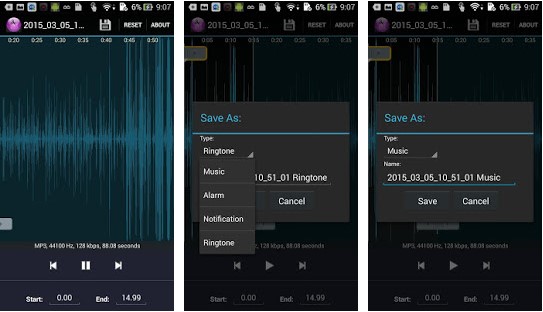 This audio cutter app is best to create different ringtones from your selected music. The useless parts of the audio can be easily trimmed. No matter if the file is in mp3, flac, ogg, wav and mp4 video format, this app allows you to quickly cut the melodies. Voice recording, scanning, testing and editing is also supported.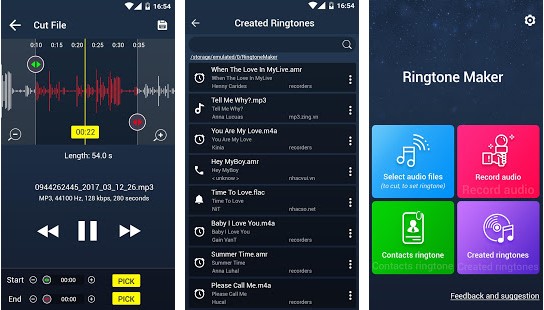 Often during music making, you need a tool to add and remove some portion of the songs, so in that case, this mp3 cutter app can help you a lot. Without any proficiency, you can make a flawless music. The desired ringtone can also be achieved by using this mp3 cutter app for android. You can forward and backward the songs for quickly finding the chunks you like. A quality mp3 player and sd card support is also included.
This music cutter app provides the best features for cropping ringtones. You can view the graphical representation of the music and easily pick the parts that you like. If you want ringtones in your own sounds or looking for best mp3 converter then this is a must have app. Furthermore, this app also enables you to edit the recordings, preview the chosen parts and set various ringtones for important or insignificant contacts.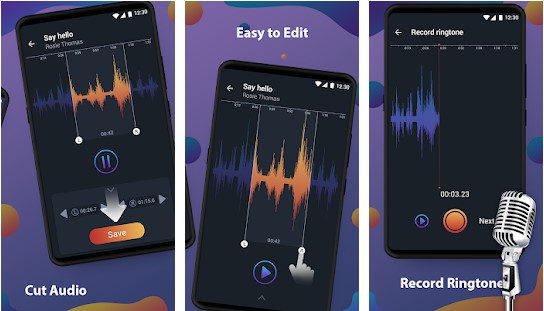 This mp3 cutter app brings a simple way to cut the special lines of songs. Along with audio, you can use the app to cut and join videos. In case, you do not like the ringtone then you can delete it too. This app allows you to mix the audios. All formats are supported so you can easily record, edit and play audios of your choice. This app also lets you see the waveforms for selecting the positions for cutting.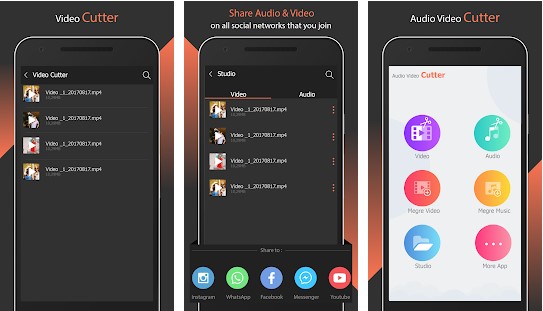 Often you want to listen or enjoy your all favorite songs and their specific lyrics in flow so for this, mp3 merger app is introduced. After cutting different songs, you can join them with one another to prepare the song up to your desires. You can also use the cut parts as ringtones for notifications, alarms, contacts and sms etc.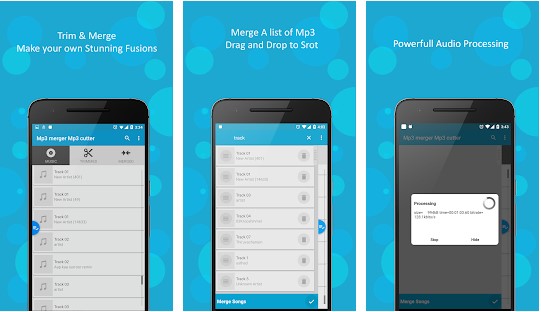 This is a perfect music trimmer app for musicians to smartly edit songs. With it, you can trim the unwanted or little parts of the music. Your created audio or ringtone will be unique because the music trimmer gives outstanding tools. You can trim songs through waveforms, according to the timings and with buttons. The zooming feature is also offered.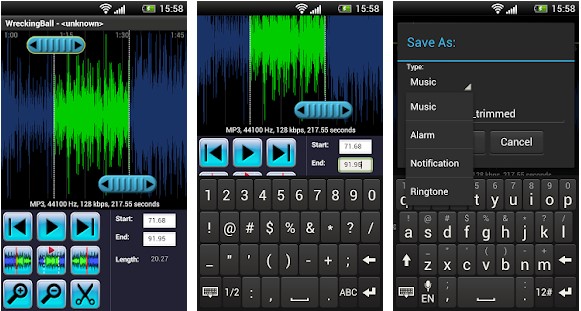 Igost technologies has presented this awesome mp3 fusion maker app for android. You can combine different parts of different songs in one song. To cut and trim composition is also possible with this fusion maker app. There is a mp3 player, re-sizable waveform, SD card support and much more to let you have the best ringtones and fusion songs.