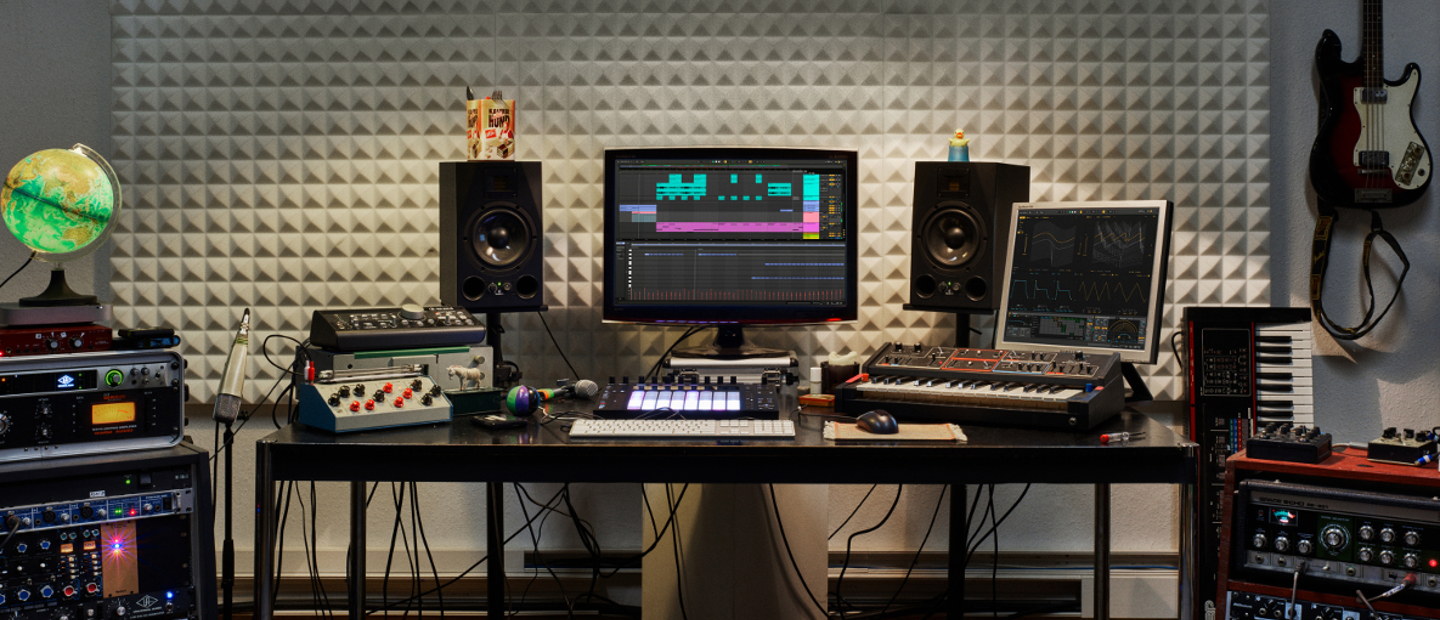 Editing an audio is compulsory for having best recordings. The recordings can be related to music, education and other businesses of life. In every recording, there needs audio editing apps because sometimes there is unnecessary background noise, useless stuff and other flaws which needs to be correct. And audio editing apps provide such features that let you mold your recordings as you wish. For example, you can cut, paste, mix, convert and adjust anything you find confusing. Furthermore, your favorite ringtones can also be formed by using audio editing apps for android.
Below is the checklist of top 7 best audio editing apps.
Changing an audio is super easy with AndroSound. In this single app, many useful functions are gathered such as cut any part of the audio even if it exists in video. Mix a lot of songs. Organize audio files according to the singers, song titles and in any style which you feel easy to search. The speed, volume and format of the audio can also be changed with this audio editing app.
To apply a specialized touch on your recordings, you can add echo, tags and effects too.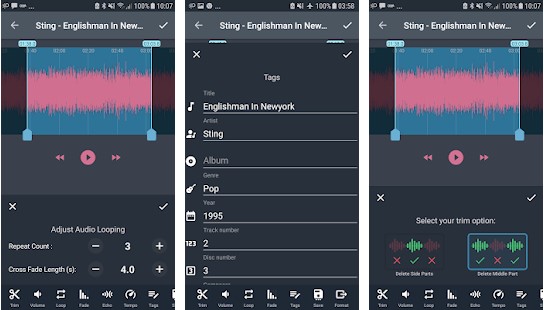 Timbre is a complete video and audio editing app for creating awesome works. There are two different sections based on audio and video. In every section, there are different options which you can pick to change your files. With cut tool, you can select the parts you like or dislike. With convert button, you can get any file format. Turning videos to gifs and changing text to speech is also possible with this audio editor app for android.
Different audios and videos can also be assembled in one file. In other words, you can cut one part of the video and connect it with an another. More than one videos, or audios can be combined at a time. Timbre is also best to split, compress, fast and slow down the audios and videos speed.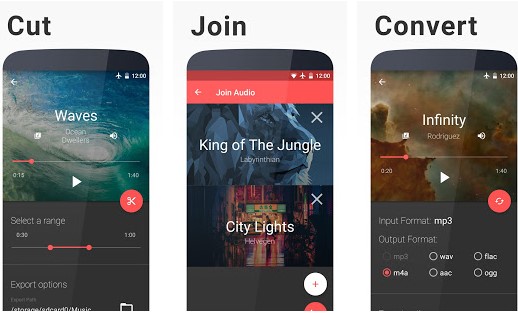 If you want to create best and professional recordings, then Lexis is highly recommended. You can extract audio from any mp3 files, use fade in or out effects, gather various audios in one audio and remove background noises. In less time, you yourself can edit audios just like experts. With Lexis audio editing app, you will get an opportunity to record audios and convert them according to your thoughts. You can make them fast and low, set them in different tempos and easily fix them in your favorite audio formats. Like music making apps, a band equalizer is also included in this audio editing app for android.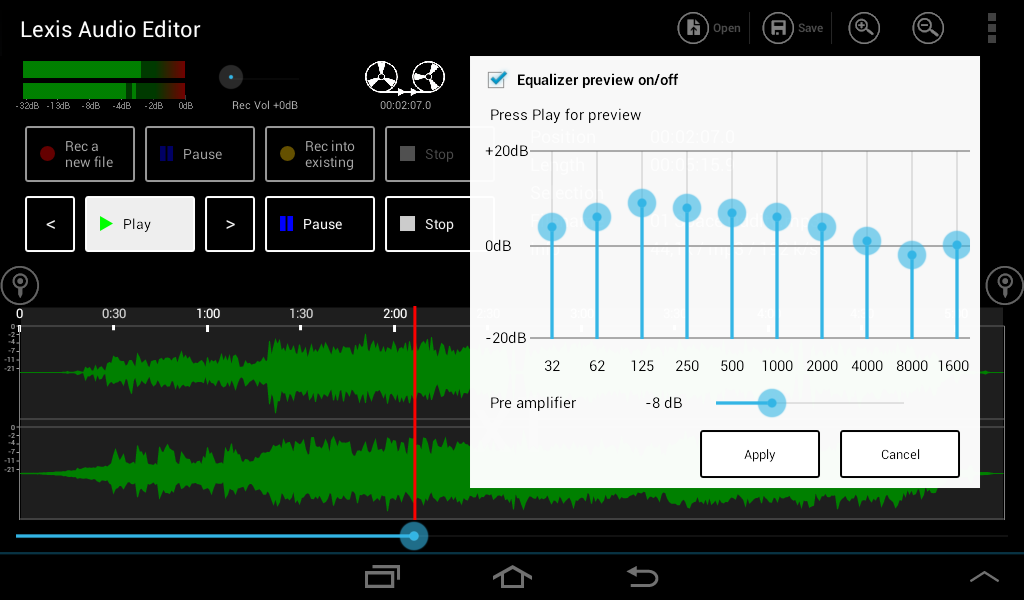 The name of this application perfectly shows its abilities. Yes, every feature is outstanding and really does what it says. Up to your desires, you can bring any changes to your recordings. For example, you can easily separate the best parts of the audio and collect them in one file. There are ogg, aac, mp3, mpg, flv, mp4 and many other audio formats to let you apply the one you need. This audio editing app also supports video editing.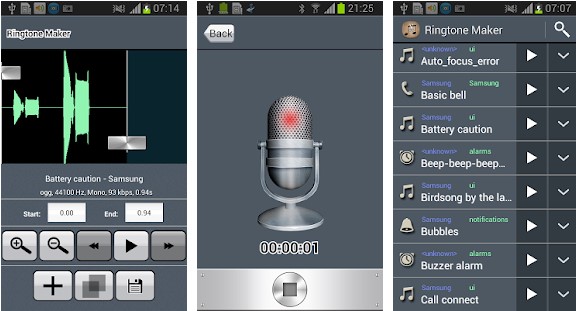 This app offers two basic functions: 1) recording 2) editing. In first section, you can record voice or any sounds that you like. During recording, rewinding facility can also be utilized. For some break, you can press the button "pause" and continue right from the position where you end. The audio will be in good quality.
In the second section, you can revise the recordings until you get the one you are looking for. Know about the best sample, pace and pitch for your created recordings. By testing different tools, you will be able to produce awesome audios. Echo can also be added. With this audio editing app, it is also easy to mix, merge and convert audio formats.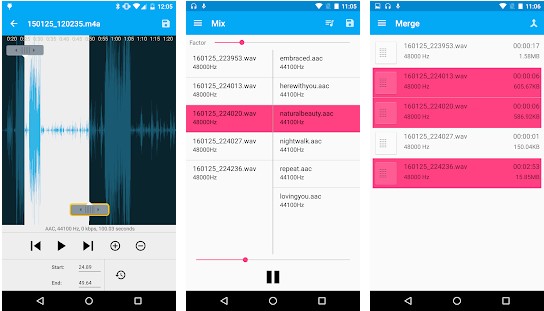 Do you want to make special and unique recordings? Do you often realize that something should be added or removed from the recordings? Are you searching for a free audio editing app? Then you should try "WavePad" because it has all things which let you produce recordings like professionals.
You can cut audios and get them back if needed. One portion of the recordings can be easily connected with another recordings. Audio formats can also be altered. The main advantage of Wavepad audio editing app is that it gives you a bundle of effects including chorus, echo, flanger, distortion, vibrato and more. You can put on any of the effects to make your audios clearer and more impressive. This app also enables you to easily remove the background noise from the audios.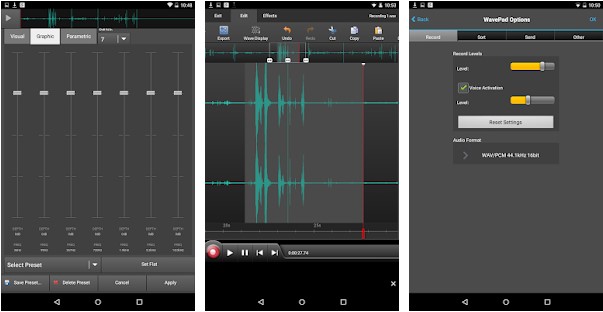 A lot of audio editing tasks will become easy for you because of this app. There are tools for making ringtones, cutting songs, adjusting formats, mixing music and merging audios. You can set tags, organize audios and record anything.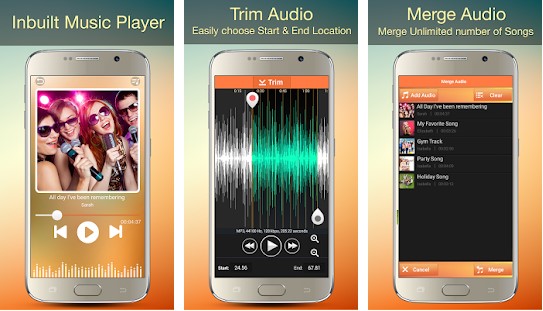 So, have these audio editing apps to quickly modify your recordings. And remember to tell us the app you like from the above list.