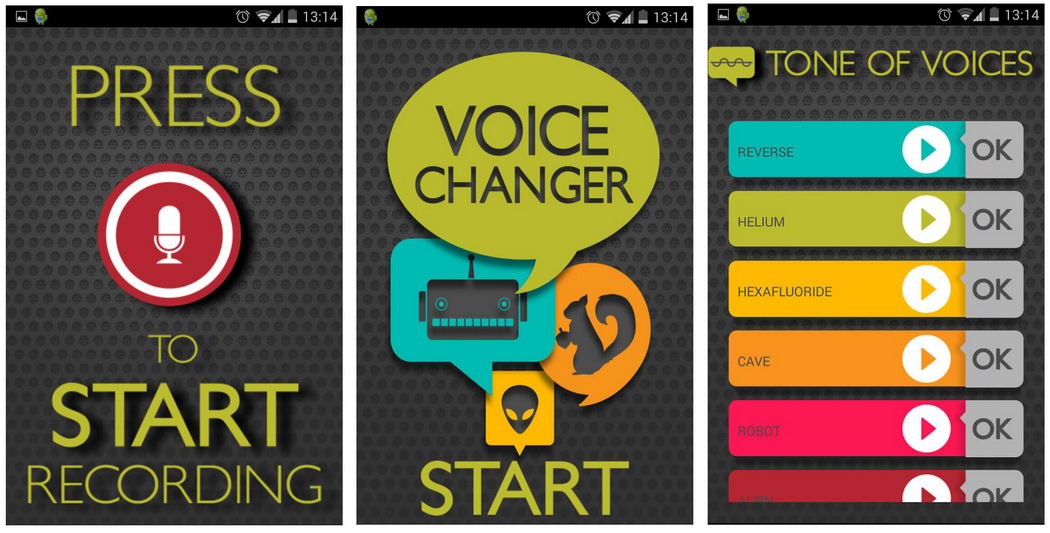 Voice changer apps for android let you to easily change your voice according to your desires. You can apply various effects on your voice to fool others or to pass your spare time. These voice changer apps can easily turn your voice into a man, woman, animal, bird, ghost and more. Your voice quality will improve and help you to give it funny, scary, romantic, slow, fast and many other interesting effects which you may need. Even these apps also enable you to convert your voice from young to old and old to young boy or girl. If you want to change your voice during skype calls then visit the next page.
Below I will discuss the world's best voice changer apps for android. Let's read.
Simple Voice Changer

Simple Voice Changer app is really amazing that allows you to record your voice and give it more than 12 cute effects based on chipmunk, robot, background echo and more. You can set your favorite voice as ringtone, save and share it with your friends. This app is also best to record your phone calls like the famous call recorder apps about which Newzoogle has already talked in the previous article.

This voice changer app has more than 26 voice effects such as nervous, drunk, underwater, small robot and many more. You can apply any effect, save and edit it up to your choice. This app also lets you to apply the effects as many times as you want to create a new and unique voice.

Girls Voice Changer app enables you to turn your voice into any girl. You can select the girl's voice according to the age like 10, 16, and 21 years old lady. With this app, you can also get the soft, polite, low and high toned girls' voices.

This is a very popular voice changer app because it gives you more than 40 clear voice effects and a beautiful piano. You can make pictures with talking sounds and can also make voices from text. This app also lets you to set your modified voices as the call and notification ringtones.

More than 20 special voice effects are included in this voice changer app and all the voices are original. You can easily apply them on your recordings. This app also helps you to save your fun created voices and set them as the alarm and ringtone sounds. If you want to get the different and unique ringtones then check this link right now.

This app lets you to convert your voice from a man to woman and woman to man. Like the other voice changer apps, this app also gives you a lot of voice effects to change your audios into cat, chipmunk, robot and more. You can also create your own voices by controlling the pitch levels, sliders and speed etc.

This voice changer app has a very attractive user friendly interface. You can change your voice into a child, giant, alien, old radio, robot and helium. This app also enables you to save and share your funny audio recordings with your friends on social media.
If you think that something is missing from this article then feel free to tell the Newzoogle in the comments.