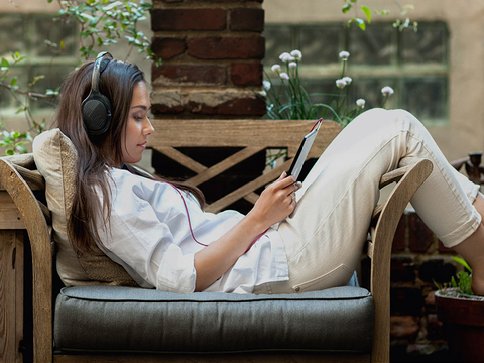 Some people love to read books but due to the tough routine jobs they cannot do that. They have to sacrifice their interest but now you can fulfill your desire, no matter how busy you are. Whether you are too much tired, dislike glasses, doing a house job, ready for long drive or doing a part time job which is too much boring then audiobook apps for android are there to serve you. These apps have the ability to turn your dull and boring moments in to enjoyable as well as informative one. In other cases your free time will pass quickly even if you are waiting for someone. A comic book can also become a big secret beyond your glowing face.
Let's collect the knowledge and happiness from zoogle's top 7 best audiobook apps for android.


If you are looking for the best and free audio book apps then scribd is best for you. Scribd's library is full with more than half million audio and e-books and the most interesting feature is that you can browse your favorite authors and make the library of your taste in your mobile. For quick synchronization and easy searching scribd is the best audio book app among all android users.


Audible for android is a versatile audio books app because it has very useful features. While you are downloading books in the background, the app will remain active in telling you the story. The app will award you if you succeed in getting the required score on your daily reading or listening bases. You can change the narration speed, navigate the audio chapters and can also get the detailed information about the authors and incidents with this fastidious audio book app.


OverDrive is packed with 30,000 plus audio books and motivates you to read or listen to more books. The user can sync the favorites across multiple devices and libraries. OverDrive free audiobook app also offers the titles, book mark and various playback options for your ease.
From classical literature to modern literature each and every fictional and non- fictional work is available in LibriVox free audio books app for android. Just enter the keyword, title, genre or author name and find out the books in which you are interested. Even you can choose the narrator and sound of your choice.


With smart audiobook app you can easily jump up to another book if you dislike the book you are listening to. Directly from the home screen control the volume speed and check out the previous audio player history. The app will automatically stop in case you are unable to understand the story.
If you are interested in listening to a variety of books, then zoogle recommends this free audio book app to you. Select the subject like psychology, English literature or any other and meet your desired topic. But it is very necessary that you have Internet connection for making the reading more enjoyable, anyways offline facility is also available.


This audiobook app for android has a lot of interesting features like use gestures to move to the previous or next page. The app supports multiple languages, sound levels, mp3; Bluetooth, widgets, auto lock and auto start features for avoiding distractions. This audio books app also allows you to organize the books in different folders for easy access.
Although Google Play Store has many audio book apps for android but zoogle had tried its best to cover the most wanted audiobook apps in its top 7 list. Do you agree? Tell the zoogle in the comments below.