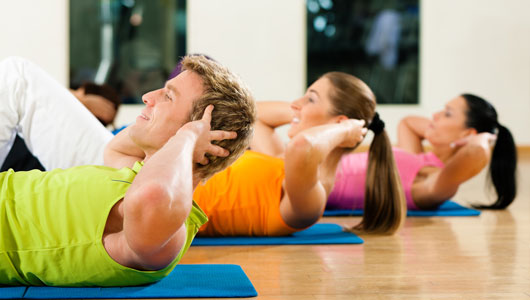 A healthy man enjoys life more as compare to the man who is on the bed. Some people think that taking a balanced diet is enough for good health but it is not true. For avoiding diseases you also need to take exercises. Regular workout will improve your health and simultaneously protects you from both internal and external physical problems like fatness and chronic diseases. There are many workout apps for android which help you to look fit and smart even without a coach and gym. In a few days you will also observe a change in your health because a large number of people had already benefited from these workout apps for android. Let's read their key features.


The most downloaded workout app for android is abs workout. The app promised to shape your body just in 5 weeks. It gives you information about different kind of exercises and motivates you to pick up the best up to your physical needs. It will give you instructions about the workout in a very high quality sound.
But if you are worried about fatness then zoogle recommends the best weight loss apps for android.


Make the 6 packs and burn the fatness with 7 minute workout app. The app let you to see the videos related to various exercises. You can set the circuit time and take short pauses during the workout. 7 minute workout app also supports multiple languages, voice qualities and Google fit.


It is a very easy to use workout app because it will give you step by step instructions both in visual and audio form. It enables you to create and edit the workouts with pictures and videos. The app delivers the new exercises on daily bases and allows you to share your results on social media. The eye catching feature for me is that it will entertain you with music during the workout.


Daily workout tracker app is perfect for both men and women who want to make their appearance magnificent. The app is packed with more than 90 exercises illustrated with inspiring videos. Set the time for the workout and repeat it until you are satisfied. Internet connection is not required for activating this free workout app.


Body builder and six pack lovers prefer to use total fitness workout tracker app for android. It will tell you what type of food and workout is good for your health. For achieving your fitness goal you have to accept the app's challenge and workout levels. The app is also best for gym experts and home trainers while maintaining your BMI.

An exceptionally large belly looks ridiculous on any type of gender. This free ab workout tracker app is designed to give perfect shape to your abdomen and stomach. Get rid from the equipments which you have used previously to control the tummy size and check out this free workout app for android.

This free workout app is best for all those who are seeking to find easy ways to control their body weight. The simplest exercises like arm reaching crunches, leg-up crunches and many other will give you very positive results in a few days. You can set the reminder for daily and timely workouts. The app also enables you to view the logs and calendar to track your total performance.
Zoogle had tried its best to give you maximum information about the workout apps for android. But if something is missed from the article then inform the zoogle in the comments below.