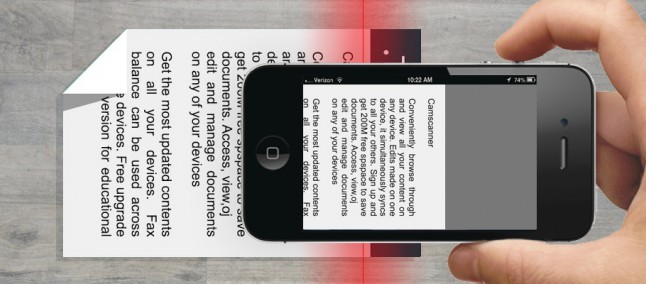 In our daily life there are different situations when we need to immediately scan the documents for office, home and school notes. Thanks to android that let us easily scan the documents on the go instead of looking for physical scanner machines or folding the papers in hands. These document scanner apps are fast and best to save your time. The scanning quality is also very much appreciative and looks just like the original scanners do. Although Google play store is filled with a lot of portable document scanner apps for android but below Newzoogle will discuss only the fast PDF document scanner apps. So have a quick look and download the best one that is up to your needs.
This app gives you a variety of amazing features such as perfect edge detection, advanced camera configuration and best Optical Character Recognition to scan the documents as you wish. You can import the images into any formats, change the page size, edit the documents and scan multi- pages in less time. This app also lets you to easily manage your documents, get the printouts, have the cloud backup, quickly share the documents and much more.
Genius Scan is another fast PDF document scanner app that automatically detects the documents and scans them in high quality results along with contrasted colors if you want. You can edit the scanned documents, save them on cloud services, scan them in single or batch modes and organize them according to your desires.
CamScanner is a worldwide famous PDF document scanner app because it lets you to easily scan, crop and enhance the text quality for quick and easy reading. You can change the documents, quickly search them, add watermarks and passwords on them. This app also supports the data sync, backup, OCR, prints, fax, 10G cloud space and strong collaborations etc.
This is the fastest PDF document scanner app that enables you to scan all types of documents in seconds. You can save the pages as images, PDF or JPEG files and share them via emails or any other apps. For easy reading, you can edit and scan the documents in various colors, grayscale, black and white modes. This app is also compatible with android mobiles and tablets.
With this app, you can quickly scan unlimited pages without watermarks. Even you can add or delete the unwanted text from the scanned images. This PDF document scanner app also allows you to lock your documents, add signatures, change image size, get OCR support, print outs, PDF to JPG file converter and much more.
This is a must have PDF document scanner app for android because it gives you different page sizes, contrasted levels and scan modes to beautify your documents. You can secure your important papers with strong pass codes. This app also enables you to quickly find the documents by date and title.
With the help of this app, you can easily scan multiple pages, change the image size, adjust the paper size, enhance the image quality and control the light effects. This document scanner app is also best to export the PDFs and JPEGs in black and white modes. MD scanner also supports the cloud storage and social networks.
Scanbot is a fully professional PDF document scanner app that allows you to scan as quickly as you want and save the documents on your device as well as on multi-cloud services. This app also lets you to easily edit your documents, add signatures, apply filters, highlight important content and quickly find out the files your need.
Office Lens is a very much helpful document scanner app and recommended to all of the business men and students who know the importance of notes. You can scan anything you want and turn it into PDF, Word and PowerPoint files. Office Lens provides you the quality page results so anybody can easily read them. This app also lets you to save the documents on OneNote and OneDrive.
This PDF Document Scanner app gives you the proper flashlight to scan the documents in clear vision. You can select your favorite page size and import the images into PDF files. This app also supports the cloud services, SD cards, Samsung multiwindow, Mac and PC to protect your valuable documents.
Do the above android apps give you the satisfactory results as compare to original and physical scanners? I am curious to know your opinion so do not forget to leave the comments below.