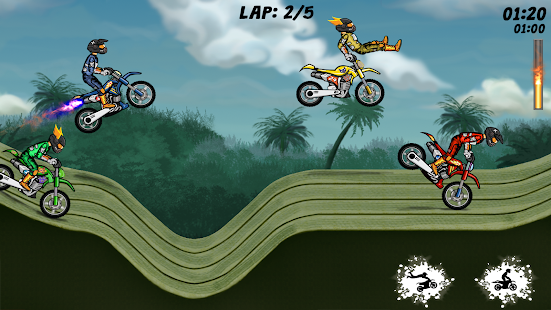 Many boys want to have a bicycle or bike to full fill their numerous needs. But in some boys, this need turns into a passion. Passion for racing, performing stunts, showing their abilities and becoming the winner. For all these people, android offers the best BMX bike games. These games let you ride your bicycle in your style. Various locations, stunning tracks and high-speed bikes are given to you. You can know about tricks and do the stunts which you imagine. Your mind will get strength and provides you the ideas to be the next popular BMX rider in real world.
Let's have a look on top 10 BMX bike games for android:
If you are new to BMX or looking for an app to train yourself, then Touchgrind BMX bike game is highly recommended. It provides realistic and easiest finger controls. You can start your journey on your favorite bike. The bikes are available in different colors. You can test all of them to get the best experience and to know at which bike you are more comfortable. The routes are very beautiful and perfectly designed for fulfilling your desires. You can do stunts and race as you like.
In short, the roads and the bikes are ready for you, and you only have to prove yourself as a master in BMX sport. Everywhere and in any style, you can move your bike. For enhancing your knowledge, the names of the stunts are also mentioned. This game also allows you to record your screen for analyzing your performance and showing your capabilities to your friends.
Produced by the same developers (illuison Labs) and having the same name "Touchgrind BMX 2" is the advanced and fastest version of the above BMX bike game for android. There are some differences too. For example, the above game gives you multiple bikes but, in this game, you can make your own bike. Select the color, seat, frame, handles, wheels and other parts of the bike. Your bike will be just as you want or imagine. Ready-made bikes are also included. Another different but exciting feature of this game is that it lets you to invite friends and play the BMX together. You can compete the other BMX players and take part in online BMX tournaments. Prizes will also be distributed among winners.
The locations are totally new and adventurous. Some paths lead you up and some down. Obstacles are there to make you a strong player. For beginners, this BMX bike game also provides a guideline and stunt training.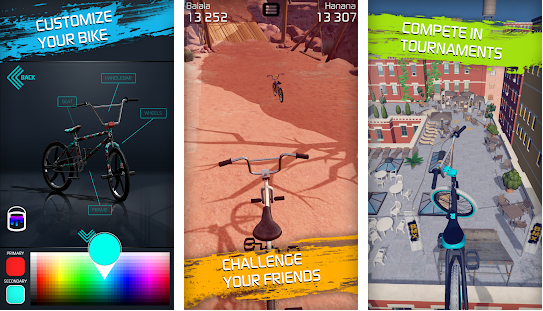 Based on 90 interesting levels, this game will turn you into a great BMX boy. Each level has beautiful surroundings and stunning obstacles. Every trick you can play on them. Your bicycle will be fully in your control. A cool cartoon character will also be on your bike. Performing tailwhips, barspins, toothpick, smithpick and many other stunts is also possible with this BMX bike game. Even you can learn how to move the bicycle in the air without having any grip on the handles. On crossing each obstacle, you will be awarded with different points. And each point will lead you to stand on top of the list.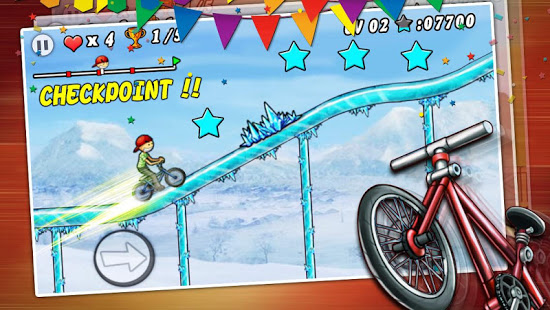 Stickman BMX bike game lets you have an amazing riding experience. While going to forest, oil refineries and other areas, you will meet several hidden obstacles. Every hurdle is of different kind and shape. So, you have to be very much active for doing the stunts according to the obstacles. Once you defeat an obstacle, the other one will be ready for you. In this way, this BMX bike game allows you to perform as many stunts as you can. Your skills and ideas both will get nourishment. You will feel yourself more energetic for becoming a fearless BMX player.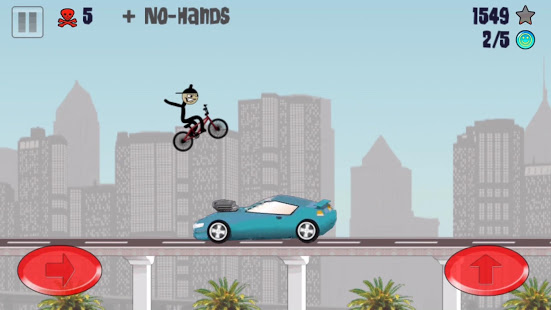 This is a freestyle BMX bike game. It has a lot of locations which you can pick to show your tricks. In case, you think that you should have more adventures areas then this game also allows you to make your own map. You can change your player's look with your favorite caps, shoes, shirts and other things. Even creating your own bike is also easy with this game. The color choice will also be yours. After setting the environment up to your taste, you can start the ride. And have the full freedom to jump high or down and try the stunts which you can only think.
In short, for overcoming the obstacles, this game enables you to control your bike by standing, seating, flying or laying etc.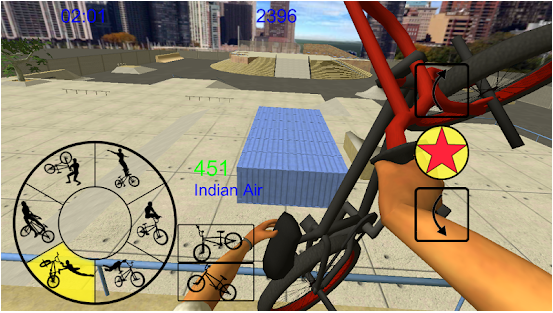 Mad Skills BMX bike game is best for all sports lovers including the professional and the beginners. Because it will strengthen the player that is hidden in you. There is huge audience, realistic tracks and powerful rivals. The whole atmosphere is just like an original BMX ground. The bike will also be of your choice because this game provides a bike shop from where you can change the parts. You can also dress up your bike rider according to your desires. During the race, you can run, jump and move the bike up to your skills.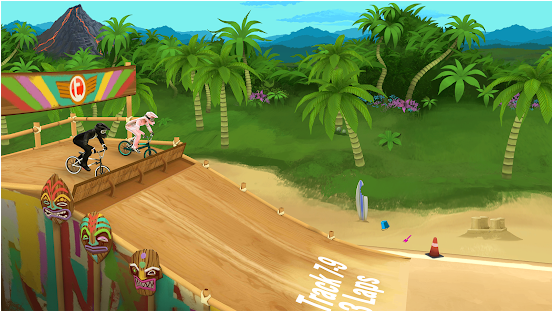 Do you love stunts? If yes, then this BMX bike game is just for you. As it allows you to play a lot of amazing stunts. Raise your speed, fly your bike, do one wheeling, stand on your ride, jump high and run your bike in full tempo. There are almost 60 levels. All are full of challenges. You will not be alone, other racers will also join you. So, you have to keep the full control on your bike through tilt or touch. Background music and power ups will help you to carry on the game like champions. BMX special tracks, survival mode, fast bikes, leaderboard and many other cool things are also the part of this BMX bike game for android.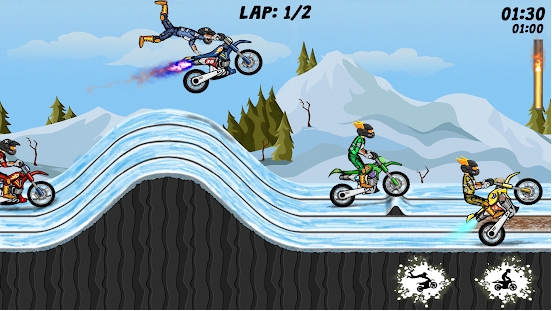 For all scooter and bike racing enthusiasts, this is an awesome BMX bike game. It gives you perfect locations based on startling obstacles. More than 20 type of tricks and actions, you can perform to reach to your goals. First and third person both views are supported. Up to your desires, this BMX bike game lets you change the player's dress and bike colors. The bike designs and types are also different. You can choose the mini, crazy, rocket, MTB and BMX24. Even can build your own routes and levels to make yourself a professional and well-trained BMX player. Molding the levels also helps you to check your skills.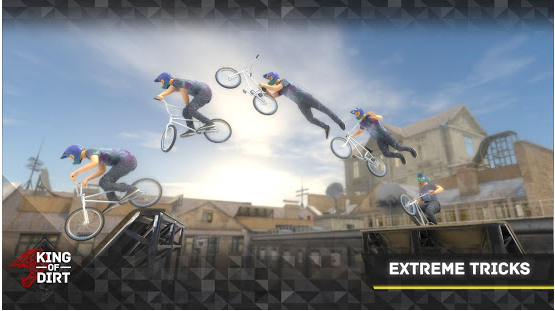 Some stunts seem to be impossible, but this BMX bike game enables you to convert impossible to possible. You can easily show difficult and dangerous stunts. Control the bicycle as easily as you can. The BMX racing areas are very tricky. Because they are set on huge mountains, between the hills and up to the sky. So, this game provides you the biggest opportunity to be the fearless and polished BMX rider.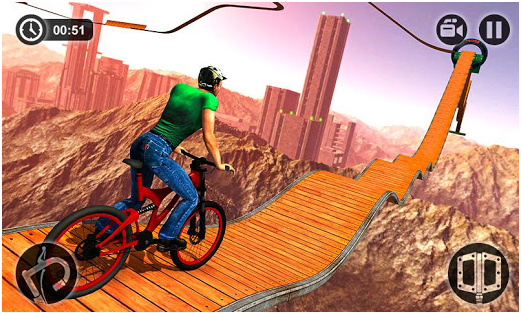 Max Air BMX bike game offers more than 10 fast, stylish and colorful bikes. It gives you cute and active cartoon creatures and the unique thing is that female BMX players are also included. Any stunt, you can show through them even at a time you can combine more than one stunts and experience something new and more thrilling. This game also lets you to test your racing skills on most realistic locations.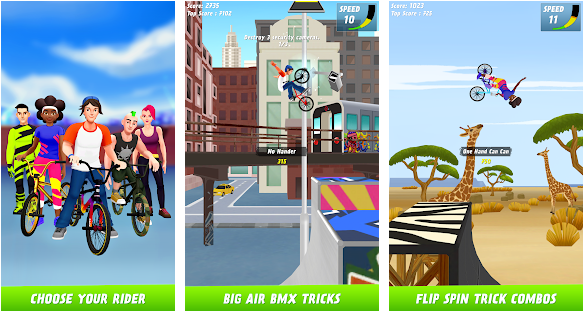 Thus, all the above games are great if you love bikes, stunts, race and dangerous tracks.