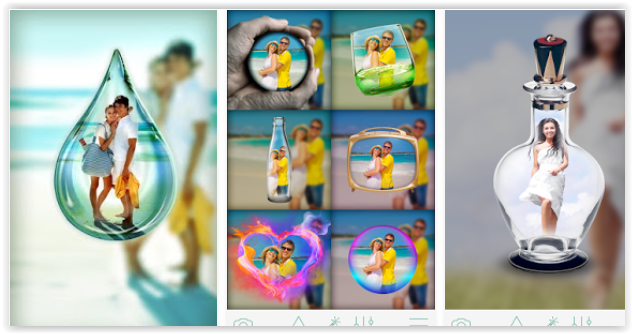 PIP camera apps for android let you to give a new look to your photos. These apps offer such features which are hardly seen in any other photo editing apps. You can set your pictures into beautiful frames but with a new technique that is called the picture-in-picture effect. This concept can be easily understand by seeing the above image where you see the pictures with blur background and the stylish picture in picture frames into different shapes like heart, circle, square, bottle and many more. Your friends will become surprised when see your fun creative pictures on social media. So let's find out the best PIP camera apps for android.
All the photography fans love to use this PIP camera app because it lets you to get more than 200 cute and stylish pip frames to decorate your picture-in picture. You can add the blur effects, text, collage layouts, filter and crop your photos in order to make them fit into your favorite photo frames.

This pip camera app gives you more than 150 pip frames that are cute in shapes and remarkable in style. You can blur the front and the background of your pictures, create beautiful photo grids, add the smileys, stickers and filters on your photos. This app also enables you to make instasquare size photos without crop.
Anyone can easily use this pip camera app because it enables you to use glass, camera, hand and many other PIP frames to increase the beauty of your pictures. You can adjust the brightness, color, contrast and temperature of your selected images. To crop and blur the photos has also become easy with this camera app. But if you want to get more blur effects then check the next article.

This app provides you a variety of pip frames into different shapes and designs. You can create amazing pip collages with the help of inspiring layouts and photo editing tools like blur, contrast, zoom in, zoom out and many more. For latest photo editing tools go here: http://newzoogle.com/category/android-photography/
PIP Camera Artist Sketch Frame

This Pip camera app is slightly different from the above apps because it lets you to set your pictures into beautiful artistic sketch frames that are horizontal and vertical as well. You can apply various painting effects on your pictures make them beautiful. Many Christmas pip frames are also added in this app.
Although all the above PIP camera apps for android are best but if I have missed any other important PIP camera app then tell the Newzoogle in the comments.