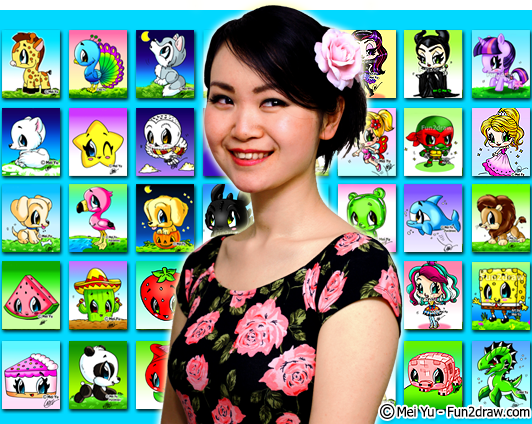 Newzoogle has already talked about the top android apps that help you to convert your photos into cartoons but this article is slightly different from the previous one. Here you will know about the easy cartoon drawings apps to create your favorite animated characters. You can draw whatever you want, uses the vivid colors, frames and many other tools to make a comic picture. Easy cartoon drawings apps also let you to draw the cartoon of your most wanted people, friends, animals and objects etc. But if you want to draw the amazing sketches then try the top photo sketch apps that enable you to make different sketches and change your existing pictures into artistic sketches. Anyhow, let's come to the point and read about the easy cartoon drawings apps for android and enjoy following the pattern of your imaginations.
Draw Cartoons

If you are looking for the best and easy cartoon drawings app then this app is just for you. You can create your desired cartoon characters that will also speak and move on your screen like the real game cartoons. This app also allows you to make the short videos, use the pre-set cartoon models, frames and effects.

It is another easy cartoon drawings app that is full of useful features. It enables you to produce the cartoon of your choice. You can record the voice and insert the playback songs on your creative cartoons. This easy cartoon drawings app also provides you various frames, templates and skeletons to create your own animated cartoons.

FlipaClip is a super easy cartoon drawings app and lets you to use amazing drawing tools. You can create animated cartoons and beautiful sketches. There are different color pencils, pens, brushes, videos and many other tools that will make an outstanding cartoon. You can also use the layers, stroke effects and animated frames etc.

This app is best for the beginners and gives many productive tips to make cartoons. More than 100 cartoon collections and drawing tools let you to draw your favorite cartoons, animals and people. This easy cartoon drawings app for android also provides an expert teacher that helps you to draw impressively.
How To Draw Cartoon Animals

This easy cartoon drawings app is specifically designed for the people, who want to make the cartoon of different jungle, sea and pet animals. You can make the cartoon of dog, dolphin, giraffe and many other animals up to your choice.

Make cartoon with Poppy Toons is an ever easy cartoon drawings app because it allows you to make animated cartoons and videos. You can use the pre-defined comic pictures and can also import the pictures from your gallery. This easy cartoon drawings app enables you to use gestures, add the music and watermarks on your cartoon videos. If you want to protect your photos then always use the top watermark apps for android.
Do you like this article? Are these easy cartoon drawings apps for android works up to your desires? Newzoogle loves to know about your feedback.