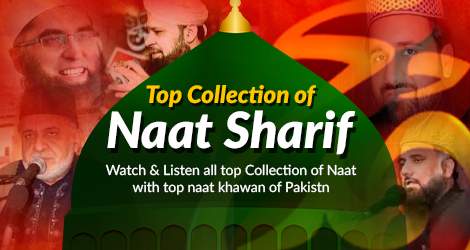 Naat is the name of a poetry which is written in "praise of Hazrat Muhammad (SAW)". Anyone who recites naat is known as "naat khawan". There are many naat khawans but some voices are so much beautiful that you love to listen them again and again. Even you wish to have them in your mobile so that you can listen to them whenever and wherever you want, android naats apps can become handy in such case. These apps have a big collection of beautiful naats both in audio and video form. You can easily search and listen to your favorite naats to comfort your heart and to get the blessings. These naats apps for android also provide you the list of many famous naat khawans who has the melodic and soulful voices to touch your heart and to refresh your spirituality.
Below are the best naats apps for android, let's start with the first one:
This is one of the best and most downloaded naats apps for android because it gives you a lot of beautiful naats in different voices such as Owais Raza Qadri, Abdul Rauf Roofi, Shahid Mehmood, Fasih Uddin Soharwardi, Farhan Ali Qadri, Junaid Jamshed, Abida Khanum, Aamir Liaquat and many many more. All naats are categorized and available in Urdu, English, Punjabi and Arabic. This app also tells you how many naats of each naat khawan have.
Here you can listen to more than 150 naat khawans and 5000 beautiful naats. You can watch the video of the naats and can also listen to the audio even in the background while doing the other tasks on your mobile. You can create the list of your favorite naats , know the number of naats by each naat khawan, control the audio from notification bar and listen to Pashto, Punjabi, Arabic and English naats even when you have no internet.
Listen to the world's popular naat khawans and soothe your heart with latest Madani naats. Assma-Ul-Hussna, Qasida Burda Shareef, Ramadan and Milad-un-Nabi special naats are assembled here. This naats app for android also supports the auto sync option to update the naats.
More than 200 naat khawan and 3000 beautiful naats are collected in this app. You can enjoy the video of 1000 best naats and easily listen to the offline and online naats. This app also adds new naats on daily bases to enlarge your naats collection.
Which naats app for android has the most beautiful naats? Do you have ever recited any naat? Which is your favorite naat? I am eagerly waiting for your feedback via comments.