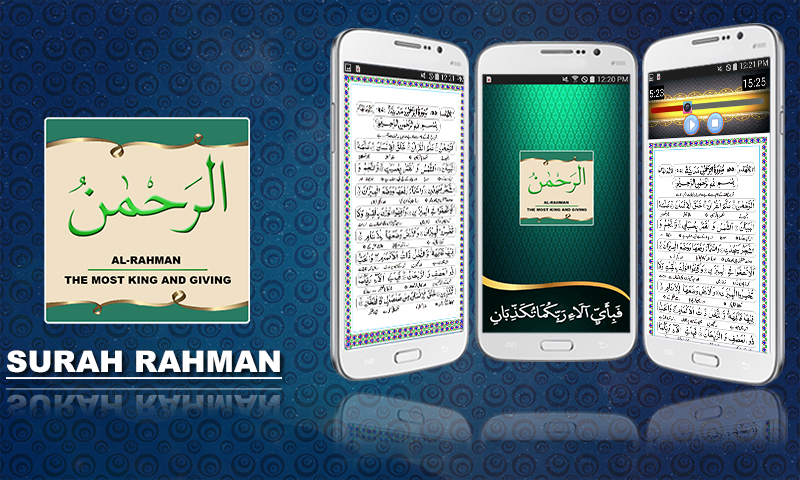 Surah Rahman is a very beneficial and significant surah of the Quran Pak. Anyone who will read and listen to surah Rahman will get: the solution of all problems, treatment of all diseases, best marriage proposals, purification of the heart, perfect eyesight, emotional healings, an angel to guard you, the status of a martyr and much more. Abdullah Ibn Mas'ud narrated that the Holy Prophet (PBUH) said, 'Everything has an adornment, and the adornment of the Qur'an is Surah ar Rahman'.
So daily read and listen to surah Rahman to be healthy, wealthy and successful in every field of life. To let you to easily read this surah, there are a lot of android applications which you can easily install on your device but here I will discuss the 5 best android apps to read and listen to surah Rahman whenever and wherever you need. These apps provide you the clear Arabic text, correct translations and heart-touching recitations of surah Rahman.
This is the best android app to read and listen to surah Rahman in the beautiful voice of Qari Wahid Zafar Qasmi and Shamshad Khan. The translation is available in Urdu and English language. For your ease, you can change the background and text color. You can also increase or decrease the word size and quickly find the ayat which you need.
This app lets you to listen to beautiful recitation of surah Rahman in the sweet voices of popular rectors like Abdul Rahman Al-Sudais, Maher Al-Muaiqly, Muhammad al-Luhaidan and mishary rashid alafasy. All voices are clear and offered in high quality sounds. Play, pause and repeat buttons are also included in this app to easily memorize surah Rahman.
This is a very much special app to read and listen to surah Rahman on your mobile. You can read the text in eye-comforting colors, change the text font style and re-size the text to read as easily as you want. In more than 15 languages, you can know the translation and transliteration of holy verses. This app also helps you to quickly memorize surah Rahman, know the benefits of surah Rahman and get the recitations in different voices including As-Sudais, Abdus Samad, and Al-Afsay etc.
Surah Rehman+ Audio Recitation
This is another great android app to read and listen to surah Rahman in Qari Abdul Basit's voice. The Arabic text is clear and available in various text styles. You can change the word size, read the translations, modify the colors, use repeat option and set the timer to read and listen to surah Rahman up to your choice. This app gives you the translations in English, Urdu, Indonesian and Malaysian languages etc.
Quran Pak 5 Surah Offline
If you have no internet and want to read and listen to surah Rahman, surah Yaseen, surah Kahf, surah Muzzammil and surah Mulk then try this app to get five surahs in one app. The sound is crystal clear.
I had tried my best to inform you about the top android apps to read and listen to surah Rahman but if you think that something is missing then feel free to tell Newzoogle through comments.