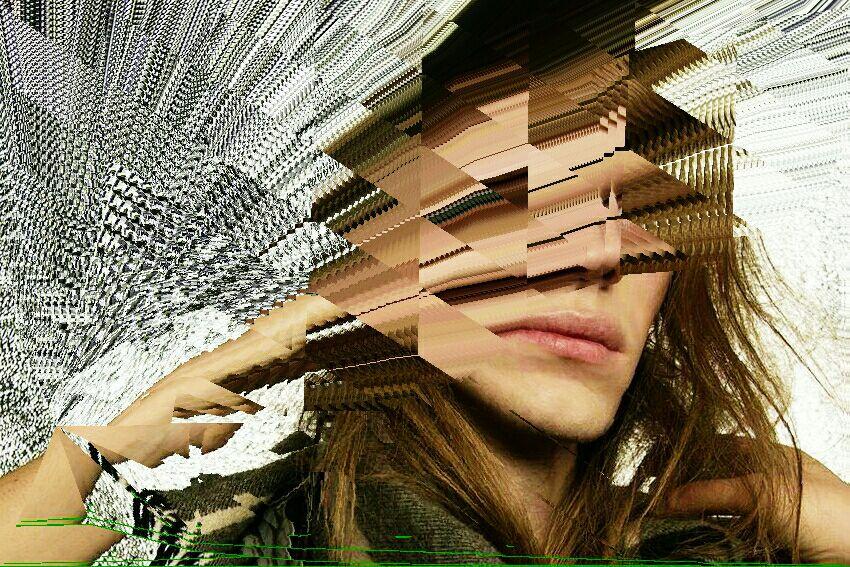 For artists and aesthetics, glitch is not an "error" (as usually noticed in old TV screens or devices with problems) rather than for them it is an "art" that makes their works unique, magical and stylish. In today's world for social media users, it has become a source to make their pictures and videos outstanding. Although the pictures are in distorted form and somehow seems abstract but still there is beauty in them. So, if you also love glitches then without using any color, pen, brush or tools, you can create them with the help of glitch photo and video effects editor apps. Any android user can get benefit from them even if you have no knowledge about glitch art. In each of these apps, different type of glitch effects is included. You can easily have the glitch that you like to see in your creations.
Following are the 10 best glitch photo and video effects editor apps for android. You can try them for getting fun, beauty and likes on media. Along with giving you glitch effects, these apps also provide you other stunning effects and editing options. Let's have more details in the lines below.
Anyone who want to make their videos beautiful and popular but in an easy way then this is a must to have android app. Because it gives you everything to create glitch videos as you need. There are vaporwave, noise, droste, mirror, old TV, ghost, heartbeat, neon, psychedelic, shadow and many other glitch effects to apply on your videos. You can add music, cut videos, use stickers, have vintage filters and write whatever you want. This app also helps you to make best slideshows and attractive intros even by using your photos.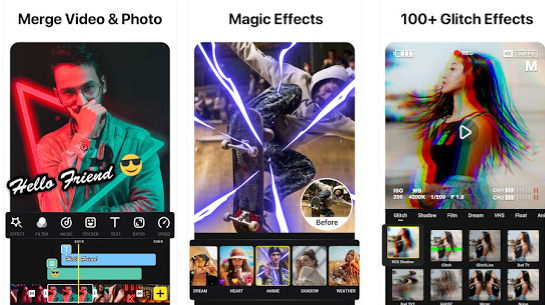 Almost 50 types of effects are included in this glitch photo and video effects editor app. All effects are easy to apply and best to let you create the scene as you want. For example, you can use 80s,90s filters, retro, grain, light and dust effects even at a time you can mix various filters to invent a new one up to your need. The effects can be applied on real time or stored clips or images. This glitch photo and video effects app also gives you photo grids, neon stickers and backgrounds of various types.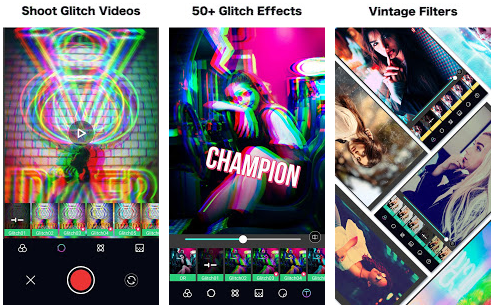 This app gives you 40 kinds of glitches including pixelated, magic, broken VHS, RGB, night vision, noise, wobble, chroma, snow and ripple etc. Any glitch effect you can pick from the collection. But if still you want more options for making your work more unique and aesthetic then this glitch photo and video effects app also lets you to use multiple trippy filters. On each filter, its number is mentioned so you can know which trippy number is best for your glitch photo and video. You can also use this app for making photo collages and 3D glitch videos.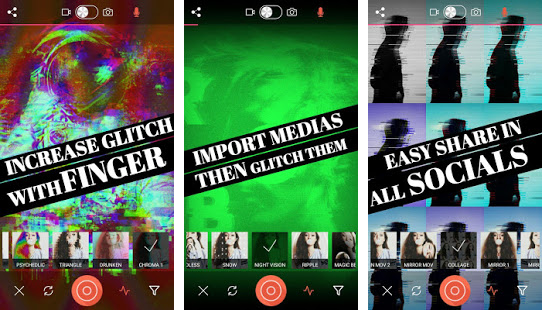 Due to its amazing features, Vaporgram is the choice of every creative person who want to show glitch art and aesthetics in his/her work. From hundreds of effects, you can choose the one you like to see in your videos such as scanline, neon, illusion, rgb, VHS and vaporwave etc. Along with this, Vaporgram app also lets you to add more things in your creations like stickers, duotone colors, backgrounds, shades, frames, text and much more. Editing gifs is also supported in this 3D glitch photo and video effects editor app.
This app offers 26 effects for applying on your desired pictures. All effects are new and best to turn your simple and casual images into a work of glitch art. The frames are also numerous. But in case you did not find the required glitch effects then this app also allows you to make your own glitches just by using your finger. As you swipe, the picture's color, lines and shape will start to change and as a result your desired glitch will be in front of you.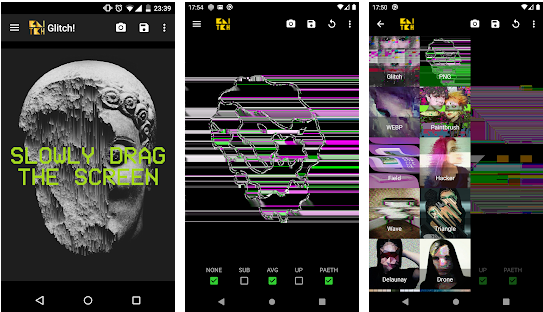 This is a multi-functional glitch photo and video effects editor app. You can use it for applying new and unique filters on images, for transforming your works into glitch art and for giving the old or 90s look to your selections. Like modern day trends, this app also enables you to add neon, statue, psychedelic, vaporwave and many other stickers in your creations. The "effects" collection of this app is also awesome and based on trippy, swirl, vignette, blur, RGB, retro, negative and many other stunning effects. All these effects are perfect for making your glitch phot and videos more famous on social media.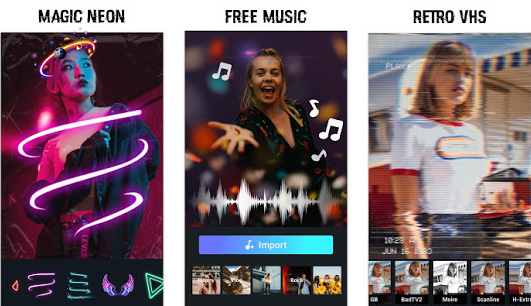 Making magical scenes, converting images into art and getting more likes on social media has become much easier with this glitch photo and video effects editor app. Because it has thousands of photography effects including flash warning, halloween sketch, booth, VHS, black and white and vaporwave etc. Any look, you can give to your work. Even the text can be added in glitch style by using effects, colors, fonts and backgrounds. If you want more or looking something extra to spice up your 3D glitch photos and videos then stickers and music is also included in this app.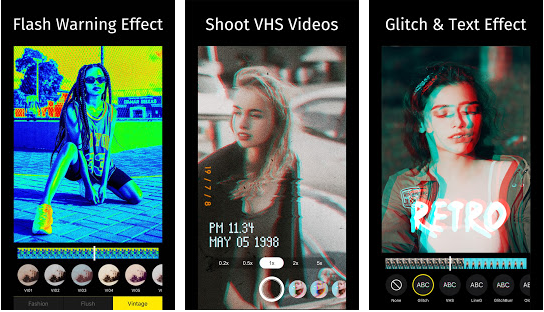 Mega glitch photo and video effects app is best to show your art or creativity to the world. It offers many filters, effects and layouts to make your glitch photos and videos aesthetic, futuristic, magical and musical. When you open your desired section, then a variety of options will be in front of you. You can pick any style or effect to apply a new concept on your image, movie or vlog.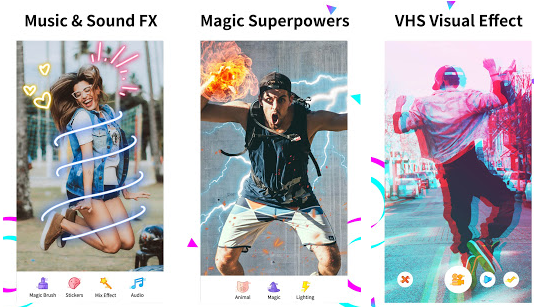 For all glitch lovers, this is a perfect glitch photo and video effects editor app as it gives you not only one but many types of glitches. Each effect is cool and proves best for adding a new element in your clips or images. Just with a tap, you can distort the pictures as you like. Along with glitch, other stunning effects, filters and voice recorder is also supported.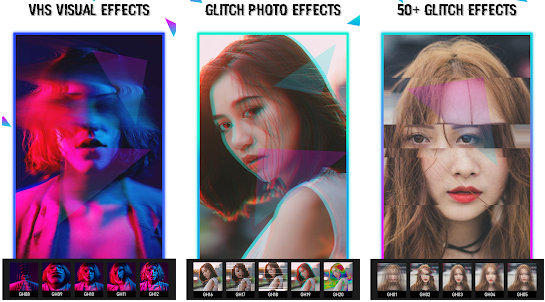 In this app, you can have more than 100 effects related to glitch. Each glitch style is unique and based on random and real patterns. Any glitch design, you can select for making your pictures look most modern, stylish or even old ones. Filtering, color distorting and waving art is also easy with this app.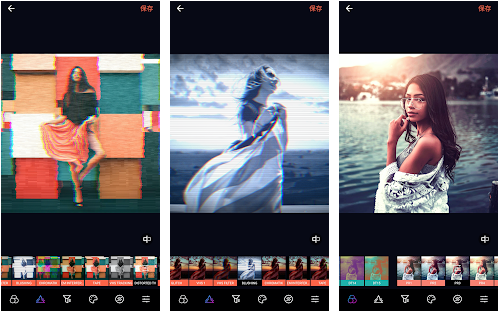 Although there are many other video editing apps for android but above are specifically designed for glitch art lovers. Thus, if you are an artistic person, film maker or a social media user, then these apps can be best for you to make your work more popular just by applying effects on it.