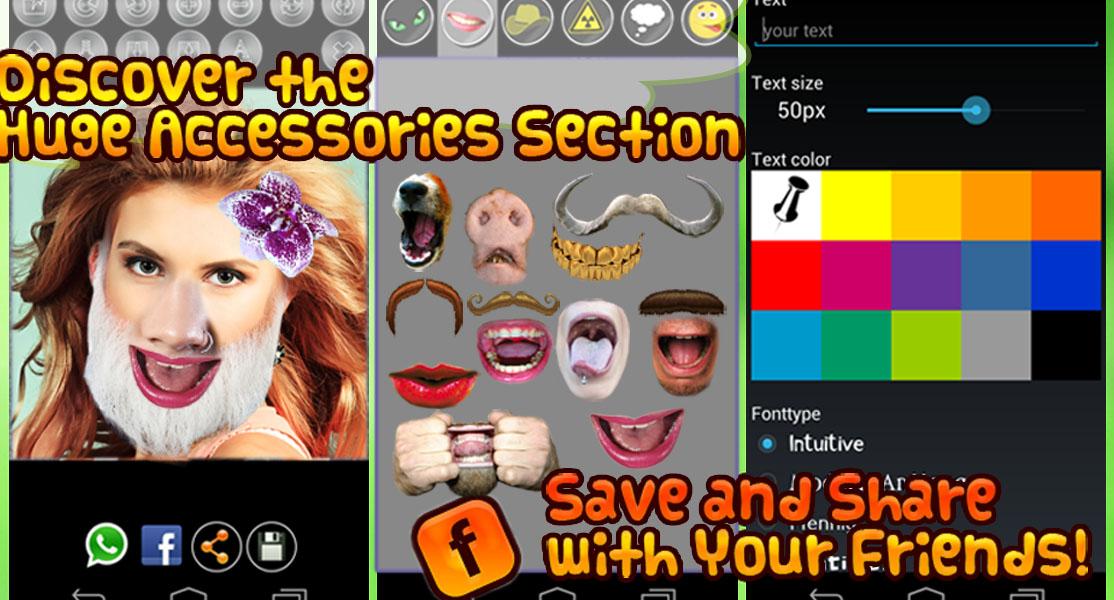 Newzoogle has already discussed the best and amazing photography apps that let you to give special effects to your photos and distort them according to your desires. Anyways, here you will know the best and funny face changer apps for android. These apps enable you to deform the pictures, change the eye color, hair, moustache, nose and lips etc. Along with replacing the various body parts, you can also turn your photos into cartoon, joker and hilarious animals. If you want to completely change your face then use the best face swaps apps for android.
For your ease, Newzoogle has listed the top 7 funny face changer apps for android. Check them and have fun.

This funny face changer app provides all the necessary features which may need to create the humoristic photos. You can cut the face parts and put the funny nose, scary eyes, kissy lips and damage teeth on the photo along with different objects like lipsticks, glasses and cigars etc. You can also warp the photos, add the text and share them on facebook, whatsapp etc.

Mostly the pictures remain static and do not move but this face changer app can give the life to your photos. Your photos will talk and move like the animated cartoon characters. Instead of changing the skin color, you can totally change the eyes, nose, ears and lips etc. This funny face changer app is also best to write the text and change the fat face into skinny and skinny into fat.
Face Changer Cool

Face Changer Cool gives different categories based on various hairstyles, mustaches and spectacles. Just pick your favorite part and move it over the selected area of your face and get the funny picture that will make you laugh wholeheartedly.

Face Look Changer Pro is a fantastic photo editor app for android because it allows you to paste the animal photos on your face, cut one face and paste it on the other photo to have a new and funny look. There are also more than 500 funny stickers that you can use to change the geographia of your face.

Insta Face Changer Pro lets you to give animal look to your photos. You can use the various animal faces and blend them with one another and as a result get an amazing half-animal and half-human picture. This funny face changer app also supports the morphing and color text to make outstanding photos.

Face Switch has a lot of inspiring features such as you can replace the different facial parts, change the skin color and use the comic stickers to make extraordinary funny photos. This funny face changer app also enables you to control the brightness, use the brushes and filters etc.

This funny face changer app offers the same features which are present in the above apps like change the different parts and gives them the look you want. You can use the painting tools, pointy ear; distort teeth and bulky eyes to make extremely funny photos.
Anyways all these funny face changer apps offer the amazing features but I love to use Face Look Changer Pro because it makes me and my friends laugh for a long time. My all friends use the other funny face changer apps (which I mentioned above) to have the unique pictures and add the craze in funny moments. Can you please tell me about your favorite face changer app for android?