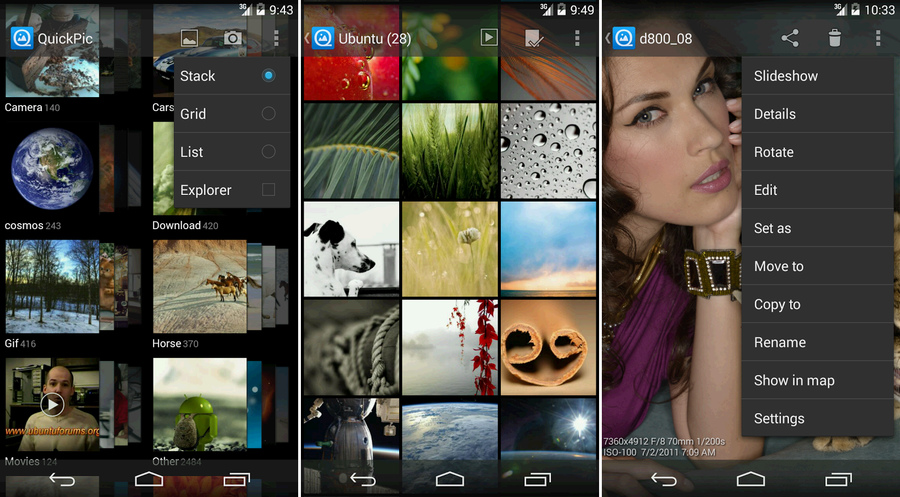 Photo gallery apps for android are the must have apps for all the android users who has a big collection of photos in their mobiles. These apps enable you to manage your photos in an easy way so you can quickly find them whenever you need otherwise you have to swap here and there which is a very time consuming task. You can save, search and organize your photos by name, date, time and moments. Each and every photo gallery alternative app offers different but exciting features which will definitely touch your heart.
Although Google Play Store has a variety of photo gallery alternative apps for android but here Newzoogle will discuss the top 7 photo gallery apps that will organize your photos intelligently. Let's read more.

This is the number one photo gallery alternative app that automatically arranges your pictures by place, date and events so you can quickly find them. Your best and similar pictures will be in one place and you will be able to know the photos which you have not seen for a long time. This app also supports the android wear smartwatches and reliable backup services.

With this photo gallery alternative app, you can organize and search your photos by time, year and occasions. Even you can also find your photos by colors. Your photos will remain save because this app gives you a strong backup support. You can also edit your photos, make beautiful albums and hide them from others.

This is an amazing photo gallery app for android because with it you can see thousands of photos just in seconds and can easily find your favorite pictures. You can create automatic photo slideshows to see your pictures without touching the screen again and again. This photo gallery app also lets you to make multiple folders, crop, copy, rotate, rename and resize your pictures to fit as wallpaper.

QuickPic is a very easy to use photo gallery alternative app that enables you to see multiple HD pictures in quick slideshows. You can edit your pictures, lock them with strong passwords and manage them into multiple folders to make your search super fast. This app also supports all type of image formats, gestures and cloud storages to protect your photos. If you want to protect your SMS then must try these apps.

If you have no time to organize your photos or videos then Google Photos is best for you to automatically manage and search your photos. You can store millions of photos, share and edit them with your friends across multiple devices. Your photos will always remain save even when you delete them unintentionally. Check it out to get back your deleted photos.

This photo gallery app improves your photo browsing experience and provides you a magnifying glass to see the details of your saved pictures. You can change the size; apply the 3D effects, filter, cut and paste your photos. This app also allows you to save all the image formats and share them with your friends.

This photo gallery alternative app has a very attractive interface that lets you to see multiple photos in a single click. You can create a lot of separate photo albums, set your pictures as wallpapers and edit them according to your desires. This app also supports the 3D gallery and quick photo sharing.
Which photo gallery app for android offers the features of your choice? Tell the Newzoogle in the comments.