Many people spend their leisure time by doing different kind of things but the photography lovers always try to find new techniques that will improve and polish their abilities. Android give them a big platform to make photos of their choice. You can also enhance the capabilities of your android camera to take beautiful pictures. To turn your photos in to cartoon is also possible with the android apps. May be you are trying to find this feature in cut paste photo apps for android. But remember for this you need to have the android apps that will convert your photos into cartoon. Now it's time to embrace the style and share comical pictures on face book and twitter instead of simple photos.
After a long search, Newzoogle has considered the following photo to cartoon apps for android. Let's have a look.
This app is especially designed for all those who go to the painters or sketch makers to make their pictures. The app also enables you to change your picture into beautiful cartoons with stylish nose and lips. You can modify the size of the picture, increase or decrease the brightness and color effects with this photo to cartoon app for android.
You can also use many new stickers, filters and special editing tools to popularize your photo on social media.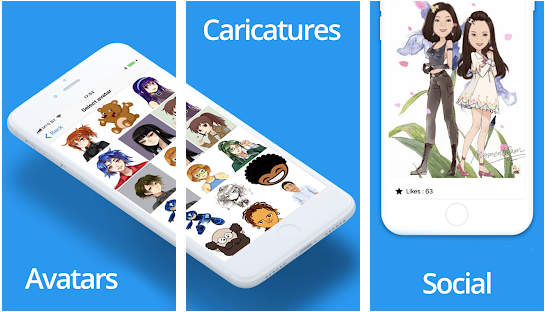 You can apply cartoonist effects on both male and female photos. This photo to cartoon app will automatically or manually convert your photo into an amazing caricature which makes people laugh. You can add funny stickers and text on your target photos in any form. If you want to share and save your creative cartoon photo into gallery then this photo to cartoon app is best for you.
This app also supports multi- touch gestures, erasers and restore options etc.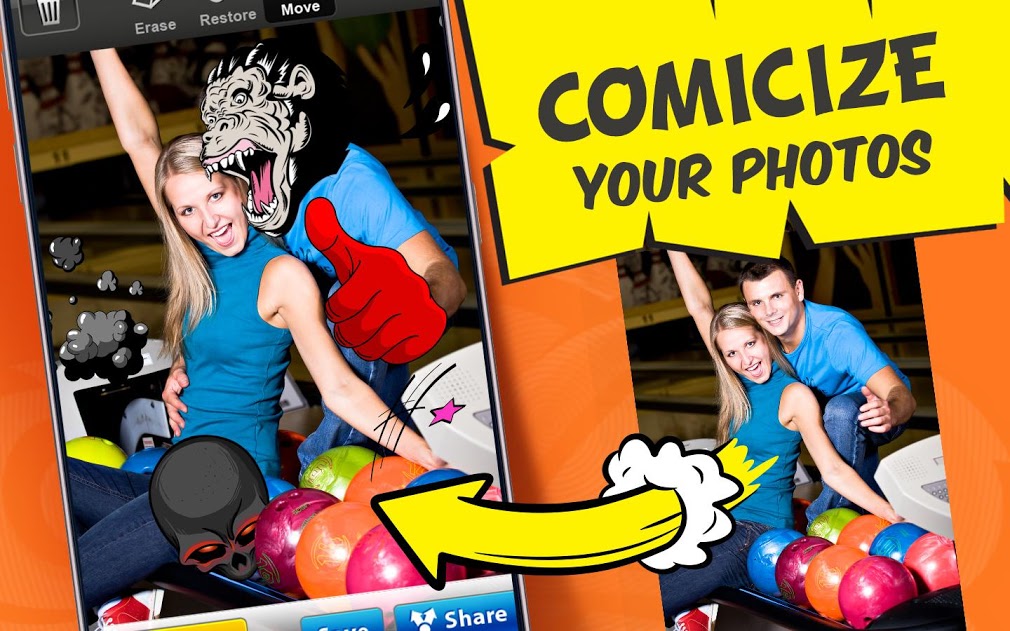 This is the best app that will convert your photo into cartoon and comics. Along with changing the photo, you can also change the background, hair color and facial expressions of your cartoon photo. This app gives you the opportunity to craft event related cartoon photos so that you can increase the laughter on your friend's birthdays, anniversaries and other events. There is also booth, aura, sticker, face swap and funny effects included in this app.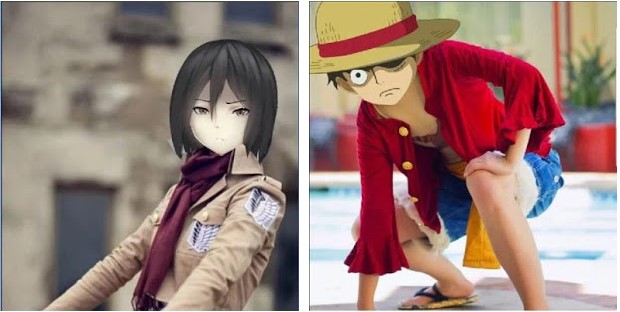 Funny Images Photo Editor is slightly different from other photo to cartoon apps because it allows you to create funny pictures in a different way not just like a cartoon. You can edit, resize, rotate, crop and set your pictures into beautiful frames and templates.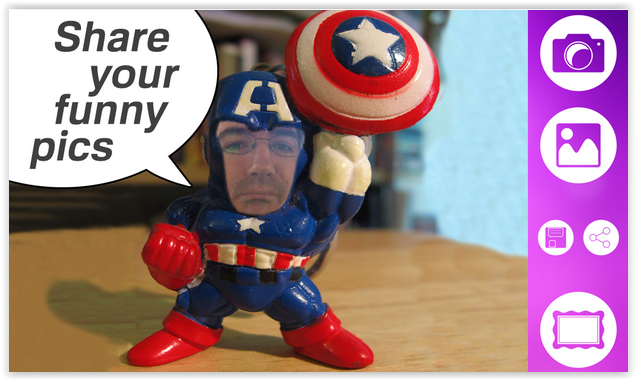 This app quickly turns your photos into cartoon, pencil sketches and paintings. You can do different experiments on your pictures by using different cartoony effects, filters, double exposures, blur and other artistic tools. This photo to cartoon app also lets you to create beautiful collages and resize your pictures. Click here to change the size of your pictures without crop.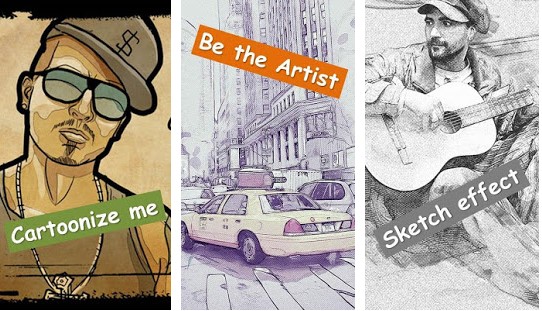 Props give a stylistic, unique and funny look to your pictures. You can decorate your photos with different type of funny items like hairstyles, caps, glasses, bottles and many other things. This photo to cartoon app also allows you to add text on your fun created pictures and videos.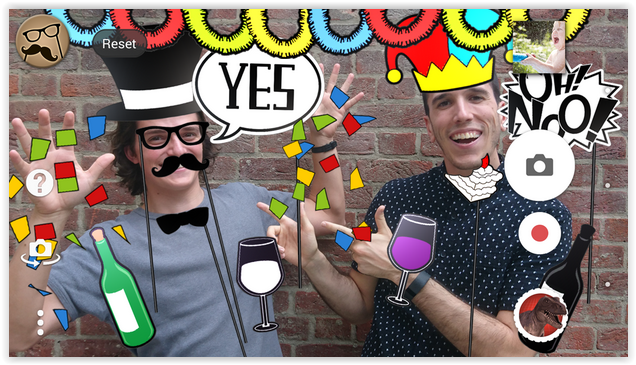 This is a very easy to use photo to cartoon app because in a single click it converts your photo into cartoon and artistic creations. You can use a variety of cartoon filters, blending tools, sketch and booth effects to change the color and style of your pictures. Do you want to color your black and white photos then check over here.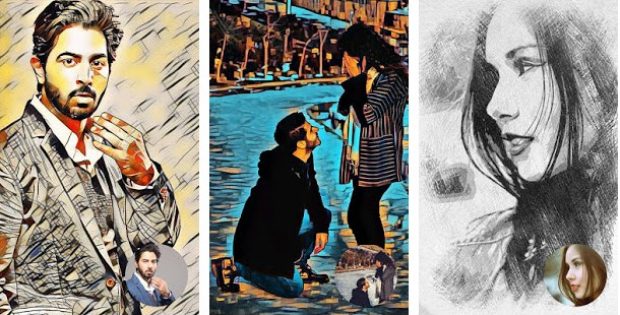 ArtistA Cartoon & Sketch Cam lets you to quickly turn your photos into cartoon and sketches. There are more than 50 impressive filters and cartoon effects that will give a realistic look to your new created images. This app also gives you the best photo editing tools to make cute cartoony selfies and DP for social media.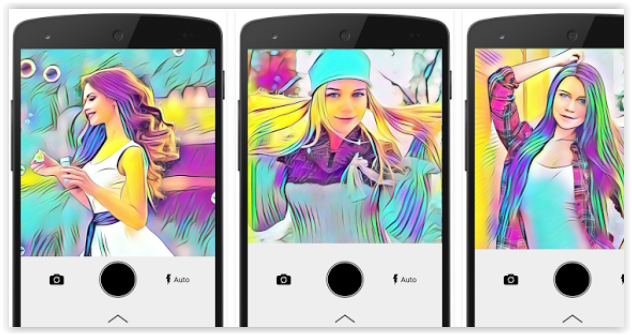 Face Swap is a multi-functional android app to give a funny look to your pictures. It lets you to change your face with someone else even you can apply the dog ears, cat's nose and long animal tongue at your mouth. Face Swap also enables you to get a lot of cartoon stickers, clone effects, filters, text, frames, photo grids and collages etc.

Cartoon Photo Editor allows you to easily transform your photo gallery into an art gallery. You can use a variety of amazing filters to give a caricature, sketch and painting effects to your favorite pictures. This photo to cartoon app also facilitate you with offline filters and live camera preview.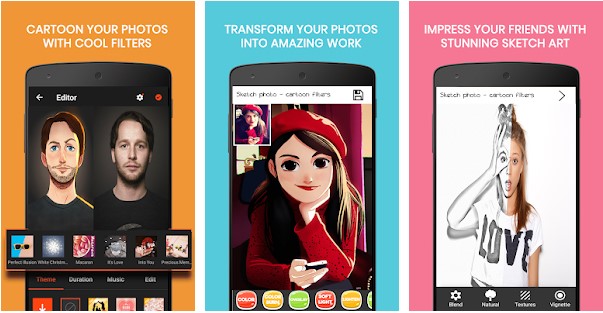 Cartoon Pictures has a very attractive icon which said everything at a single glance. Just one click of the button will turn your photos into cartoon characters, artistic paintings, water colors and hand-made sketches. This app also tells you the perfect way to cartoonize your existing pictures or taken from the camera.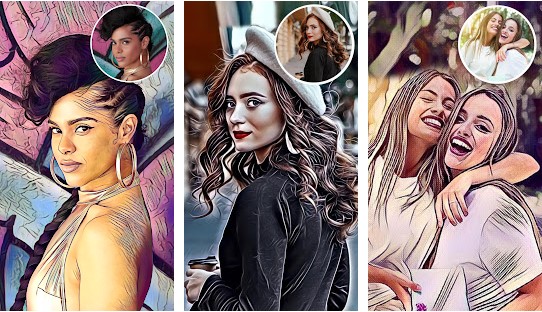 Every type of cool, funny and beautiful cartoon effects are included in this app. There are almost 30 art effects, special selfie camera and modern filters to increase your creativity and unleash your hidden talent. You can easily save and share your artwork with your facebook, instagram and twitter fans.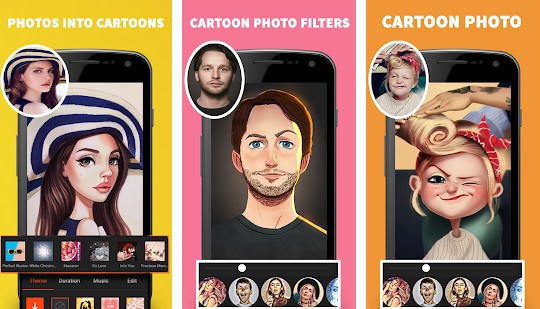 For more photo to cartoon apps, must visit the next Top 7 Android Apps to turn your Photos into Cartoon Part 2.