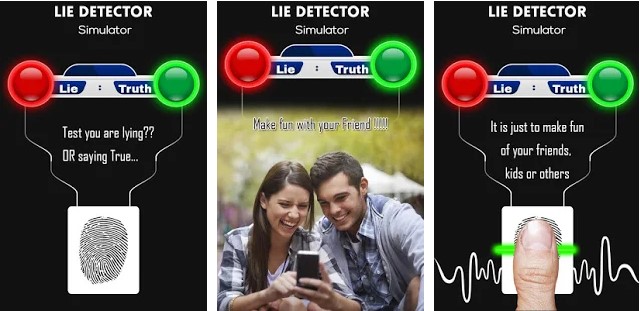 Every secret or truth will be disclosed one day, all of us know that. But for this we have to wait which is not as easy as seems. That's why polygraph or lie detector machines are introduced. Although lie detector apps are also created but these apps belong to "prank" category. The aim of these apps is, to entertain you. Anyways, they can help you to unveil the lie just by observing the other person's body language and facial expressions during the lie detector test.
For you, we have picked the 6 best lie detector prank apps which work well to provide you fun time. Some of them uses fingerprints, some scans face and some utilizes voice. Up to your choice, you can get any of them even try all of them so you can get the more entertaining one.
This is a number one lie detector prank app because it looks as if you are using a real lie detector. Simply say your friend to place his or her finger on the selected box. Lights will automatically on, electric waves will move on display and the cool animations of the fingerprint scanner will start its work. If green button is on, then it means truth otherwise red will indicate the wrong answer. You can set your desired answers in advance too.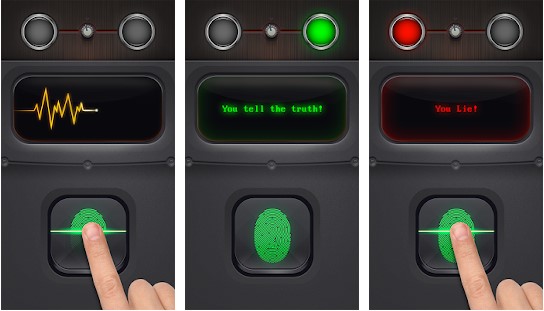 This is another most downloaded lie detector prank app to let you enjoy and have some laughter. Like the above explained app, this app scans fingerprints to show the results. Two buttons are given: green for the right and red for the false reply. The answer will appear up to your choice because this lie detector prank app allows you to set the answers before asking questions from your friends. If you do not want to predetermine answers, then the app will generate them by itself.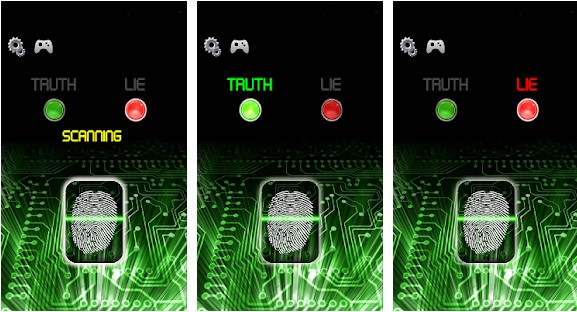 Instead of using fingerprints, this lie detector prank app scans photos to let you know whether the other person is speaking truth or lie. The app displays the test results in written form, with a pointer, with a cute emoji and with different colors. But still if you want more then, a very funny voice will also tell you the answer. Random and preset both results are supported.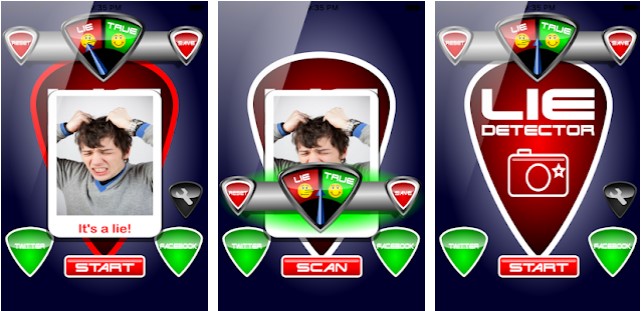 This lie detector prank app has best graphics which are similar to real lie detecting machine. Whole process will look original. When your friend will put the fingerprints, the app will begin its working. Electrical waves will go up and down on screen including the scanning area and after a while the result will be shown. You can control the answer with volume buttons and with preset modes.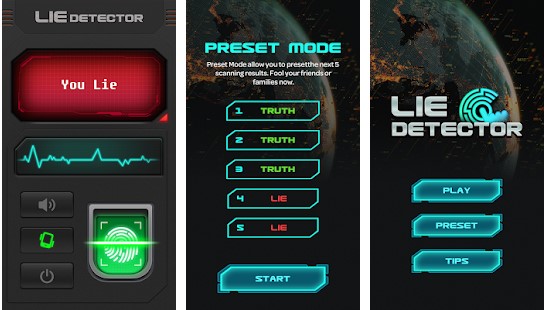 Developed by Ciberdroix, this lie detector prank app performs astounding function. It will seem as if you have a real polygraph in your phone because the graphics are highly remarkable. There are three buttons for monitoring three type of changes during the polygraph test such as breathing speed, pulse rate and skin conductivity. A sound will produce on presenting the truth or lie report.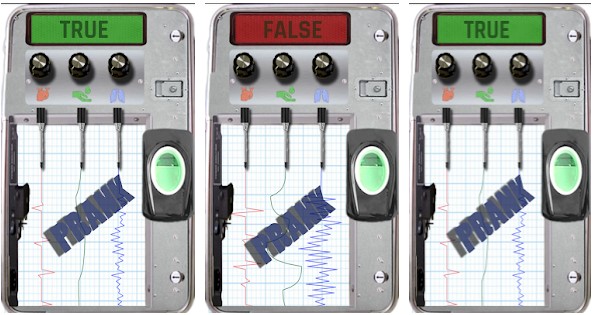 This is a different kind of lie detector prank app as you can guess with its name. It uses the voice technology. When you ask questions from your companion, tell him/her give the reply in the microphone. On pushing the start or stop button, this lie detector prank app will show its magic. Waves will be seen, and the result will be highlighted with red and green color along with the words of "true" or "false" answer.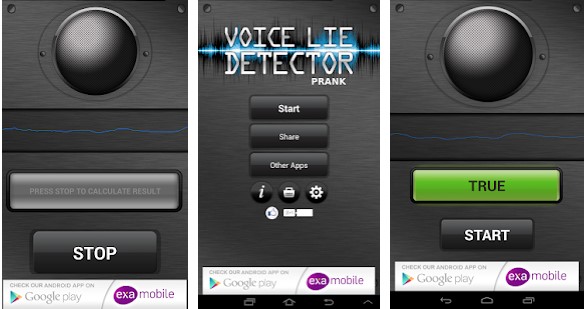 So, that's all about the 6 best lie detector prank apps for android. There are also more prank apps but above are free famous and highly appreciated.