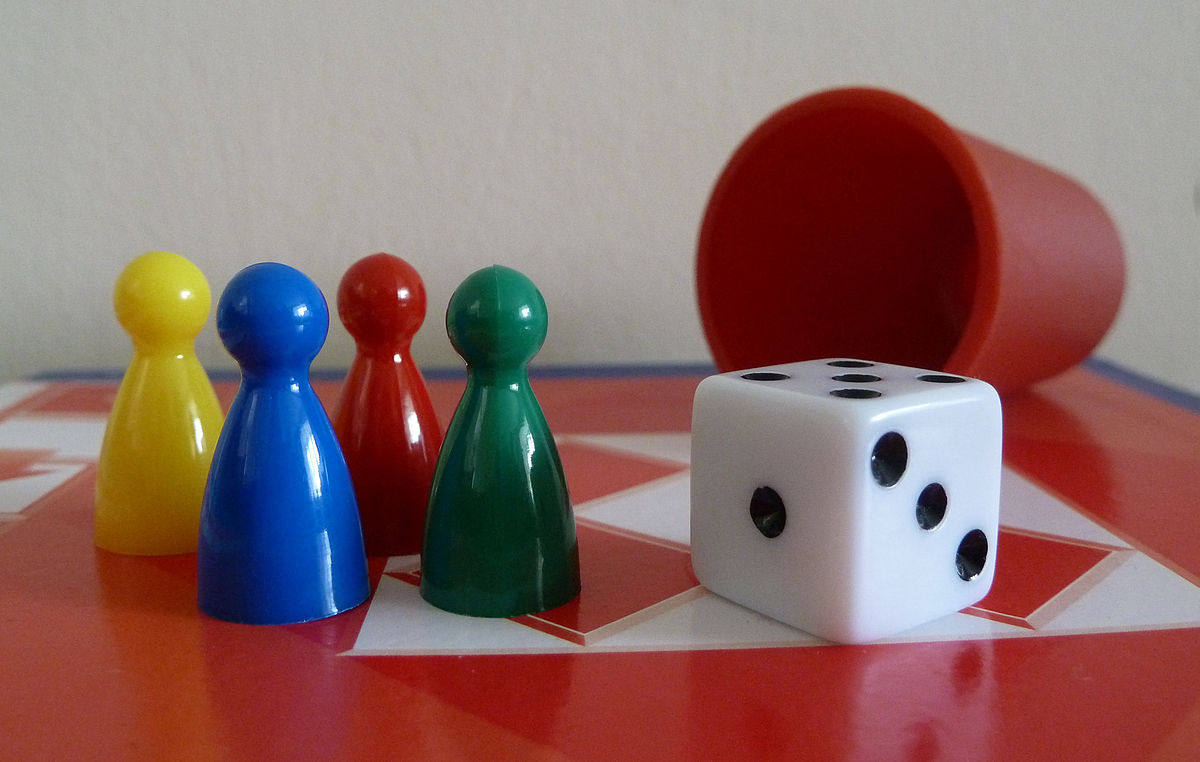 Ludo is a game of 2 to 4 players. This game is very much popular among kids and elders because it is a great source of entertainment. For kids, it helps them to learn counting, colors and shapes. For elders, it is best to pass time and to get laughter in family and friends' get together. Instead of holding the ludo board, tokens and dice, now you can play ludo on mobile. With the help of ludo game apps for android, you can play ludo whenever and wherever you want. There are multiple benefits of playing ludo such as it improves you competitive, mental and problem solving skills. It maintains your blood pressure because it engages you mind and for a while you feel free from stress.
Here Newzoogle has amassed the top 10 ludo game apps for android because these apps are very much addicted and trending in the market.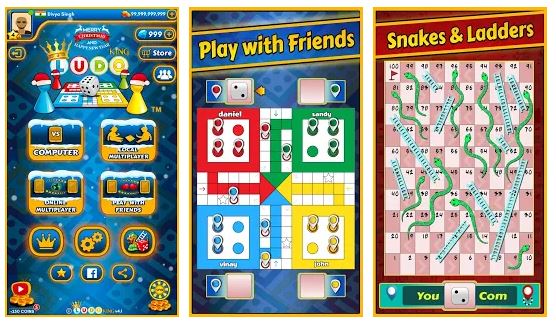 This is one of the most downloaded ludo game apps as it lets you to play ludo on all possible devices such as on android, IOS and desktop screens (Windows). If you have no one to play with you then you can play with computer. Local and online multiplayer support is also available here. Along with ludo, you can also play snakes and ladders game to have more fun. Best feature of ludo king is its offline mode also many Bollywood stars plays it daily. You can play against maximum 6 players at a time.
Top Features
* Chat with opponents in Ludo
* Auto move option
* Resume game play anytime anywhere
* Worldwide Players for play
* Play with Facebook friends
* Save Game and resume later
* Rich Player statistics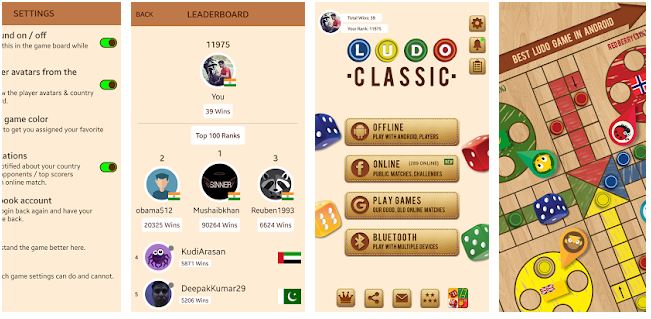 By having Ludo Classic, you will feel as if you were really playing 3d ludo on a real board. You can change the board type, dice type, dice color, coin moving speed, dice throwing style and many other settings. If you want to stop the game without completing it then you can do this and easily start it from where you have left. This ludo game app also supports the offline, online, facebook and Bluetooth.
Top Features
Decide Colors
Resume Previously Played game
Multi-color dies – to understand who's turn is current
Option to Decide before returning opponent's tokens in your square
Real-time die feature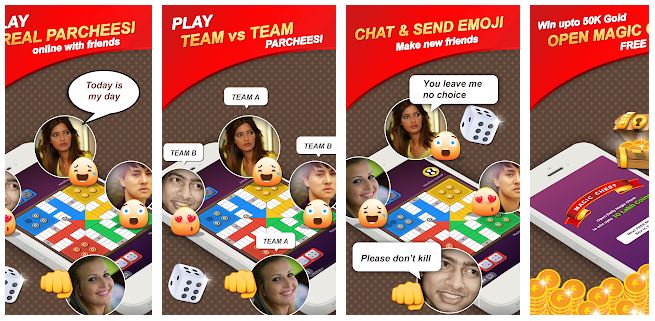 With very interesting and unique features, Ludo Star has become the choice of millions of ludo fans. Here you can play with two or four friends. Create groups, have private tables, set game rules, do live chat and use expressive emojis to share your feelings. You can select your favorite game mode like quick, master and classic. This ludo game app is also compatible with iPad and iPhone etc.
Top Features
Classic Indian FREE to play game
2 or 4 player quality time game
Chat supports Emoji
Big screens Play
Win up to 50K Coins every day
Unlock achievements
Amazing Dice Collection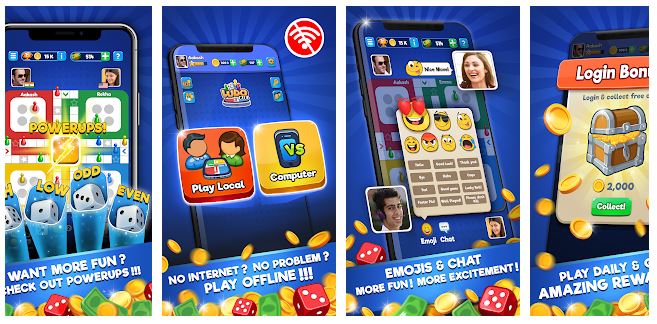 Ludo Bing lets you to play ludo even when you have no internet. You can invite friends and real-time play with the people from all around the world. Private tables, chatting facility, colorful dice, fast and classic game variations are also included in this multiplayer ludo game app. In case, you are bored from ludo then you can play snakes and ladders too.
Exciting Features:
✦ Play game with friends and family
✦ Connect to fb friends and play the ludo game!
✦ Works Perfectly on all data connections (2G, 3G, 4G)
✦ Offline mode vs Computer and with your local friends
✦ Gifts to co-players and friends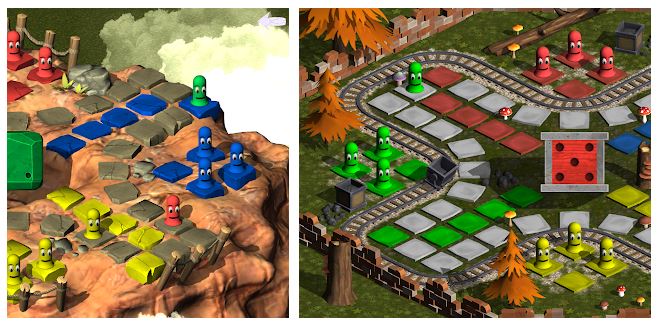 With a very friendly interface, this ludo game app allows you to play against 2 to 4 players that can be your friends or computer. Melodious sounds, amazing 3D graphics, beautiful locations and funny animations have made this app very much popular. You can use the "artificial intelligence" to play your turn in case you feel distracted.
Game Features:
Real time multiplayer play
Top Scoring system
World ranking system
6 Boards to play on
Play Two-Four players
Play against 1-3 computer players
Name Your Players
Smooth 3D animation
Very User friendly interface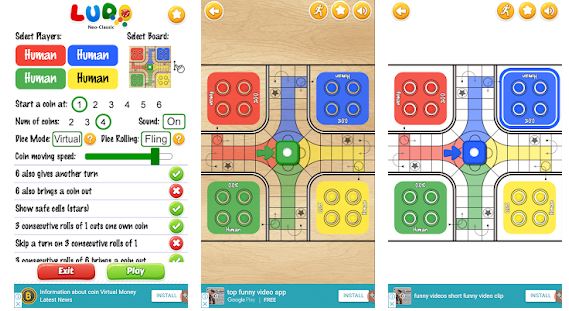 Ludo Neo-Classic introduces you with Nepali local and international rules of playing ludo. You can customize the rules up to your desires such as 6 will give you a new turn, 6 can out your coin, start from any number 1 to 6, there will be 3 or 4 coins and many more. This app also gives you classic and modern boards, multiplayer support and real dice throwing experience, computer players and auto-saving option to start from where you quit.
This ludo game app enables you to play ludo in different locations and impressive surroundings. You can enjoy it with friends or play it against computer. This app gives you a variety of cute emoticons, VIP status, leaderboard, expressive mode and offline support to spend quality time. If you are fed up from the game then you can discontinue it and later start it from where you stop.
So what are you waiting for – start rolling the dice and enjoy this Royal Game of India – your favorite 3D Multiplayer Ludo Game and re-live the Pachisi days! Top features includes; Super-emoticons, Additional Express Mode,VIP status and Super connectivity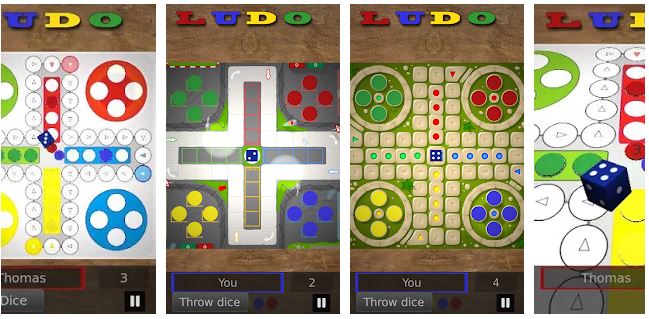 This ludo game app for android lets you to play with one to three computer players. You can choose the easy, normal and difficult game levels to adventurously play ludo with your dear ones.  This app also supports the classic ludo, auto-save option and 11 different languages.
Languages supported other than English are Norwegian, Swedish, Danish, German, Spanish, Finnish, French, Italian, Dutch, Portuguese.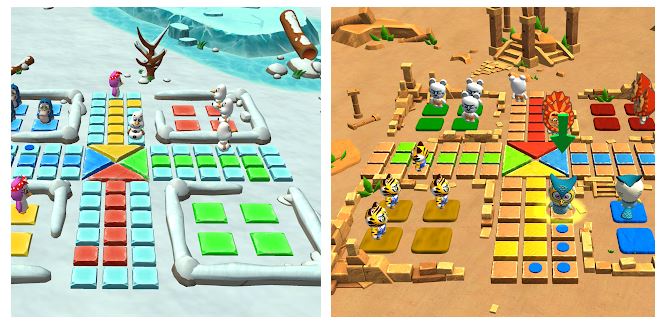 Ludo 3D Multiplayer is a unique ludo game app because it gives you a lot of cute characters such as bear, snowman, platypus and croc. You can pick up your favorite animal. Play: alone, with friends and CPU. This app also supports more than 10 languages.
Features:
A lot of Players characters choice
Play with any combination of human and mobile computer
Bonus: STILL LOOKING FOR MORE!!!
If you are bored with ludo then let's know about a mind puzzle game.
Memory Master
Memory Master is a fantastic game to sharpen your mind and to boost up your memory. Your task is to destroy all the tiles, follow the rules and win the game in 30 seconds. There are 40 interesting rules, great challenging levels, nice graphics and soothing background music to let you to play more and more.
In case you have no wifi then you can also play this game to quickly pass your time and to develop the habit of focus in you. The best thing about this game is that it is ad-free. So, must try "Memory Master" to have a clear and great memory.
Do you like to play another board game instead of ludo? Does ludo is your favorite game? Do you have ever tried any of the above ludo game app for android? Does "Memory Master" is up to your taste? Share with us via comments.