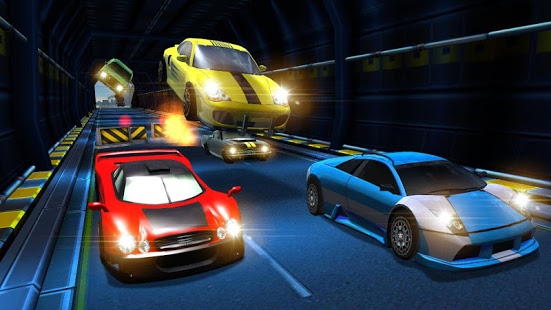 It is the human instinct to surpass the others especially in race where your mission is to quickly reach towards your destination before anyone else. On road, it is too much dangerous because there are many rushing vehicles. Life is precious but to race the car is also the craze of many car fans so to fulfill your desire in a quite reasonable way, you can try the best android racing games on your phone. These games give you a variety of beautiful cars to race in high speed on various adventurous tracks of your choice.
To carry out your racing fever into another level here is the top 10 fast android racing games which are carefully selected for racing lovers.
Enjoy 3D racing on most beautiful roads of the world. Pick up the steer tilting and touch options to move your car in your style. The exciting journey is based on 48 interesting levels, customizable vehicles and crashing sounds. You can easily change the directions and gain powers to overtake other vehicles.
This is a multiplayer, unique and fast racing game that gives you more than 25 different types of hot wheel vehicles to refresh your racing spirits. You can race your car on special orange tracks and other 50 roads based on 40 unique levels, stunts, loops and jumps. To add more excitement in your play, you can invite friends and upgrade your cars too.
Get branded and licensed, fast and furious cars to race against real-time players from all around the world. From more than 60 cars, you can select the car you like and change its body parts to improve its performance. This fast racing game also enables you to chat with other racers and win great rewards.
If you are looking to have the best racing experience then try this amazing android racing game because it lets you to drive as fast as you can. There are crazy jumps, high walls, traffic mass and nitro areas to test your skills. You can create the custom combo, ride in your dream cars and use the dig, drag, drift and roll techniques to leave others at the back.
Asphatl 8: Airborne is a super fast racing game that provides you 190 cars, 40 locations, 400 seasons, 9 events, branded motorcycles and multiplayer support. You can customize your vehicle, know the shortcuts, do epic stunts, listen to motivating music, drive in high-speed and compete with the world's popular racers.
City racing 3D allows you to drive in the great streets of Tokyo, Paris, Chicago, London, Hawaii and many other cities. There are most beautiful cars which you can also customize up to your choice such as you can change the car paint, its stickers and engine models etc. This fast racing game also supports the career mode, time trial, 1 Vs 1, WiFi multiplayer and real tournaments.
Drag Racing offers you more than 50 standard graceful cars that are ready for challenging race. You can tune the car's body color and its parts to improve its speed. At a time, you can race your car against 10 other online players or have the race 1 on 1 too. This android racing game is also best to meet with other car racers.
CSR Racing 2 provides you a huge garage of branded and licensed cars along with tuning facilities. You can easily upgrade and customize the paint, rims, license plates, tire pressure, brake calipers and other parts of your selected vehicle. CSR fast racing game also lets you to enjoy stunning graphics, create your own team and participate in different tournaments to show your racing abilities.
This android racing game enables you to race your vehicle in village, city, winter and desert areas based on one way, two way, time attack, slow motion and free ride modes. You can change the look of your car, use unique camera angles, challenge the time and join competitive race. Racing Fever also allows you to drive in your style by using the speed, braking, handling and other options.
This is a must have and highly recommended racing game especially designed for all the racing enthusiasts. It lets you to race on real tracks, have the new cars, customize the chosen vehicles and take part in real-time competitive racing. This fast racing game also supports the multiple camera views, car grids, time shifting and leader board challenges.
That's our collection. Remember to tell us about the game you are interested to play on your mobile and if we missed any of the best and fast racing game then feels free to share with us through comments.