Below are the hardware Details about Google Glass
The frame of Google Glass is made of metal and plastic. It is very flexible and strong .Its nose pads can be twisted according to the face of the users.
Its display is contained on a prism and works like a high definition display.
Google Glass has a high definition camera. Its resolution is 5 mega pixels and it can made HD video from the resolution of 720  pixels.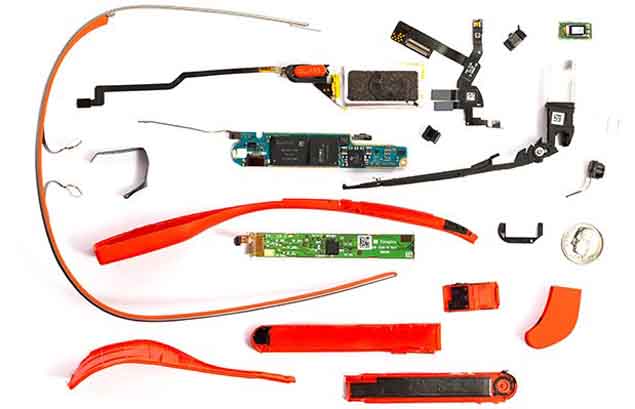 The audio system of Google Glass is made up in such a way that the user can use it even in crowded places.  The voice which is produced by the Google Glass only can be hearable to the person who wears it. It can be called Bone Conduction system.
Google Glass can be connected to internet because there is Wi-Fi in it. The internet which is used on Smart phones can be used on Google Glass with the help of Blue tooth.
Google Glass has the flash memory of 16 GB. However, the user only can use 12 gaga Bites. There is operating system and file system on the remaining 4 gaga Bytes. The user of the Google Glass can also take the benefit of free storage from Google cloud storage.
The weakest aspect of Google Glass is its battery. It can be used for one day after the complete charging. However, it is used quickly during video recording or hangout and after a few hours it can be out of work.
Micro USB, Cable and Charger are used for charging the battery of the Google Glass.
According to other details there will also be a Doyle core ARM processor which will be of 1.2 GHz. Its ram will be of 682 mega Bytes. Google Glass also has a GPS chip, gyroscope and an accelerometer.