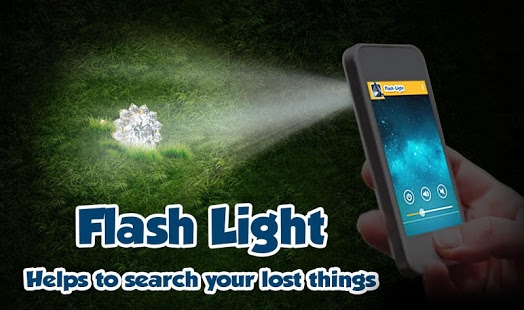 A good flashlight is something all of us need from time to time: searching for your favorite cozy pajamas in the dark closet, trying to get that small thing rolled under the bed or slipping away to a party without waking the household up. But a handheld flashlight jutting out of your pocket is not the most comfortable thing. And flashlight apps come to the rescue here, as we all know you don't part with your smartphone anyway.
We came up with the list of 5 best flashlight apps containing simple ones and the apps with the wide spectrum of functions.
This reliable flashlight app uses both the screen and LED flashlight to light up your way. The app monitors battery life, has lots of light options and widgets. Though lock screen widget is useful when you need light immediately, it can turn on in your pocket without your consent and drain your battery. You can personalize brightness and color of the light by swiping the screen vertical and horizontal.
Among other features, it has morse code, blinking lights, strobe light function and warning lights and a digital lightbulb.

Price: free
Flash source: home screen and LED flash
Additional features: blinking/strobe light, lightbulb, warning lights, morse mode
Minimalistic and intuitive app. It is what it is – just a torch without any unnecessary bells and whistles. Turns on quickly and easy, has a simple interface and home screen widget for quick access. One of the main benefits of this basic flashlight app is that it stays turned on when the phone is locked.

Price: free
Flash source: LED flash
Additional features: no excessive features
This free tool turns your device into a full-fledged flashlight owing to its interface that resembles basic handheld torch. Uses LED flash to produce flashlight. Moving the "button" on the screen up and down you turn the light on and off, and this imitates the way you would use a real flashlight. Swipe the wheel in the top of the screen to control the intensity of strobe light.  The frequency of blinking lights is also adjustable. This app gets 10 light beams out of ten for usability and functionality.

Price: free
Flash source: LED flash
Additional features: blinking lights and strobe light function
Another app that uses both home screen and LED flash. Contains quick access widget to control the LED light from the home screen. You can change the color of the light from the app color spectrum. The light turns on instantly, without any delays as you press one button. Simple and basic, lean and mean.

Price: free
Flash source: home screen and LED flash
Additional features: only basic features
Has more convenient features than you can imagine. Besides well-known adjustable strobe light function, it has energy-saving mode light, light timer and magnifying glass/video zoom that enables to view small fonts in the dark. There is also several options to turn the light on and off. You can control the light by flipping the phone, with multiple tap and even hands-free – clapping for on and off control.

Price: free
Flash source: LED flash
Additional features: strobe light, light timer, hands-free control, front light with video zoom/magnifying glass.
We are sure you'll find the perfect torch among apps listed above. Or you can continue your search and find more great flashlight apps on these source with great range of selection. There you'll find a lot of useful flashlight apps for iPhone or Android Phone.