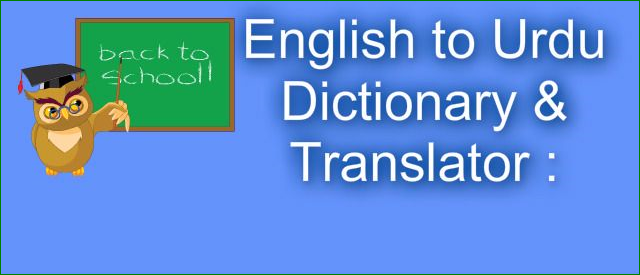 If your native language is Urdu then there are many chances that you feel difficulty to learn English because it is a second language but its knowledge is essential for every person who want to progress in life as English is an international language. There are different ways to learn English and one of the best ways is to consult a dictionary that is contained on a huge database of English to Urdu words. But usually, the dictionaries are too much heavy and difficult to carry but if you have the android mobiles then simply install the best English to Urdu dictionary apps and know the meanings of difficult words. These apps can help you in various situations, for example, as a student you can quickly find out the meanings of confused words and if you are going to abroad then it will also be a good idea to keep English to Urdu dictionary apps so you can easily talk to the foreign people.
Google play store has a lot of English to Urdu dictionary apps for android but here Newzoolge will tell you about the best android dictionary apps for which internet connection is not necessary. Let's read.

This is a very helpful offline dictionary app because it lets you to quickly search the Urdu meanings of the difficult English words. To make your concepts clear, this app also shows you the pictures related to the words you will search. You can use the thesaurus, get the translations and auto-correct the spellings to make your search fast.

This English to Urdu dictionary app is based on more than 117000 words which are easy to learn and best to improve your English. Along with knowing about the Urdu meanings, you can also find the English of various Urdu words. This app also allows you to search randomly and create the folders of your favorite words.

Urdu Dictionary app enables you to have two in one dictionary. You can know the English of commonly used Urdu words and can also search the Urdu meanings of popular English words and sentences. This app also automatically completes your spellings and quickly shows you the meanings, its opposite words and pronunciations.
Although this English to Urdu dictionary app for android provides you the dual keyboards but if you want to protect the keys of your android then click here.

This English to Urdu dictionary app is contained on more than 40,000 words that will help you to know the Urdu meanings of your favorite English words and phrases. This app also enables you to know more than one meanings of the same word and lets you to use the words according to the context.

Whatever the word you will search it will quickly show you its meanings because this dictionary app is packed with more than 111,200 words. You can also listen to the English words and learn how to speak in correct way.

This is very easy to use English to Urdu dictionary app for android. With it, you can know the English with Urdu meanings. You can save your favorite words in one folder and bookmark them for a quick review. This app also supports the text to speech mode and auto- spelling corrections.
Do you want to keep any of the above English Urdu dictionary app or prefer the English to English dictionary app for android: http://newzoogle.com/best-english-dictionary-apps-android-mobile/ Let me know in the comments.