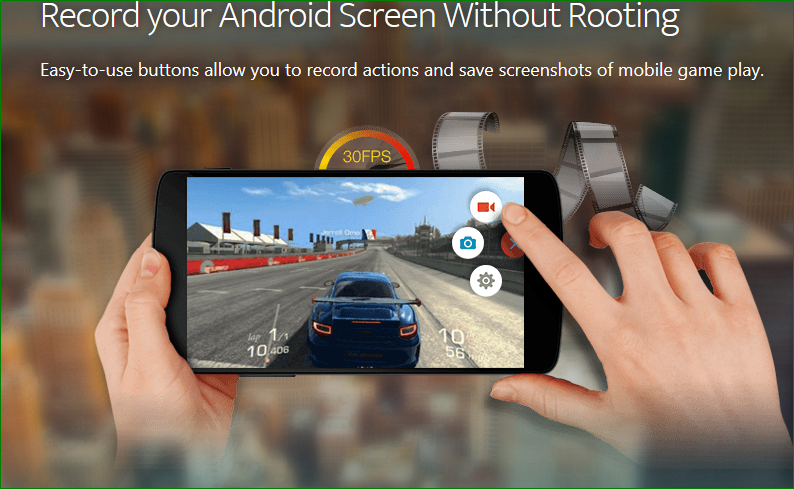 Screen recorder apps for android have a lot of features which may help you in different situations. You can easily record the skype video calls, create your own video tutorials and can also tell others about how to use the android apps via video. In addition, screen recorder apps let you to record the screen of your android while playing thrilling games and offer challenge to others to break your score level. A few years back, all these tasks required a very tough procedure but with the arrival of screen recorder apps all the basic functions are just a click away from you. And the most accepting thing about these screen recorder apps is that you can download them without converting your non-rooted device into rooted one.
Newzoogle has listed out the top 7 screen recorder apps for android to let you choose your favorite app.

ADV Screen Recorder app allows you to enable your front and back camera to take a quick shot. If you want to take break then you can stop the current screen recording and the app will save your previous recordings and lets you to carry on your work from where you had stopped. You can trim and modify the text size and can get this app into any language. In case, you find difficulty in understanding the app's language then install the best translating apps on your android.

This screen recorder app will retain the quality of your video and can convert the low quality videos into high one. You can adjust the timer or countdown for tracking your speed and later can put your video into gorgeous frames and bit rates. This app also allows you to record the screen of your android wear smart watch.

Almost all android users love to have AZ screen recorder app because it has a lot of interesting features. You can make HD videos, cut out the unnecessary parts, control the screen brightness, add the text, and set the timer and bit-rate. For realistic effects, you can put your picture anywhere on the screen and can quickly record the screen with the help of a floating window.
If you want to make the videos and take the photos just in a single click without leaving your current work then please read about the floating touch apps for android.
EASY screen recorder app is compatible for all android devices and offers a very amazing feature which you may not find in any other app. That is, along with screen recording you can also record your voice in different pitches and can use various gestures to record the video. This app supports all kind of social networks for quick sharing.

With this beautiful screen recorder app you can record your screen video as long as you want without worrying about the time limits. Simply shake your device to enable or disable the recordings. This app also supports the voice recordings and banner settings.

There are many interesting features packed in RecMe screen recorder app that you can get without paying a single penny. Along with recording your screen you can record the audios and can produce the screenshots in high resolutions. You can take unlimited pauses and easily utilize the hardware and software encoders.
This screen recorder app is a very easy to use and relevant android app for all of you who want to record the large screen videos along with audio inputs. You can store your collections in the app's gallery and SD cards for future use.
This app also supports a lot of languages, buttons and themes etc.
I think Newzoogle has provided you the enough information about the top 7 screen recorder apps for android but if you find something is missing from the article then give your feedback in the comments.