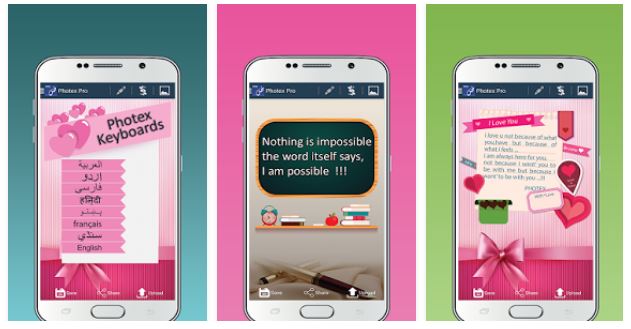 Photex Pro, a latest designing application to be launched soon, is the solution to your problems. Although this app is quite technically advanced, it is a simple and easy to understand app with numerous design tools and features. Unlike numerous designing software's such as Adobe Photoshop which require in-depth understanding and skill, Photex Pro can be used by anyone with an android / Apple / windows phone.
If we compare designing using computer software to designing using Photex Pro, than:
Photex Pro is easily comprehensible
Is not time consuming to set up
Does not have heavy files
Provides you the capability to upload and share instantly from the ease and comfort of your phone
Offers a large library of stickers, vectors, shades, colors, text styles, templates and other options
 Who can use Photex Pro? Who is the target market?
 It is suitable for users with no prior experience of using any type of design application. An extremely user friendly, handy app, downloadable from you app store, it can be used to design top notch social media posts, brochures, flyers, adverts, book covers, visiting/invitation cards, and other marketing materials.
Because of its multi-language support capability, it also caters to users who wish to design their materials in different languages.
 About Photex Pro
An easy to understand, user friendly screen interface provides you with three simple options:
Background
The first button on the right hand corner is the background option. This allows you to browse through a library of in-built templates to use as background for your work. Besides this you may also use any image from your phone's gallery. Users have the capability to resize, rotate or provide a mirror image of their templates or pictures.
You may even change the colors according to your liking. You can either use plain and simple colors or chose from a pre-defined combination of several colors. If you want to change these sets of pre-defined colors, you may do so according to your preference and requirements. These can be further customized by the gradient tool.
After selecting and designing your background template / image, you can use the 'Background Tools' option for a 'best fit', 'full fit', small fit or any other option.
 Stickers & Images
After designing the background of your choice, you now have the option to insert any sticker or vector in to your work. This can be done by clicking on the second button from the right. Again you may chose from your own gallery or browse through the vast library options provided in the app. These options include inserting frame designs, using designs on the corners, using built-in Islamic images, inserting shapes from the app gallery and selecting from other available options.
An important feature worth mentioning here is the vast library of shapes within the app gallery.
Users may edit stickers, flip, move or rotate them fully to 360 degrees as well. You may even change the color capacity to your preference. A simple delete option has also been provided in order to facilitate users.
Text
The third option from the right is for the text. You can add as much text as you prefer within your design. Here you get the option to choose from a variety of languages. This is a significant feature of this app as discussed below in detail:
Language Support
It provides built-in separate language keyboards in several languages including English, Urdu, Persian, Arabic, Hindi and French. In addition to this, few regional languages like Sindhi and Pashto have also been integrated and a separate keyboard is provided for them. In addition to this, phonetic as well as alphabetic keyboards have been provided.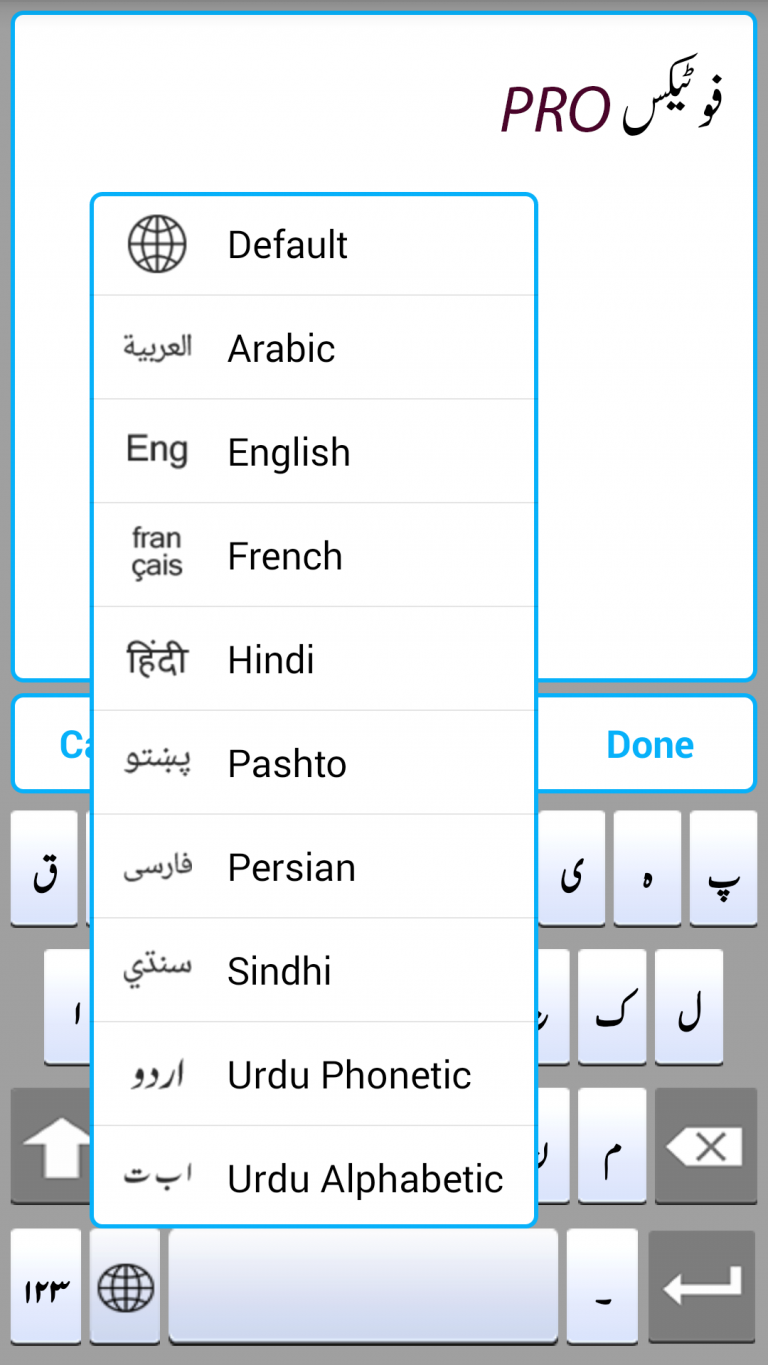 Besides language support, with the Text tool, users can change the font, text color, size, background color, style, spacing and other things. An option to change the pattern of your text word by word is also provided here. A gradient tool provides a combination of three colors that can be applied to your texts. The gradient radial tool allows you to apply various textures to your text. Users may also apply a 3D style to their texts using the X-axis, Y-Axis and Z-Axis. Not to be confused, again these are extremely simple and easy to use tools. One may also use spacing between lines and letters. Texts are auto justified, along with this, left / center / right font alignment options are also available.
An auto wrapping option is also present. Due to this, the text makes its own space adjustment on the screen. So without having to scroll up or down on the screen, the text fits into your allotted screen.
A point to be noted here is that all keyboards have numerous fonts.
Help Option
Help details are provided in Urdu and English languages to facilitate the users
A demo video on 'how to use Photex Pro' is easily downloadable
A user query mail option has also been provided. It directly opens up into a mailbox where the users can write their queries and send it directly to the manufacturers for follow up
Upcoming Features
After its launch, the app designers look forward to adding several features. One of few major upcoming features is the addition of a translator to Photex Pro. In case a user does not understand a certain language, he/she may write in their own language, translate it via the translator and display their message in any language of their choice.
Download from Play store: