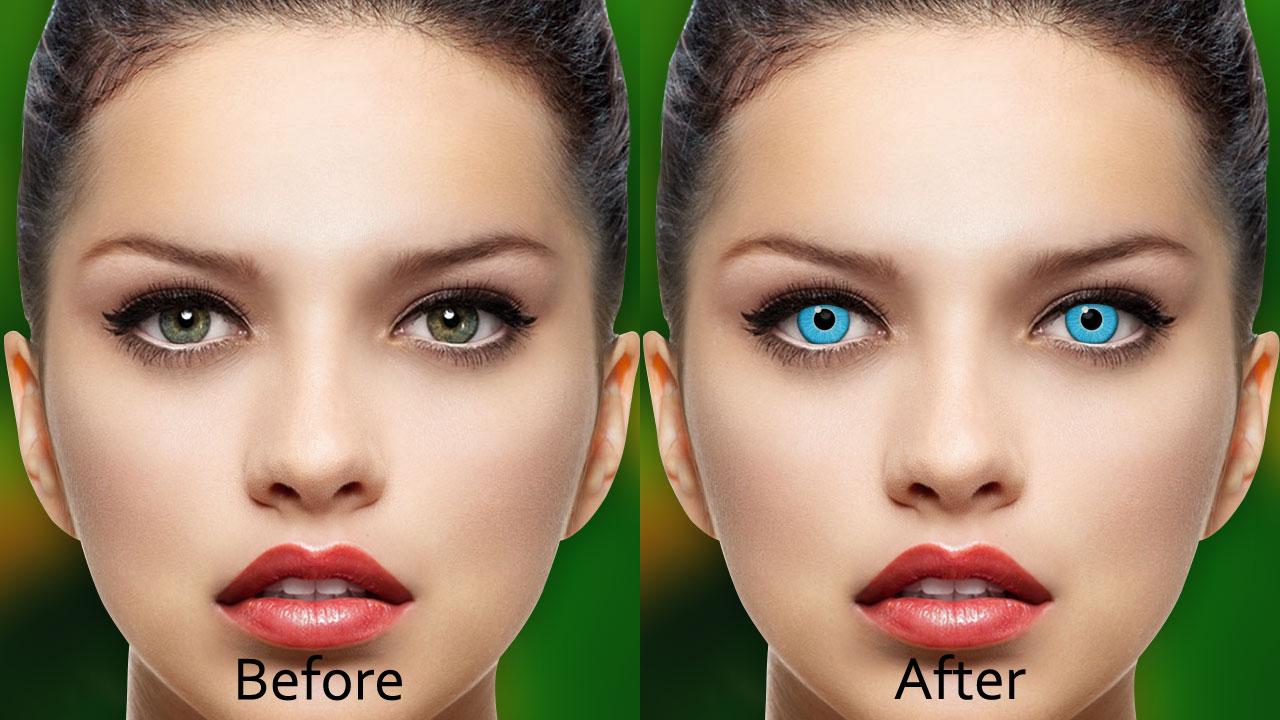 Do you want to change the color of your eyes? If yes, then you are in the right place here Newzoogle will tell you about the best eye color changer apps for android. These apps enable you to change the color of your eyes into green, blue, yellow, brown, grey, red, black, purple and more. You can also give different effects to your eyes like romantic, scary, cat and exotic etc. Without using colored contact lenses, you can give a sparkling look to your eyes to say everything in your heart. These eye color changer apps also enable you to change the size of your eyes and give a natural look to your pictures.
There are a variety of eye color changer apps for android and may be you become confused to find out the best so for your ease Newzoogle has gathered the top eye color changer apps that really work. Let's read.

This is the one of the most downloaded eye color changer app because it provides you a lot of colors and realistic effects to make your eyes sexy and glamorous. You can change your eyes into rainbow, flag, cat and other animals of your choice. This app also allows you to remove the red eye effects from your favorite pictures and share them with your friends on social media.

This is the next popular eye color changer app that gives you more than 40 impressive colors to convert your eyes into a hot personality. Without makeup, you can beautify your eyes and dye your hair with 70+ eye-catching colors. This app also lets you to adjust the color brightness and filter your pictures to make them outstanding.

Eye Color Studio is packed with more than 150 standard eye colors, exotic, animal, scary and many more effects. You can customize the eye color, blend it and create your own contact lenses. If your eyes are small and the provided color lenses are big then do not worry because this app automatically modifies the lens size and give it a realistic look.
Eye Studio – Eye Makeup

Along with changing the color of your eyes, this app also lets you to do beautiful makeup on your eyes. You can get a variety of eye shades, colors and shapes to give a stunning look to your eyes. Eye Studio also allows you to resize your eyes, erase the red effects and add the special effects to make your picture fashionable.

This eye color changer app has a lot of interesting features such as you can use different color lenses, change the lens size, remove the red eye effects and improve the photos taken at night. You can also edit, filter, frame and decorate your pictures with cute grids and stickers. Go to this page to get more beautiful stickers.

This is a very easy to use and free eye color changer app that lets you to change the color of your eyes according to your desires. You can change the eyes size from small to big and big to small. This app also enables you to quickly share your fun created pictures with your friends on facebook and twitter etc.
If I have missed another important eye color changer app for android then please share with Newzoogle in the comments section given below.