LG smartphones has significantly improved their features and specifications lately allowing Android users to use more and more LG smartphones. With the latest LG G6 & LG Q6, people are handling the user interfaces with complete freedom. However, you will be stumbled to figure out how to transfer all the content from your old LG smartphones to the new one, right?
Well, you don't really have to use any third-party app or program to get this done effortlessly. LG Electronics, Inc. has taken the liberty to develop an Android app to complete this task without any hassle. In this tutorial, we will show how to use LG Backup app to transfer content to LG smartphones. It's really very simple and doesn't really take a lot of technical skills to accomplish this job.
What kind of users will find this useful?
Those who are looking for a way to transfer photos, music, videos, messages, app and other data to their new LG smartphones. In addition, this app is only need to be installed on the old LG smartphone from which you are sending because it has the ability to connect both devices over Wi-Fi. It is supported in all Android versions from 2.3 to the latest 8.0 Oreo for better user experience.
How to use LG backup app to transfer data from old LG to new LG smartphone?
Step 1. From your old LG smartphone, go to Google Play Store and search for "LG Mobile Switch". It is totally free to install and use.
Step 2. Install the program and open it on your device directly from Google Play Store.
Step 3. On main screen of the app, you will see 3 ways to send data from your old LG device to the new one namely, USB, Wireless and SD Card.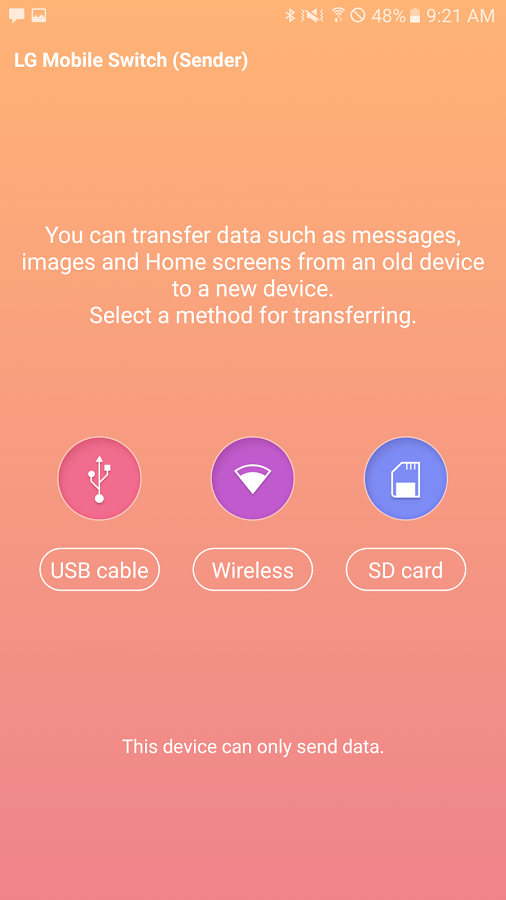 Step 4. In this tutorial, we will recommend to use Wireless since that's the fastest way to transfer data without internet. USB option is great too but the transferring speed is significantly low followed by SD card.
Step 5. Now, tap on "Start" on your old LG smartphone and go to the next page.
Step 6. At this point, you need to turn on the Wi-Fi on your new LG smartphone in order to get discovered by the old LG smartphone.
Step 7. Choose the items that you want to transfer like personal data, media data and downloaded apps and tap on "Next".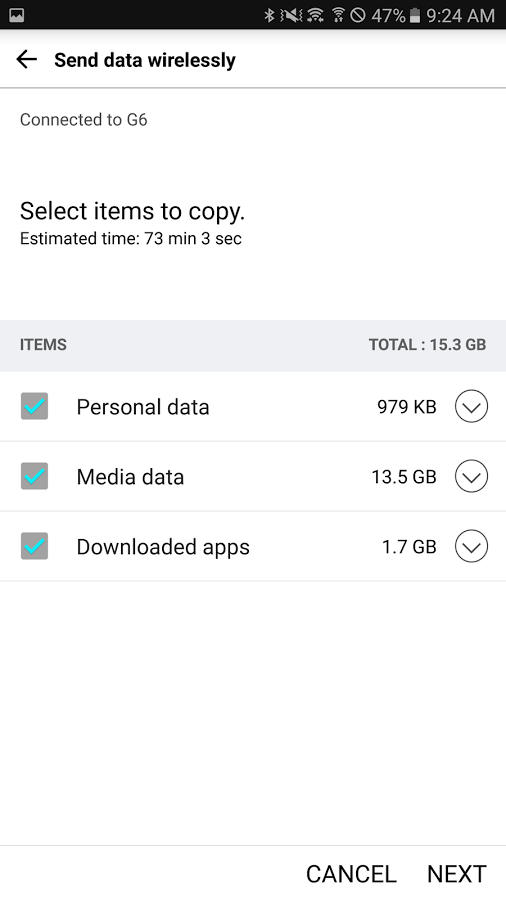 Step 8. Watch your data get migrated from one smartphone to another in real time and when it finished, simply tap on "Done" and check your new LG device to see your old data.
See, how easy was that? You don't really need to make any extra-ordinary moves to get this
app working. Just, simply few taps and your job are done.
On the other hand, if you are choosing USB to transfer all data from one phone to another then
follow these steps:
Step 1. After installing the app, choose "USB" from the home screen.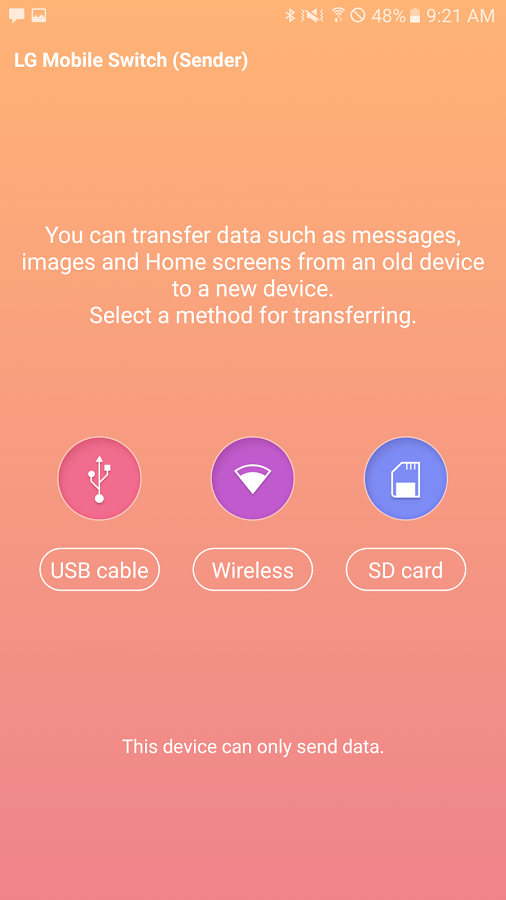 Step 2. Get a new OTG Adapter and connect both LG smartphones with it. Next, click on "Start"
to send the data from your old device to the new one.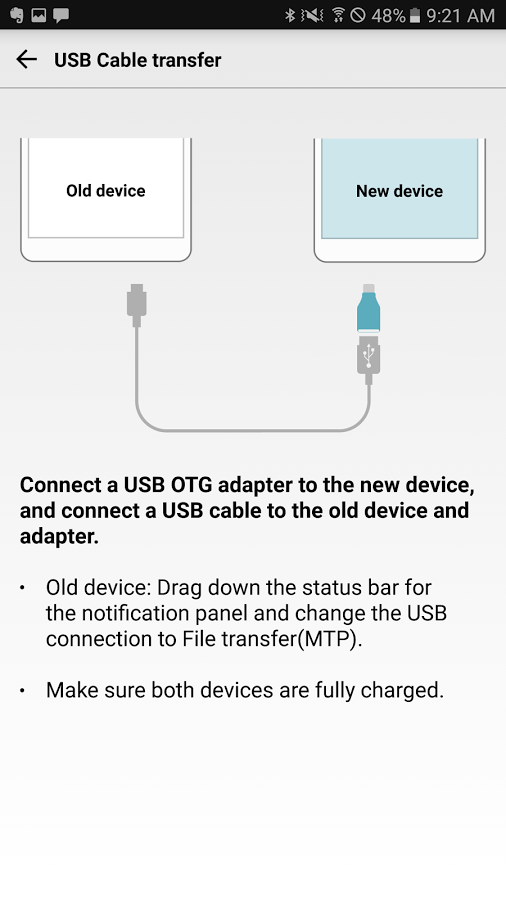 Step 3. Choose the data that you wish to send like media files, personal data etc. and click on
"Next".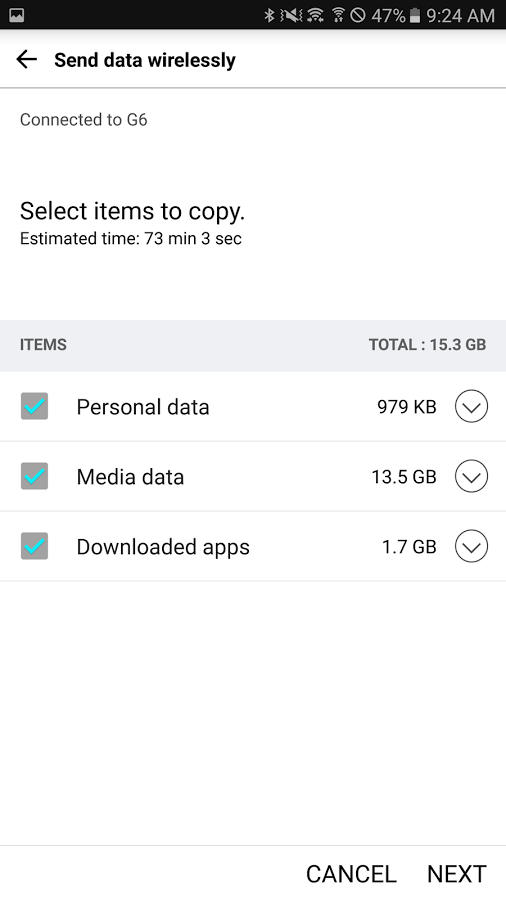 Step 4. Wait until the migration process is finished and you will receive all the data on your new device. That's all. You may now remove the old data from your previous device.
Note: Sometimes LG Backup app doesn't work on old devices. In this case, you have to use other apps or programs instead. There is another content transfer app called Androidphonesoft, which is an amazing desktop program to copy content from one device to another, including Android, iOS, Blackberry and Windows Mobile.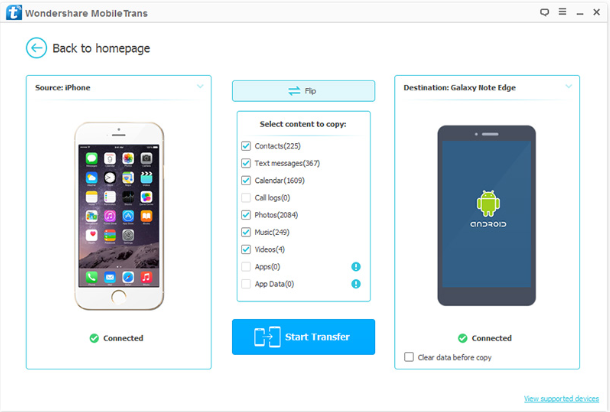 Conclusion
Upgrading phones is something that people will never stop as long the new technology and features are introduced. However, no matter what you cannot leave your personal and precious data behind considering how much value they have in your life. But, if you keep buying LG smartphones then you can use this tutorial over and over again to seal the deal. Hopefully you guys found this tutorial helpful and if you have any query then don't forget to share it with us in the comments below or you can directly contact us to get them resolved immediately.