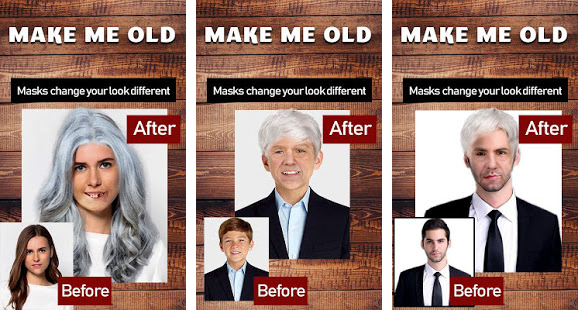 Nobody wants to be old, but everybody is curious to know how he or she will look as an old man or woman. This desire has also been seen in the children who often wear glasses, hold sticks in hands and walk like an old man. Often in front of the mirror I also think how I shall look as an old man with wrinkles on face. (And you know this thought make me scary) but to spread colors in my imaginations there comes the age progression apps for android. These apps help me to guess my aging face. So, if you are also interested to see your looks in the future then age progression apps are best for you. The main quality of these apps is that they provide you realistic results.
Listed below are the top 10 age progression apps for android which you will surely love.

This is one of the hit face changer apps because it brings with it the stunning features. You can change your face from young to old and old to young. Give stylish, smiley and attractive looks to your face. This app is also great to turn your face from a male to female and female to male so that you can know how you will look if your gender is changed.  A bundle of necessary filters is also there to make your face as you wish.

This age progression app lets you to easily make yourself old. There are different possible faces which you can select according to different ages. For example, you can see your future looks at the age of 30, 40, 50 and so on. The best feature of this app is that all faces will have similarities to your original face so that everybody can easily believe that it's your old face.

If you are looking for such a magical mirror that will show your future looks then this age progression app is best. Simply you need to have a picture and the app will convert it into an old man or aged woman. Many skin colors are also included for realistic looks. "Future Mirror" is also ideal to see the future old face of your loved ones.

From 15 to 60 years old fellows, everyone can easily utilize this aging machine to generate their future faces with fat, wrinkles and white hair. For the clarity of thought, you can observe the side by side difference by viewing the before and after results. This age progression app is also great to apply on the photos of your dear ones and family members.

Make me Old app is loved by millions of mobile users as it quickly transforms your face into an old face. If you love the eye glasses, then you can easily put them on your fun created photos. The young boys can also use different stylish beards or mustaches to make their looks older than their ages. No body will be able to identify is it you or your grandparents.

With quality features, Agify enables you to make yourself old in a single tap. The app detects the face automatically, adjust its size and turn it into a real old face. You will amaze to see your future face because the created photo will be closer to your original looks. This age progression app also allows you to save and share your pictures to surprise others and to ensure them that you will look graceful even in old age.

This age progression app is slightly different from the above apps as it provides you the live camera to change your face into an old looking face. Not only the photos, you can also make videos along with voices and effects. This app also lets you to use different face masks, glasses, mustaches, lenses and amazing filters.
This is a special and trendy age progression app for android. With it, you can transmute your face into any looks you want. For instance, in a young age, you can convert your face into a man or woman of 30,40, 60 and 100 years old. You can create videos, record voices, apply gestures and pretend that you are really an aged person with grey hair, moving hands, doing sneezes and feeling difficulty while taking breath.
Make me old photo editor app is helpful for all age group fellows who intend to look older. You can get a variety of resizable items to alter your appearance such as you can pick up your favorite wrinkled forehead, toothless mouth and golden or white hair etc. Many old age type stickers are also there.

Old Face Maker app offers you the same features as the above age progression apps, but the difference is that it gives you a lot of amazing things which you can use to make yourself old.
Which age progression app shows you the best results? Do you have ever tried any other photo editing apps to change your pictures? Share in comments.