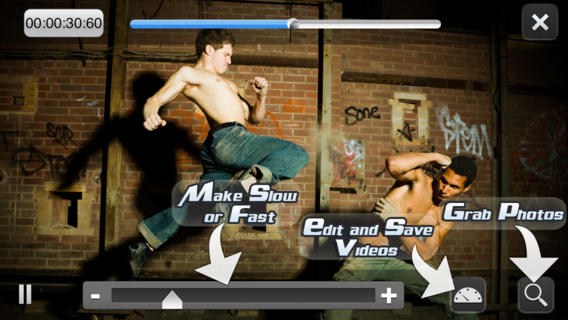 To make the video on android is a usual thing which everyone can do but to make HD video with special effects needs third party apps. Sometimes it happens that you want to notice the particular movements of a person or thing but in a normal and fast video speed you can miss all the crucial points. But if you have slow motion video apps then you can easily focus on the things which you want to observe keenly and attentively. For example, you can easily catch out the words which someone dramatically utters in the party; see the things which he or she holds, develop the interest in nature, learn the new dance steps and exercise methods. There are also many other interesting tasks which you can do with the slow motion video apps for android.
Newzoogle has listed out the latest and amazing slow motion video apps that have all the essential features which you may need to apply on any video. The cool thing about these slow motion video apps is that you can also watch the movies in fast as well as in slow speed.

This slow motion video app provides you a slider to adjust the speed of the video up to your desire. You can add and remove the unnecessary aspects from the video and can see the various motion effects on different parts of the video. If you want to create a funny or exclusive video then you can trim and cut some parts of the videos to put them on others and later share them on facebook, whatsapp and twitter etc.

As you will slow down or speed up the video, the app will automatically change the volume level that sounds well on the video. You can use this slow motion video app as a best video player on your android that allows you to control the light of the screen and easily play all type of video formats.
If you are looking for the best slow motion video app then video FX is best for you because it enables you to set the video speed between the slow and fast modes. You can easily share and upload your creative videos on Youtube and other social networks.

This is a very flexible slow motion video app for android. With this app you can control the speed of the videos into various levels and set them as you wish. Along with saving your videos this slow motion video app also supports the famous video formats and sharing networks.

ReAction Slow-Mo Pro is a fast app with unique features. You can see any video in slow motion and later can convert it into the original and normal speed. If you want to create slow motion bump profiles in professional styles then pick up this slow motion video app and have a better experience.

Videoshop is not only a slow motion video app but also a complete app with video editing tools. Along with changing the video speed, you can trim, filter, recolor and resize the videos. Videoshop also allows you to make a photo slideshow out of your favorite videos,  play the background music, merge the various clips and share them on vine, instagram and other social media.
If you know another slow motion video app for android then shares it with Newzoogle in the comments to update the article.